Euro Zone Jobless Rate Remains At 12.5%, Solutions Seem Out Of Reach
The economy of the Euro Zone remains in quiet dire straits, unless you're lucky enough to live in Germany.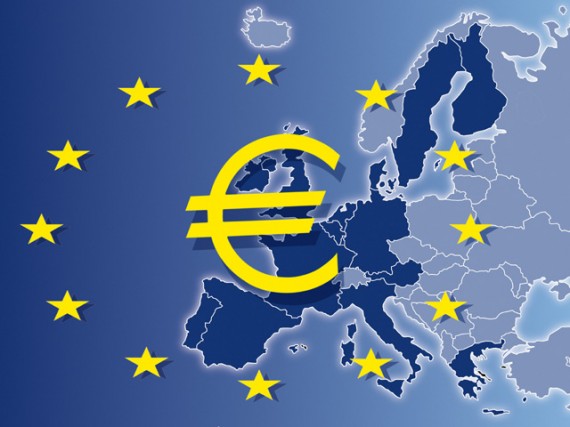 While the United States deals with what is, at best, stagnant growth, Europe continues to have it much worse:
FRANKFURT — The economic recovery in the euro zone is feeble. Employment continues to suffer. And the patient is likely to be getting around on crutches for months if not years to come. That was essentially the prognosis from two key economic indicators published Thursday and from economists assessing the latest conditions.

The number of people out of work in the countries using the euro currency rose slightly in September, while inflation fell more than expected — both signs of a weak economy.

Neither indicator necessarily contradicts other more positive economic news recently, notably an end to the recession in Spain. But the data, which showed euro zone unemployment stuck at a record high of 12.2 percent and inflation at its lowest level in four years, served as a reminder that a long convalescence lies ahead for Europe.

"It doesn't mean we're back in recession," Marie Diron, an economist who advises the consulting firm Ernst & Young, said of the jobs number. "It's consistent with growth, but weak growth."

The unemployment rate is an especially critical economic indicator in Europe. Years of austerity and joblessness have fed radical political parties and strained democracy throughout the euro zone. The longer that record unemployment persists, the harder it will be for political leaders to contain discontent and push through changes in labor regulations and other rules that are needed for the region to grow more strongly.

"This is a race against time," said Nicholas Spiro, managing director of Spiro Sovereign Strategy in London, a consultancy. "Can these economies recover fast enough before an anti-Europe backlash brings down the single currency project?"

The jobs and inflation numbers, reported Thursday by Eurostat, the European Union statistics agency in Luxembourg, could have a sobering effect on investors who have been bullish on Europe lately. Germany's benchmark DAX index, which has risen 24 percent in the last year, was little changed Thursday. The euro, which was at a two-year high against the dollar at the beginning of the week, fell more than a cent to $1.36.

The jobless rate was the same as August's, which was revised up to 12.2 percent from 12 percent. But the absolute number of jobless people in the 17 countries in the euro area rose by 60,000 to a total of about 19.5 million, according to Eurostat.
Not surprisingly, there is much variation between nations:
There remains a huge gulf between economic performance in Austria and Germany, which had the lowest unemployment rates, and Greece and Spain, which had the highest.

Unemployment in Austria was unchanged at 4.9 percent in September, and in Germany the rate fell to 5.2 percent from 5.3 percent.

The jobless rate in Greece was 27.6 percent in July — the most recent month reported by that country's statisticians — up from 27.5 percent in June, Thursday's data showed. In Spain, the unemployment rate was unchanged in September at 26.6 percent. In both countries, unemployment among younger people is well above 50 percent.

Argyro Athanassiou, 24, has struggled to find steady work since she graduated from Athens University with a degree in economics more than two years ago. "I did some baby-sitting for some friends of my parents who felt sorry for me," she said Thursday in a cafe near central Athens. "I have a box full of job applications that went nowhere. I look at it and wonder what I might have been if this crisis hadn't happened."

Thanassis Stamatopoulos, 46, said he had been looking for work since the spring of last year when he was laid off from his job as a salesman for an electronics products retailer. "Firms are getting rid of people; no one's hiring," said Mr. Stamatopoulos, who added that he had asked his local bakery for work last week but was rejected.

Joblessness also continued to rise in France and Italy, which have the second- and third-largest economies in the euro zone, after Germany. Unemployment in France rose to 11.1 percent in September from 11 percent in August, while in Italy the rate increased to 12.5 percent from 12.4 percent.

"Italy is the sick man of Europe; France is a close second," Mr. Spiro said, adding that he remains deeply pessimistic about the chances for recovery.
The fact that Germany and Austria are relatively prospering while other nations remains mired in the stagnant economies that have marked them since long before the 2008 financial crisis is a stark reminder of just how un-united the Euro Zone actually is. The economic policies that Greece, Spain, Italy, and France have pursued for the better part of a decade stand in marked contrast to those that Germany has pursued (I'll admit to not being very familiar with Austrian economic policies but one presumes that they benefit greatly from their close proximity to Germany.) Add to that the fact that each of those four nations have pursued a social welfare system that has contributed to huge amounts of government debt, led to tax increases that have most likely chased away industry, and created a generation of young people who are chronically unemployed and the source of the problems become rather obvious.
The question is what can be done to solve those problems. After five years of trying, there don't seem to be very many options left.