Evacuations Ordered in Hawaii
The first wave of the tsunami caused by the Japanese earthquake is expected to strike Hawaii at 8:00am EST.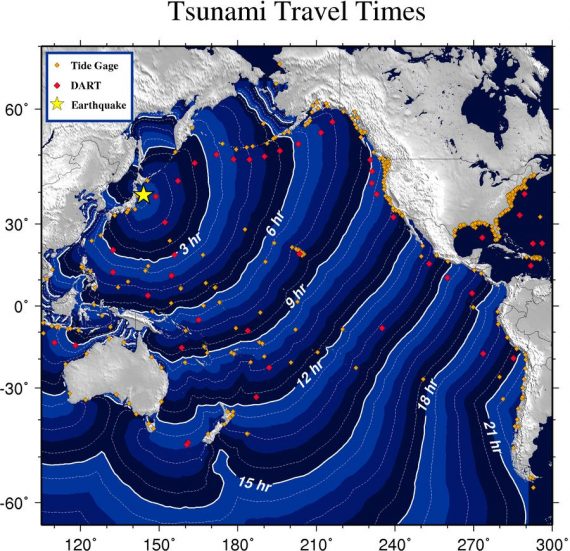 Hawaii is bracing for the first wave of the tsunami that has been produced by the massive earthquake that struck Japan last night:
(Reuters) – Hawaii ordered evacuations of its coastal areas and braced for a possible tidal wave set off by Friday's earthquake in Japan as a tsunami warning was extended to most of the Pacific basin, including northern California and Oregon.

Some 3,800 miles (6,200 km) from Japan, the main airports on at least three of the major Hawaiian islands — Maui, Kauai and the Big Island of Hawaii — were shut down as a precaution, and the U.S. Navy ordered all warships in Pearl Harbor to remain in port to support rescue missions as needed.
The graphic above is from the West Coast/Alaska Tsunami Warning Center. It illustrates the travel times of the tsunami to various regions around the Pacific Rim.
It's important to remember that a tsunami isn't just a single wave but a series of waves and the interval between them may range from minutes to hours. The earthquake that struck Japan is of historic magnitude. Consequently, the tsunami it produced may well be, too. It may cause coastal flooding not only in Hawaii but in Washington, Oregon, and California or it may not. At this point noone really knows for sure.
Judging by the energy map of the tsunami the U. S. West Coast is likely to escape the brunt of the tsunami's force but Chile may well be in for a rough time.
UPDATE
The first waves to reach Hawaii are being reported as three feet but subsequent ones are expected to be larger.