Everybody Hates Congress
It would appear that the only people who have confidence in the United States Congress are the people who work there.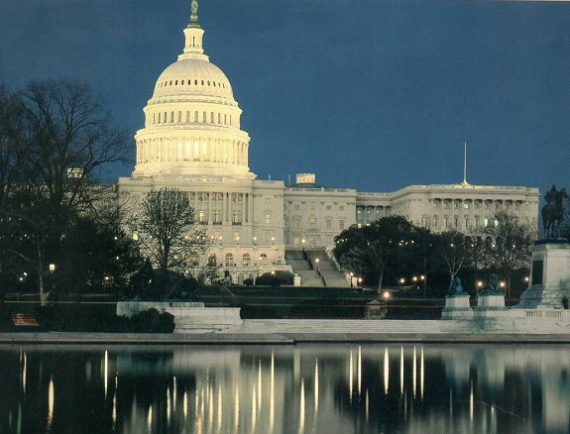 A new Gallup Poll shows that the United States Congress is less well-regarded than any other institution in the United States:
Only 11 percent of the country has confidence in the United States Congress, making it the lowest ranked institution in a new Gallup poll.

Among the 1,020 adults surveyed, Congress rates lower than banks, labor, big business and Health Maintenance Organizations.

The 11 percent who said they have faith in Congress is down 6 percentage points from mid June.
As it turns out, though, nearly every institution in the poll suffered some loss in confidence over the past year: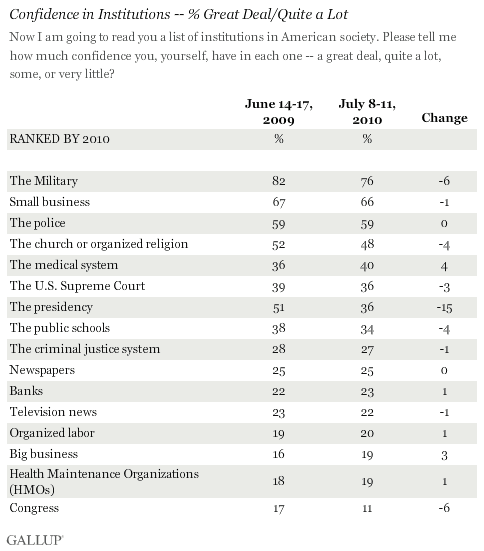 Leaving aside for the moment the fact that 89 percent of the public says it has no confidence in the body that is supposed to represent its interests in Washington, perhaps the most interesting number on the chart above is the drop in the public's confidence in the Presidency. Obviously, this is partly influenced by the decline in Barack Obama's popularity and approval ratings, but one wonders if it also means that the Presidency is headed in the same direction that the public's confidence in Congress has gone: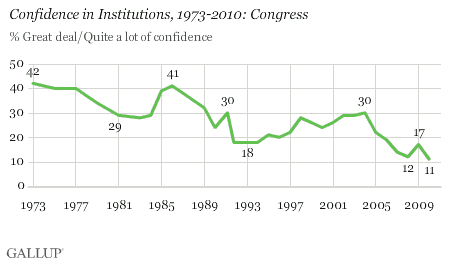 It's certainly understandable why the public would feel this way about Congress. What I have to wonder is what it means for our political system when the institutions of government are held in such high disregard.