Evidence Mounts Against Saudi Crown Prince In Khashoggi Murder
The evidence linking the Saudi Crown Prince to the murder of Jamal Khashoggi seems irrefutable.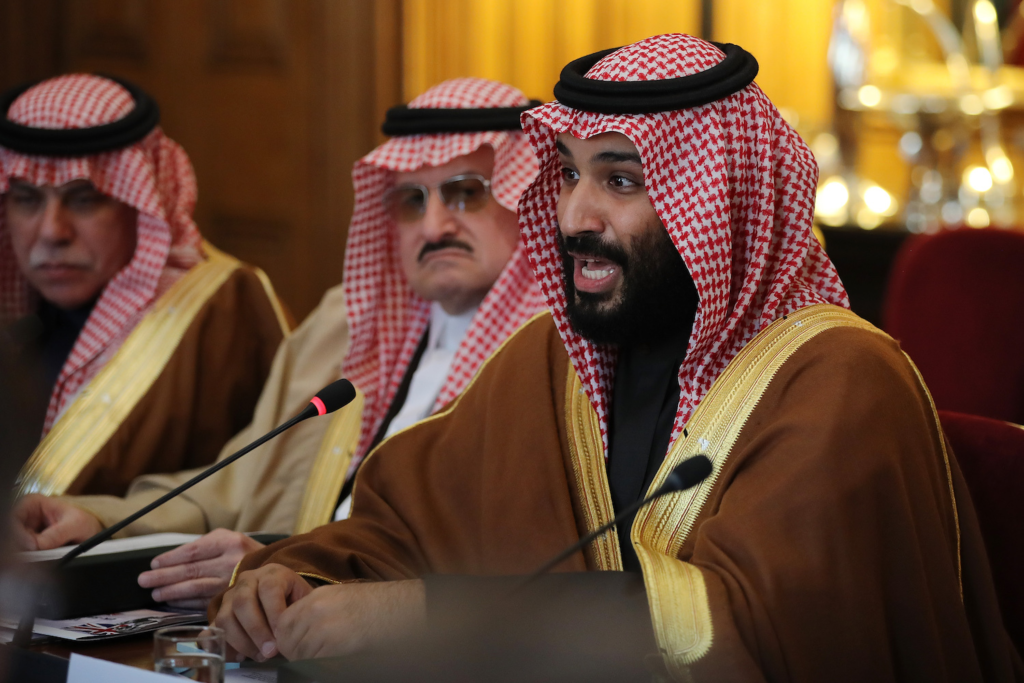 Notwithstanding the fact that the Saudis seem intent on pushing forward a ridiculous narrative trying to absolve anyone in a position of power in the death of Washington Post columnist and Saudi dissident Jamal Khashoggi,
The Trump administration and the Saudi royal family are searching for a mutually agreeable explanation for the death of journalist Jamal Khashoggi — one that will avoid implicating Crown Prince Mohammed bin Salman, who is among the president's closest foreign allies, according to analysts and officials in multiple countries.

But it will be difficult for the young ruler to escape scrutiny, as mounting evidence points not only to the Saudi government's knowledge of Khashoggi's fate, but also to a connection by Mohammed to his disappearance.

U.S. intelligence reports, accounts from Khashoggi's friends, passport records and social media profiles paint a picture of a brutal killing that at least had its roots in Mohammed's desire to silence Khashoggi, a former palace insider turned critic of the government and the prince in particular.

The analysts and officials said it was inconceivable that such a brazen operation as the one alleged by Turkish officials, involving a team of 15 agents sent to Istanbul, who then killed and dismembered Khashoggi, could have been pulled off by a group of "rogue killers," as President Trump speculated this week, moments after a phone call with Saudi Arabia's King Salman.

Even one of the president's closest advisers, Rudolph W. Giuliani, said many senior members of the administration concluded more than a week ago that the Saudis had killed Khashoggi.

"The only question is, was it directed from the crown prince or the king — or was it a group that was trying to please him?" Giuliani said in an interview.

Before Khashoggi ever set foot in the consulate in Istanbul on Oct. 2, Mohammed was trying to get his hands on him.

In recent months, the crown prince, known by his initials, MBS, ordered an operation to lure Khashoggi back to Saudi Arabia from his home in Virginia, according to U.S. intelligence intercepts of Saudi officials discussing the plan.

In September, a high-ranking Saudi official close to the prince, Saud al-Qahtani, called Khashoggi and promised him safety and the prospect of an important job working for Mohammed if he returned home, said Khaled Saffuri, an Arab American political activist and friend of Khashoggi's.

"He said: 'Are you kidding? I don't trust them one bit,' " Saffuri said of Khashoggi's response.

Other friends of Khashoggi's, who spoke on the condition of anonymity because of security concerns, told similar stories of calls from Riyadh on the crown prince's behalf.

(…)

"It's inconceivable that an operation using royal guards, other court officials and the consulate was not authorized by the crown prince. That's not how the kingdom functions, especially with MBS as heir apparent," said Bruce Riedel, a senior fellow at the Brookings Institution and an expert on Saudi Arabia and the royal family who served more than 30 years at the CIA.

"As much as the White House is eager to absolve MBS, the rogue coverup is unraveling before it's even official," Riedel added.

Mohammed is not considered to be the kind of leader to condone operatives' acting outside the chain of command.

"He has a reputation as a very hands-on manager," said Jon B. Alterman, the director of the Middle East program at the Center for Strategic and International Studies in Washington. He noted that the crown prince has been directly involved in the implementation of new policies and leads an ambitious effort to diversify the Saudi economy.

"When you talk to people working on [these initiatives], the story one hears is about his attention to detail and accountability," Alterman said.
The New York Times, meanwhile, is saying that American intelligence sources are reaching similar conclusions to their Turkish counterparts:
WASHINGTON — American intelligence officials are increasingly convinced that Crown Prince Mohammed bin Salman of Saudi Arabia is culpable in the killing of the dissident journalist Jamal Khashoggi, an appraisal that poses challenges to a White House intent on maintaining a close relationship with the kingdom.

Intelligence agencies have not yet been able to collect direct evidence of the prince's involvement, American and European officials said. They also have not been able to conclude whether Prince Mohammed directly ordered the killing of Mr. Khashoggi, or whether his intention was to have Mr. Khashoggi captured and taken back to Saudi Arabia, according to one official.

But intelligence agencies have growing circumstantial evidence of the prince's involvement — including the presence of members of his security detail and intercepts of Saudi officials discussing a possible plan to detain Mr. Khashoggi, according to American officials.

Officials have also said the prince's complete control over the security services makes it highly unlikely that an operation would have been undertaken without his knowledge.

American intelligence agencies are preparing the assessment of Prince Mohammed to present to President Trump. The work was described by a half-dozen officials on Wednesday, as Secretary of State Mike Pompeo concluded a trip to the kingdom that failed to deliver an immediate diplomatic resolution to the crisis.

Officials said the intelligence agencies are trying to take care not to limit the White House's policy options, and just put forward facts about the case.

Intelligence reports are only one factor that a White House must consider in concluding matters of national security. Mr. Trump could ignore the classified assessment as he decides what policies he believes are in the American interest, or decide he is unpersuaded by the intelligence.

Mr. Trump has pushed an explanation that a so-called rogue killer could be responsible for the suspected killing, but the intelligence agencies' assessments could undermine that theory, which in any case has been widely discredited.

Mr. Pompeo's trip to the kingdom was supposed to forge the beginnings of a diplomatic resolution.

But Mr. Pompeo's private meeting on Tuesday with Prince Mohammed, attended by a small number of aides on both sides, was highly scripted, and he made no dramatic threats or ultimatums, said one former senior administration official who was briefed on the gathering.

Mr. Pompeo asked for an accounting of what happened and the prince, denying any involvement in Mr. Khashoggi's disappearance, said an investigation was underway, the official said. In the end, the official said, Mr. Pompeo's plea to the Saudis was to complete the investigation quickly and transparently.

At the State Department's headquarters in Washington, some diplomats were dismissive when asked about Mr. Pompeo's mission to Riyadh, the Saudi capital.

But a person familiar with the meeting said that privately, Mr. Pompeo sternly told the prince that even if he did not know whether Mr. Khashoggi had been killed, he would have to take responsibility to help the kingdom avoid the consequences of an international backlash.
This news comes as the Turks continue with an investigation that is revealing increasingly gruesome information regarding Khashoggi's murder as well as obvious efforts by the Saudis to cover up as much evidence as they can regarding what happened on October 2nd. For example, while the Saudis did allow Turkish police to search the consulate earlier this week, that search came after they had obviously taken steps to cover up whatever forensic evidence might have been left behind. For example, it is being reported that prior to allowing the Turks to search the building a cleaning crew had worked over several areas with powerful cleaning agents, including bleach and other chemicals that would make it difficult for police to detect residual blood or other evidence. Additionally, it has been reported that many of the rooms that the Turks were granted access to had been freshly painted, which again is evidence of an effort to cover up whatever forensic evidence might have been left behind by the fifteen person team that was sent to interrogate and kill Khashoggi on the day he disappeared. Finally, the Turks were initially denied access to the home of the Saudi Counsel General, who had abruptly left the country earlier this week and were only allowed inside after that residence was the site of clean up efforts similar to those that occurred at the embassy. This is an obvious attempt at a cover-up.
Perhaps the most shocking development late yesterday, though, was the news that the Turks had released what they contend is audio of Khashoggi's interrogation and murder, although it's unclear how they might have obtained this:
ISTANBUL — Saudi agents were waiting when Jamal Khashoggi walked into their country's consulate in Istanbul two weeks ago. Mr. Khashoggi was dead within minutes, beheaded, dismembered, his fingers severed, and within two hours the killers were gone, according to details from audio recordings described by a senior Turkish official on Wednesday.

The government of Turkey let out these and other leaks about the recordings on Wednesday, as Secretary of State Mike Pompeo visited Ankara, in an escalation of pressure on both Saudi Arabia and the United States for answers about Mr. Khashoggi, a prominent Saudi dissident journalist who lived in Virginia and wrote for The Washington Post.

The new leaks, which were also splashed in lurid detail across a pro-government newspaper, came a day after Mr. Pompeo and the Trump administration had appeared to accept at face value the promises of the Saudi rulers to conduct their own investigation into Mr. Khashoggi's disappearance — regardless of Turkish assertions that senior figures in the royal court had ordered his killing.

As the Saudis and the Americans tried to put the crisis behind them, the brutality described in the leaks served as a reminder of why Mr. Khashoggi's disappearance has triggered an international backlash more severe than countless mass killings or rights violations.

As the Saudis and the Americans tried to put the crisis behind them, the brutality described in the leaks served as a reminder of why Mr. Khashoggi's disappearance has triggered an international backlash more severe than countless mass killings or rights violations.

Mr. Trump, for his part, pushed back by questioning the Turkish claims, telling reporters on Wednesday that the United States had asked for copies of any audio or video evidence of Mr. Khashoggi's killing that Turkish authorities may possess — "if it exists."

"I'm not sure yet that it exists, probably does, possibly does," Mr. Trump told reporters in the Oval Office, adding: "I'll have a full report on that" when Mr. Pompeo returned. "That's going to be the first question I ask."

American intelligence officials say they have growing circumstantial evidence that Crown Prince Mohammed was involved in the disappearance of Mr. Khashoggi, who entered the consulate in Istanbul more than two weeks ago to obtain a document for his coming wedding and did not emerge.

(…)

Turkish officials on Wednesday reiterated their conclusion that a team of 15 Saudi agents, some with ties to Crown Prince Mohammed bin Salman, was waiting for Mr. Khashoggi inside the Saudi Consulate the moment he arrived, at about 1:15 p.m. on Oct. 2.

After he was shown into the office of the Saudi consul, Mohammad al-Otaibi, the agents seized Mr. Khashoggi almost immediately and began to beat and torture him, eventually cutting off his fingers, the senior Turkish official said, describing the audio recordings.

Whether Mr. Khashoggi was killed before his fingers were removed and his body dismembered could not be determined.

But the consul was present and objected, the official said. "Do this outside. You will put me in trouble," Mr. Otaibi told the agents, according to the Turkish official and a report in the Turkish newspaper Yeni Safak. Both cited audio recordings said to have been obtained by Turkish intelligence.

"If you want to live when you come back to Arabia, shut up," one of the agents replied, according to both the official and the newspaper.

A top Saudi doctor of forensics had been brought along for the dissection and disposal of the body — an addition to the team that Turkish officials have called evidence of premeditation. And as the agents cut off Mr. Khashoggi's head and dismembered his body, the doctor had some advice, according to the senior Turkish official.

Listen to music, he told them, as he donned headphones himself. That was what he did to ease the tension when doing such work, the doctor explained, according to the official describing the contents of the audio recordings.

Although several Turkish officials have described the audio recordings or other evidence related to Mr. Khashoggi's disappearance in the consulate, all have declined to disclose how the material was obtained. Some recordings or other evidence may have come from intercepted communications or audio surveillance that the Turkish government is unwilling to acknowledge for fear of compromising intelligence sources or revealing violations of international law.

But Mr. Trump's comments suggested that the Turks have also declined to share their evidence with United States intelligence agencies, which are usually close partners. That reluctance suggests the Turkish government may be seeking to reach some accommodation with Saudi Arabia while avoiding a full rupture in relations with another important regional power.

(…)

An investigation by The New York Times revealed on Tuesday that at least four of the suspects whom Turkish officials have said played a role in Mr. Khashoggi's disappearance or death have close ties to Crown Prince Mohammed, having traveled with him as members of his security team.

Those four are among 15 Saudis, including the doctor of forensics, whom the Turks have said flew into Istanbul the day of Mr. Khashoggi's disappearance. The Times has confirmed that at least nine worked for the Saudi government, military or security services.

Mr. Pompeo has declined to comment on such specifics but has expressed confidence in the promise of the king and crown prince to investigate. After flying to the capital, Ankara, to meet with Mr. Erdogan, Mr. Pompeo said repeatedly that the Trump administration was withholding judgment until seeing the results of the Turkish and Saudi investigations.

Mr. Trump, too, appeared inclined to trust the Saudis and denied that he was "giving cover" by insisting that they should be regarded as innocent until proven guilty.

Saudi Arabia "has been a very important ally," Mr. Trump said. He noted again, as he has repeatedly since Mr. Khashoggi's disappearance, that the kingdom was spending billions of dollars on American weapons.

Still, the implication that the Saudi government orchestrated Mr. Khashoggi's disappearance and possible death has created a stigma around Crown Prince Mohammed, who runs the country.
Assuming these descriptions of what happened are correct, then it seems pretty clear that the unfolding Saudi narrative that the initial intention of what they will apparently contend was a rogue operation was to interrogate Khashoggi and, potentially, kidnap him and take him back to Saudi Arabia is even more implausible than it sounded when it was first reported. As I've said before, even if this story were true that hardly makes the matter any less serious. Kidnapping and torture are serious crimes, especially given the fact that the only reason Khashoggi was targeted was due to his criticisms of the Crown Prince and the Saudi government. What these and other revelations make clear, such as the identity of the members of the Saudi team that arrived in Istanbul just hours before Khashoggi showed up at the consulate and the fact that they apparently arrived with equipment such as a bone saw whose purpose seems self-evident, is that the plan all along was to murder Khashoggi and carry his body out of the country in pieces. It's gruesome, disgusting, and something you can hardly believe would happen in the 21st Century, but here we sit with the evidence slowly coming before is that is seemingly impossible to refute. Given all this, the idea that any part of this operation could have been carried out without the knowledge and permission of the Crown Prince who has made it his business to be involved in every aspect involved in running the Kingdom of Saudi Arabia just becomes more utterly absurd by the day. The question is what, if anything, will be done to hold the Saudis generally, and Mohammed bin Salman specifically, responsible for all of this.