Evidence of the Consequence of Default
A study shows how a brief blip in payments in 1979 had negative consequences.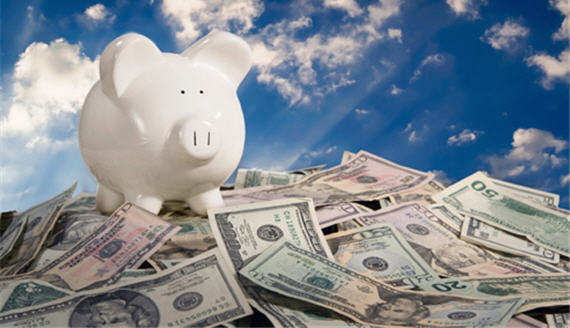 WaPo points to a study about a quasi-default back in 1979:  Delayed payments in 1979 offer glimpse of default consequences.
The background:
there was one short-lived incident in the spring of 1979 that offers a glimpse of some of the problems and costs that might arise if the stalemate on Capitol Hill continues. Then, as now, Congress had been playing a game of chicken with the debt limit, raising it to $830 billion – compared with today's $14.3 trillion – only after Treasury Secretary W. Michael Blumenthal warned that the country was hours away from the first default in its history.

That last-minute approval, combined with a flood of investor demand for Treasury bills and a series of technical glitches in processing the backlog of paperwork, resulted in thousands of late payments to holders of Treasury bills that were maturing that April and May.

"You hear lot of people say, 'The government never defaulted.' The truth is, yeah, they did . . . It might have been small, it might have been inadvertent, but it happened," said Terry Zivney, a finance professor at Ball State University who co-authored a paper on the episode entitled "The Day the United States Defaulted on Treasury Bills."
The consequences:
the study by Zivney and his partner, Dick Marcus, found that even that brief failure to meet some obligations had expensive consequences. The pair concluded "that the series of defaults resulted in a permanent increase in interest rates" of more than half a percent, which over time translated into billions of dollars in increased interest payments on the nation's debt, a cost shouldered by taxpayers.

"The impact is smaller at first because only new debt is affected," they wrote. "But over time, as the older debt matures and becomes refinanced at higher rates, the entire cost of the default is realized."
And the relative comparison to the current situation?
Zivney said that the 1979 incident, which pales in comparison to the size and scope of payments the Treasury could have to forego if it can no longer borrow money come Aug. 2, offers a useful case study in the real-world consequences that result when the U.S. government doesn't seem like the sure bet it has always been.

"It creates doubt, and I think that's the real lesson," he said. "The market has a much longer memory than individuals."

Angel, the Georgetown professor, said that the surest way to stave off any such doubts is for Congress to find a way to set aside political fights long enough to ensure that the country continues to pay its bills. Otherwise, he said, investors will punish the United States – and ultimately taxpayers – if and when checks stop showing up.

"It's not as if God appeared to Moses on Mount Sinai and said, 'The U.S. will always be a AAA credit.' Our reputation is something that we have earned," Angel said, adding that history is filled "with countries that were once great and blew it. The simple lesson is, you've got to pay your bills on time. If you don't pay your bills on time, bad things happen."
And yet, we continue to play with fire.  I would like to think that all of the rhetoric in Washinton over this issue is just words being used for leverage, but I have my doubts.  My ultimate assumption is that the Congress will do the right thing and raise the debt ceiling, but listening to some members of Congress, such as Senator DeMint, I wonder if the main actors involved in this situation understand what they are talking about.