Failures of Trumpian Populism
Fixing long term shifts in manufacturing isn't easy.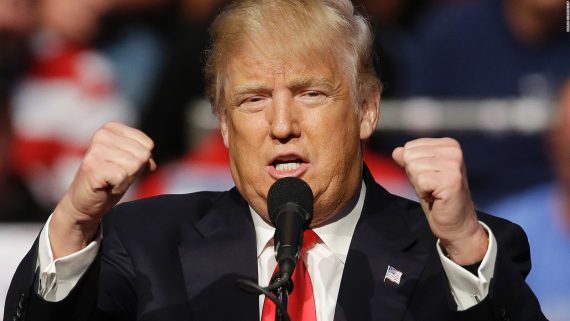 Via the NYT:  Trump Promised to Protect Steel. Layoffs Are Coming Instead.
The layoffs have stunned these steelworkers who, just a year ago, greeted President Trump's election as a new dawn for their industry. Mr. Trump pledged to build roads and bridges, strengthen "Buy America" provisions, protect factories from unfair imports and revive industry, especially steel.

But after a year in office, Mr. Trump has not enacted these policies. And when it comes to steel, his failure to follow through on a promise has actually done more harm than good.
It's as if vague, populist claims can't counter-act long-term economic trends.
Indeed, they can be damaging:
Foreign steel makers have rushed to get their product into the United States before tariffs start. According to the American Iron and Steel Institute, which tracks shipments, steel imports were 19.4 percent higher in the first 10 months of 2017 than in the same period last year.

That surge of imports has hurt American steel makers, which were already struggling against a glut of cheap Chinese steel. When ArcelorMittal announced the layoffs in Conshohocken, it blamed those imports, as well as low demand for steel for bridges and military equipment.
Empty promises made without any concern or alliance to economic and political reality is a hallmark of populistic politics:
Earlier this year, tariffs seemed imminent. Wilbur Ross, the commerce secretary, said in late May that he expected to conclude the steel investigation by the end of June.

And in early June, Mr. Trump told a crowd in Cincinnati, "Wait till you see what I'm going to do for steel and your steel companies," vowing that he would "stop the dumping" of products at superlow prices by other countries.

"We'll be seeing that very soon. The steel folks are going to be very happy," he said.

But the announcement never came.

[…]

Scott Paul, the president of the Alliance for American Manufacturing, a trade group that represents steelworkers, said he had "a profound sense of frustration that the president has been using steelworkers as political props."

"The president's own words and lack of action have actually put the industry in a worse position than if he had done nothing at all," he said.
Such failure is especially true when the populist in question has no real policy skills and/or lacks the ability to directly manipulate the policy areas linked to the promises made.  Yes, there have been some executive orders, and yes, we pulled out of the TPP, but the reality is that Trump has no real ability to ignite a resurgence of the steel industry.
Populism is mostly about convincing key sectors of the population that you (the populist) are on their side:
Chuck Hauer, who has worked at the plant for 22 years and ranks around 80 on the seniority list — meaning he is likely to be laid off — said he had voted Republican because he believed that Mr. Trump was "for the people." He said he still believed that the tariffs would happen, though perhaps not soon enough to save him.

"He's just delaying it," Mr. Hauer said of the president. "And I think the delay is hurting us more than he knows."
More likely, doesn't understand and doesn't give it a lot of thought.  I do believe that President Trump would love to bring back steel jobs, if anything so he could have a win.  But, ultimately, he is just hyping his brand when he makes promises to steelworkers.
Ms. Allen, whose father worked at the Conshohocken plant before her, was not a Trump supporter. "He told them what they wanted to hear so they would vote for him, and now they're seeing what president he is," she said.
Indeed.
Meanwhile, via Forbes
A year ago, Donald Trump visited a Carrier factory in Indiana to promote his Christmas miracle. Using millions of dollars of Indiana taxpayer funds, he claimed to have arranged a deal that would save the jobs of a thousand workers at the dying Indianapolis plant.

Reality began to set in before the cheers had even died down. The CEO of Carrier's parent company, UTC, gave an extensive TV interview a week later that largely ignored the deal.

[…]

Today, down at the Carrier factory, many of the jobs Trump supposedly "saved" are disappearing right on schedule. While Donald Trump is off somewhere else, rallying support for a child sexual predator, workers at the Carrier factory in Indianapolis are bracing for more layoffs, after the first round began in July. The next round has been mercifully delayed through the holidays, but the axe will still fall in January. A few factory jobs will be retained there, but most of the remaining workers at the Indianapolis facility will be engineers.

[…]

Over the longer term, automation is replacing those formerly well-paid, low-skill jobs in the US, Mexico, China and everywhere else. Raising more barriers to offshoring merely accelerates that shift.
See, also, this op-ed in WaPo:  A year ago, Trump promised Carrier workers help. We're still waiting.
The workers at Carrier aren't the only ones who feel victimized by Trump's false promises. United Technologies, Carrier's parent company, is laying off another 700 workers right up the road from the Carrier plant in Huntington. And Rexnord, another plant in Indianapolis, just closed its doors, too. Workers at both plants hoped that Trump would come to the rescue, but he never showed up.

Beyond Indiana, workers across the country feel like they too are victims of a false Trumpian bargain, in which they were invited to trade their votes to keep their jobs. In fact, according to new research conducted by Good Jobs Nation, more than 91,000 jobs have been sent overseas since Trump was elected, the highest rate of jobs lost to outsourcing in five years.
It's as if vague, populist claims can't counter-act long-term economic trends,  but I repeat myself.
This was all quite predictable.