Explaining Trump's Racist Attacks On 'The Squad'
The President's decision to base his re-election campaign on racism and stoking racial and ethnic divisions is quite simple to explain.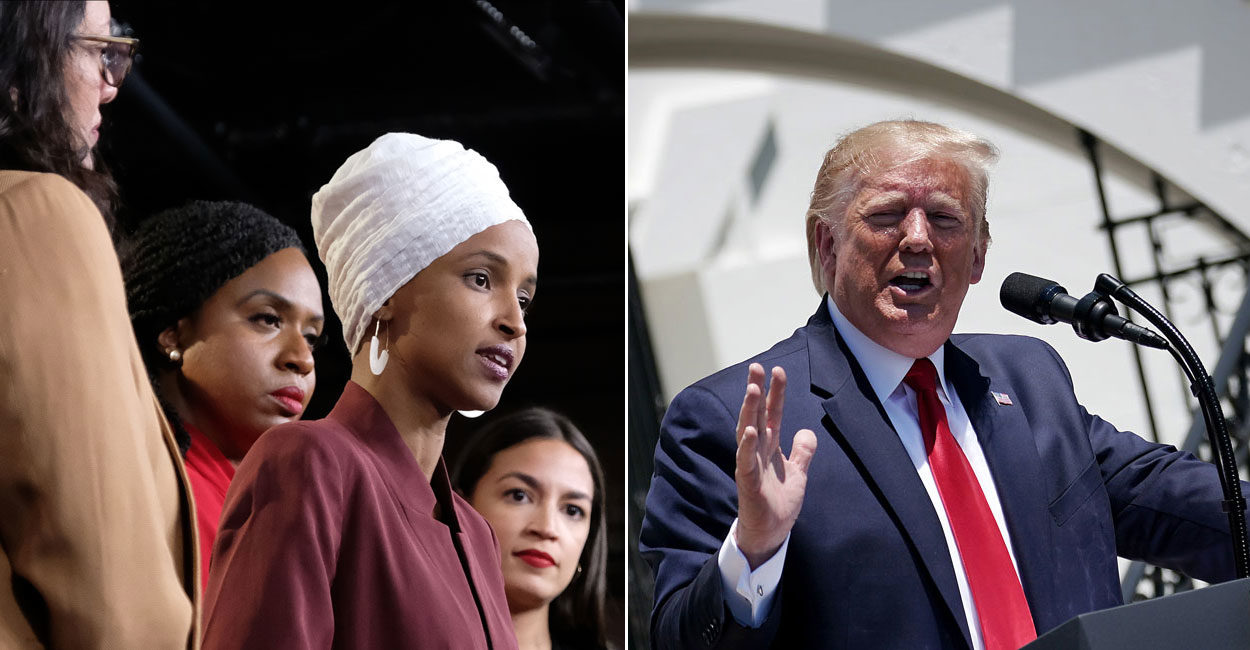 The news this week has largely been dominated by the reaction, or in the case of Republicans the lack thereof, to the President's racist tweets and comments about four minority Democratic Congresswomen, including the comment that they should 'go back where they came from' if they don't like how the country is being run. As we saw on Wednesday night in North Carolina, that rhetoric has been eagerly lapped up by President Trump's supporters and, while he attempted to distance himself from the way the crowd acted yesterday, today he was back to endorsing it. Meanwhile, we've also seen nearly all the Republicans in the House and the Senate, as well as Republican proxies who appear on cable news and, of course, the White House's propagandists at Fox News Channel take up the President's argument that the real issue is the allegedly offensive things that these women have said in the past.
For most other Americans, the President's comments are being perceived as racist, but that doesn't seem to matter to him, and a recent poll demonstrates why:
Regardless of whether you think it was racist for President Trump to urge four nonwhite (and mostly non-immigrant) Democratic freshman congresswomen to "go back" to their countries, the practical effect is clear: He's pitting himself against these minority women to help him win reelection in 2020, no matter how ugly that strategy is.

And a new poll shows just how ugly it could get.

The Economist and pollster YouGov are out with a survey testing the images of a bevy of politicians, including all the big-name 2020 presidential contenders, party leaders and the four freshmen Trump targeted Sunday. The poll was conducted beginning Sunday, the morning on which Trump sent those racist tweets, so it provides a good window into how people viewed the four congresswomen as they were thrust into the spotlight.

As you peruse it, it becomes clear that the conventional wisdom about why Trump picked these targets is right: They were ripe for motivating the GOP base. Reps. Alexandria Ocasio-Cortez (N.Y.), Ilhan Omar (Minn.) and Rashida Tlaib (Mich.) are already hugely unpopular among Trump voters. All of them are better known among Republicans than Democrats, which suggests that a steady stream of coverage in conservative media has elevated them as potential Democratic bogeywomen. Trump is tilling fertile soil.

And in fact, they might already be his most effective foils.

Ocasio-Cortez is viewed "very unfavorably" by 74 percent of voters who supported Trump in 2016, while Omar is at 65 percent and Tlaib is at 58 percent.

But those differences are mostly a function of name ID. If you adjust their "very unfavorable" ratings for the percentage who have actually heard enough to rate them, the picture becomes clearer. By this measure, Trump voters already rate them as three of the four Democrats they dislike the most — more than any of the 2020 Democratic presidential hopefuls, even. Only House Speaker Nancy Pelosi (Calif.), who is tied with Tlaib for third-most-disliked, prevents them from monopolizing the top four spots.

(Rep. Ayanna Pressley (Mass.) was the fourth congresswoman Trump targeted. She remains less well known and less despised than the other three members of "the Squad.")

(…)

Whatever Trump's real motivations here, he has a political incentive to keep the focus on these three women (not to mention the next two people on the list, who are also women: Pelosi and Sen. Elizabeth Warren of Massachusetts).

That doesn't necessarily mean Trump's tweets were a good idea — it's possible to keep the focus on the right opponents without tweeting something racist that could alienate swing voters — but Trump is a politician obsessed with pleasing his base. If his supporters respond to something, he's going to keep doing it. And he suggested as much in a new interview with the Daily Mail. Asked whether he was pleased with how this whole situation panned out, he said, "Well, let's put it this way: I'm not unhappy."

Trump has shown before that he's perfectly willing to demean his political opponents, especially women (Clinton) and racial minorities (Obama), in intensely personal ways. What happens when his targets are both of those things? It seems we're about to find out, over and over again.
In other words, in "the squad" Trump has found a political target that he can attack at will with the roaring approval of his supporters, which is really the only electoral demographic that he cares about. The fact that it also taps into the same racially divisive themes that he based his first campaign, and indeed much of his Presidency, on is merely icing on the cake. It's also consistent with his past behavior of tapping into the hatred of his supporters to keep them afraid and motivated. In 2016, it was hatred of Hillary Clinton, and that led to the "Lock Her Up!" chants that were so common at Trump rallies back in the day. It also explains his frequent attacks on Mexicans, Muslims, disabled people, a Federal District Court Judge who happened to be Mexican-American and a Gold Star Family who happened to be Muslim. It also explains why he attacked N.F.L. players who knelt for the National Anthem, and why he called them "sons of bitches."He says these things because he knows the crowds will eat it up and that they'll not only give him and his racism a pass, but that they actually support it.
Along the same lines, political analyst Ron Brownstein notes that Trump likely needs to keep stoking racial divides if he wants to win in 2020:
Trump has telegraphed that, ahead of 2020, he hopes to focus at least as much on the jagged divide of "Who is a real American?" as on the traditional question incumbent presidents seeking reelection highlight during generally good economic times: "Are you better off than you were four years ago?"

That choice may reflect the convergence of inclination and calculation. Trump's instinct is to center his politics on cultural and racial conflicts that pit Americans uneasy about the nation's changing identity against those who welcome or accept it. But Trump also faces clear evidence that he may be unable to build a winning coalition with just the voters satisfied with his performance in office. That's evident even with an economy that's booming, at least according to measures like the low unemployment rate and the soaring stock market
Brownstein goes on to dissect the findings of recent polls and poll analysis that find that, while voters are giving Trump credit for the state of the economy they are still uneasy about him, but that there is a portion of that group that potentially remains persuadable and that's where the divisive rhetoric comes into play:
Those numbers notwithstanding, [GOP pollster Gene] Ulm doesn't consider the obstacles Trump faces with these voters insurmountable: "He's creeping up with them." Like most Republican strategists I've spoken to, he sees three keys to Trump converting conflicted voters: focusing their attention on his economic record, soothing their concerns about his behavior and rhetoric, and painting Democrats as ideologically extreme. "When you separate Trump out on it, and you look at the commentary on these voters, they are by no means liberal voters," Ulm says. "You have a lot of people [who] like everything he's doing but would never have him [over] for dinner."

With his openly racist and xenophobic attacks on four Democratic congresswomen, Trump this week has elevated the third goal at the price of impeding (if not incinerating) the first two. Still, Ulm sees little risk for Trump with these conflicted voters in deploying such language. " I don't think it affects moving them one way or another," he says. "So much of how he talks … is just built into his stock price."
That last point is well taken. We've been exposed to so much nonsense from Trump over the past four years since he entered the race for the White House, and indeed long before that, that's it's hard to believe that there's anything that he can say or do that will shock people anymore. It's even harder to believe that there's anything he can say or do that will cause his hardcore supporters to abandon him. As he is fond of saying, he could murder someone in the middle of Fifth Avenue in Manhattan, and these people would still support him. What makes anyone think that they are going to abandon him over racist comments like the ones he's been spewing this week, especially when the polls show that they agree with him?
The lesson from all of this, of course, is that we're unlikely to see this racially divisive strategy of Trump's come to an end. If anything, it's likely to get much, much worse as we get closer to the election, especially if the current polling that shows the President losing to several of the top Democratic contenders in key states. With numbers like that, Trump knows that he can't and likely won't win if he runs a campaign that attempts to broaden his base, which is the strategy that most incumbent President's try to use when running for re-election. The only hope he has is to rile up his base and hope that their turnout in key states is stronger than Democratic turnout, or at least strong enough for him to pull off what would likely be another narrow Electoral College win, perhaps one even narrower than the one he won in 2016 which ranks at 46th among the 58 Presidential elections we've had since 1789. (Source) Will it work? I'll tell you on November 4th, 2020.