Explicit Weiner Photograph Released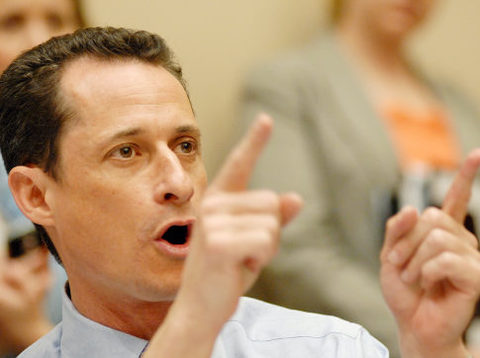 Andrew Breitbart had said that he would not release the final, most explicit, photograph he had of Anthony Weiner but it got out anyway:
It only took two days.

After Andrew Breitbart, publisher of the conservative BigGovernment.com and other sites, claimed Monday he had an X-rated photo of Rep. Anthony Weiner, the purported image has surfaced on the Internet. And Breitbart's not happy.

"I'm mortified," Breitbart told Fox News.

The image of what are said to be Weiner's genitals was posted online after Breitbart appeared on the satellite radio show of shock jocks Opie and Anthony Wednesday.

Breitbart said that while he was in the studio, Opie — real name, Gregg Hughes — snapped a photo of the graphic image "without my permission." Breitbart said he's shown the image to other members of the media as proof of his claims, but until now nobody has made that image public.

"This is the first time that someone surreptitiously grabbed a photo of it. This is a complete breach of our arrangement that the photo would not be made public," Breitbart told Fox News. "It was a complete violation of trust."
What this means for Weiner only time will tell. The drip-drip-drip of revelations has been bad, but this is probably the worst of all. Democrats are starting to abandon him. He doesn't have to resign but, like Charlie Rangel, he's likely to become a pariah in his own caucus.
As for Breitbart, let's think about this. He apparently has been walking around with a picture of Anthony Weiner's genitals on his iPhone for several days. He's shown it not only to these shock jocks but also, reportedly, to Ann Coulter and the hosts of Fox News Channel's Red Eye. Now he says he's "mortified." I'm not buying it.
Update: Opie of Opie & Anthony tells us how he managed to get the picture: