F.B.I Releases Photos & Video Of Two Suspects In Boston Marathon Attack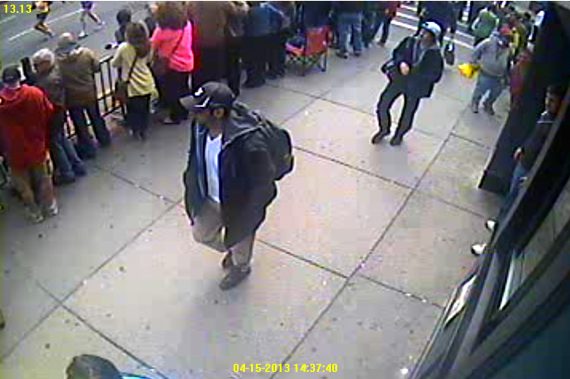 The Federal Bureau of Investigation has released photographs and video of two men it considers suspects  in Monday's attack at the Boston Marathon:
BOSTON — The F.B.I. released still and video images of two men whom they characterized as suspects in the Boston Marathon bombings on Thursday evening and asked for the public's help in identifying them.

One of the men was captured on video setting down a backpack at the site of the second explosion, said Richard DesLauriers, the special agent in charge of the F.B.I.'s Boston field office.

"Today we are enlisting the public's help to identify the two suspects," Mr. DesLauriers said at a news conference Thursday evening in Boston.

Investigators have been poring over surveillance videos from stores near the scenes of Monday's deadly blasts, as well as footage taken on smartphones and by television crews filming the marathon. "Within the last day or so, through that careful process, we initially developed a single person of interest," Mr. DesLauriers said. "Not knowing if the individual was acting alone or in concert with others, we obviously worked with extreme purpose to make that determination."

After a concerted effort, he said, investigators determined that a second suspect was involved. One of the men was shown wearing a white cap, and the other a black cap. Mr. DesLauriers urged anyone who has seen the men, or who knows who they are, to call 1-800-CALL-FBI (1-800-225-5324).
Additional photos are posted at the website the FBI has set up dedicated to this case, and here's the surveillance video that the above screen shot was taken from:
Now, let's see what comes of this.