F- Biden Signs and Free Speech
I know obscenity when I see it and this ain't it.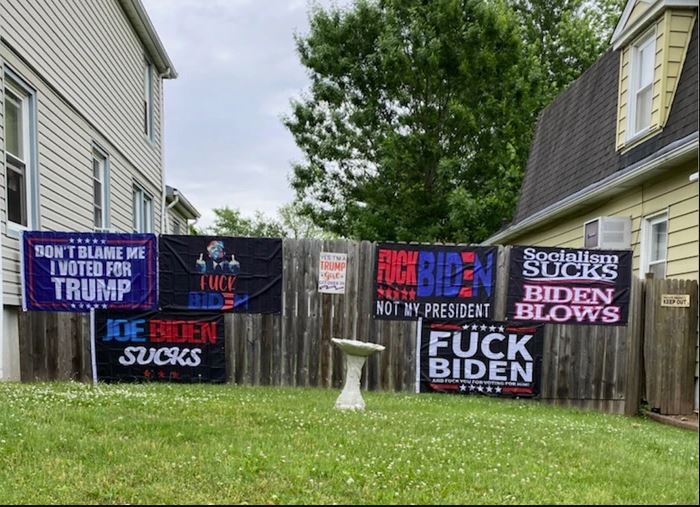 NJ.com ("N.J. woman must remove anti-Biden F-bomb signs or face $250-a-day fines, judge rules"):
A municipal judge on Thursday ruled that a Roselle Park homeowner's owner's anti- President Biden flags including the F-bomb on her fence were obscene and must be removed because they violated a borough ordinance.

Roselle Park Municipal Court Judge Gary Bundy ordered the Willow Avenue homeowner to remove the signs with profanity within a week or face a $250-a-day fine. Patricia Dilascio is the property owner but her daughter, Andrea Dick, had the signs, three of which include the F-word, on display.

"This is not a case about politics. It is a case, pure and simple, about language," Bundy said. "This ordinance does not restrict political speech. Neither this town or its laws may abridge or eliminate Ms. Dilascio's freedom of speech. However, freedom of speech is not simply an absolute right. It is clear from state law and statutes that we cannot simply put up the umbrella of the First Amendment and say everything and anything is protected speech."

[…]

The ordinance prohibits displaying "any obscene material, communication or performance or other article or item which is obscene within the Borough." It defines obscenity as material that depicts or describes sexual conduct or lacks any serious literary, artistic, political or scientific value.

Michael Campagna, an attorney representing the homeowner, argued that standards for obscenity have changed over the years, stating that it was obscene for women to show their knees in the 1920s. He said using the f-word towards someone no longer has a sexual connotation in society and is simply a colloquialism.
So, Dilascio and her daughter are not the classiest women in the state of New Jersey. I'm not a fan of their politics. And, were I their neighbor, I would consider these signs an eyesore and a nuisance. But, rather clearly, this is a violation of their First Amendment rights.
I am dubious of the Constitutionality of § 3-8.1 of the borough code, which states that,
It shall be unlawful for any person, firm, corporation, business association, club, group of individuals or any combination of the aforementioned to knowingly photograph, act in, pose for, print, sell, offer for sale, give away, exhibit, publish or offer to publish or otherwise distribute or pander, make, display or exhibit any obscene material, communication or performance or other article or item which is obscene within the Borough.
In contrast with the wildly unconstitutional (as defined by a number of Supreme Court decisions) definition of obscenity in the article, the actual language in § 3-8.2 is likely fine:
The word "obscene" shall mean any material, communication or performance which the average person applying contemporary community standards existing within the municipality, would find, when considered as a whole:

a. Appeals to the prurient interest;

b. Depicts or describes in a patently offensive way sexual conduct as hereinafter specifically defined, or depicts or exhibits offensive nakedness as hereinafter specifically defined; and

c. Lacks serious literary, artistic, political or scientific value.
The "and" between sections b and c is crucial. But, because of that, Bundy's ruling that the sign qualifies as obscene is absurd, if not outright moronic. While the fetish and deviant communities are vast, and I am sure that I could, with sufficient effort, find a subreddit where "Fuck Biden" would inspire sexual arousal, I would be willing to bet that the vast majority of community residents in Roselle Park, New Jersey would instead see it as a vulgar expression of distaste for the sitting President of the United States. And, as such, it deserves the highest possible protection from government interference.
Fifty years ago last month, in Cohen v. California, the Supreme Court ruled that a man had the right to wear a jacket emblazoned with "FUCK THE DRAFT" in a state courthouse. Justice Harlan famously declared that "one man's vulgarity is another's lyric" and ruled, "Absent a more particularized and compelling reason for its actions, the State may not, consistently with the First and Fourteenth Amendments, make the simple public display of this single four-letter expletive a criminal offense."
The "particularized and compelling reason" in this case seems to be that the house in question is in some proximity to a schoolhouse. According to a previous NJ.com report, "A map of the home shows it is around the corner and down a short, four-home block from the corner of a local elementary school's property."
I'm sympathetic to a community instinct to want to protect small children from vulgarity. If Dilascio and Dick were screaming "Fuck Biden" to the children as they walked by, I think the Borough would have a case here (although almost certainly not under their obscenity ordinance). But a static sign is another matter.
Bundy stated in the hearing that parents shouldn't have to explain to their small children what the "F-word" means as a condition of walking them to school. And, again, I'm sympathetic to that. But, frankly, I'm skeptical that, given the ubiquity of that word in our modern discourse, they haven't already heard it. And, regardless, that aesthetic ideal is outweighed by the free speech rights of the homeowner.