F.D.A.'s Mandatory Menu Labeling Regulations Won't Work, Could Hurt Consumers
The Food & Drug Administration's new regulations requiring calorie and other information on menus in restaurants and elsewhere won't work, could limit consumer choice, and may not be Constitutional.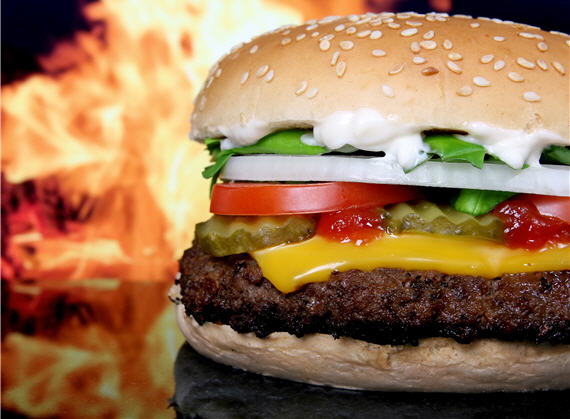 Shortly before everyone started leaving town for Thanksgiving, the Food and Drug Administration issued the rules designed to implement a requirement that was made part of the Affordable Care Act that requires most nationwide restaurant chains and other outlets to sell food to provide nutritional information about the food they sell, even though there is scant evidence that the presence of this information on menus actually has any impact on consumer behavior:
WASHINGTON — The Food and Drug Administration announced sweeping rules on Tuesday that will require chain restaurants, movie theaters and pizza parlors across the country to post calorie counts on their menus. Health experts said the new requirements would help combat the country'sobesity epidemic by showing Americans just how many calories lurk in their favorite foods.

The rules will have broad implications for public health. As much as a third of the calories that Americans consume come from outside the home, and many health experts believe that increasingly large portion sizes and unhealthy ingredients have been significant contributors to obesity in the United States.

"This is one of the most important public health nutrition policies ever to be passed nationally," said Margo Wootan, director of nutrition policy at the Center for Science in the Public Interest. "Right now, you are totally guessing at what you are getting. This rule will change that."

The rules are far broader than consumer health advocates had expected, covering food in vending machines and amusement parks, as well as certain prepared foods in supermarkets. They apply to food establishments with 20 or more outlets, including fast-food chains like KFC and Subway and sit-down restaurants like Applebee's and The Cheesecake Factory.

Perhaps the most surprising element of the new rules was the inclusion of alcoholic beverages, which had not been part of an earlier proposal. Beverages served in food establishments that are on menus and menu boards will be included, but a mixed drink at a bar will not, F.D.A. officials said.

"It's much tougher than the original," said Marion Nestle, a professor in the department of nutrition, food studies and public health at New York University. "I'm amazed. It never occurred to me that alcohol would make it in."

The new rules will take effect a year from now, and seem likely to face legal and political challenges from some parts of the food industry, including grocery and convenience stores that sell prepared foods for takeout.

Menu labeling became law in 2010 as part of the Affordable Care Act, and the F.D.A. issued a proposal for how it should be put into effect the following year. But the final rules were delayed for three years, in part because of fierce opposition from pizza and movie theater chains.

The release of the rules just weeks after the midterm elections prompted some advocates to suggest that politics might help explain the rules' timing and toughness. The administration backed away from covering movie theaters in 2011, the year before the last presidential election, when the Obama administration was keen to avoid giving Republicans ammunition for the charge that it was too quick to impose unnecessary and costly regulations.

The rules apply to prepared foods sold in groceries and convenience stores that are intended to feed one person, such as a sandwich or a salad, but not to items like loaves of bread or a rotisserie chicken.
On the surface, I suppose, the idea of requiring companies that sell food provide nutritional information about what they're selling. This logic would seem to become more compelling when you take into account the fact that issues like obesity and diabeatis are becoming problems for Americans at an increasingly younger age. Given the popularity of dining outside the home, something which can be attested to just by driving past an Olive Garden, Applebees, or Ruby Tuesday, or fast food establishments like McDonald's on a random evening, advocates argue that consumers should have the opportunity to be aware of the caloric and other content of the food they are thinking of ordering. Notwithstanding that logic, though, there are several problems with the idea of mandatory labeling that calls into question whether the requirements will accomplish anything other than increasing the cost of doing business, especially for smaller business for whom operating on the margins is a far bigger deal than large national restaurant chains. We know this because the PPACA is not the first effort to require calorie and other information be placed on menus, it's already been tried in cities like New York City and the results there are, at best, highly questionable. At 2011 report on the impact of a menu labeling law in suburban Maryland, for example, found that it had almost no impact on consumer choices, and the results were the same in a study of the impact of a Philadelphia menu law. In short, the law found that people who were frequenting restaurants like The Cheesecake Factory were already pretty well aware that the things they were ordering were high in fat and calories — I mean, what else would you expect at a place that has Cheesecake right there in its name, right? — but that they didn't particularly care. Either it wasn't a personal priority for them, or they were splurging on something they might not otherwise eat at home. The same was largely true of people buying burgers from establishments like Five Guys. The American people, it turns out, aren't quite as ill-informed as the "public health advocates" behind these labeling laws assume them to be and, even when provided with the information about how "unhealthy" the food they order might be, they still decide that they're able to, well, decide for themselves.
What's remarkable about the new rules, though, is that they go well beyond just requiring restaurants to put nutritional information on menus. The extension of the regulations to cover alcoholic beverages sold in restaurants, for example, is likely to become a complicated issue as arguments develop over how exactly that that is going to be measured in situations where the composition of cocktails can vary from time to time depending on what a customer orders. Applying the regulations to pizza also seems like it is going to be complicated due to the fact that most major national chains allow people to custom order their pizza now. And, finally, applying the rules to prepared foods sold in grocery stores is likely to cause grocers to move away from offering prepared fresh foods for sale in favor of packaged food that is likely to be higher in salt, fat, and preservatives:
"We're extremely disappointed," said Rob Rosado, director of government relations for the Food Marketing Institute, which represents thousands of supermarkets and grocery wholesalers.

Rosado said 95 percent of food in grocery stores comes with nutrition information, thanks to a 1990 law that required labels on packaged foods, and that prepared foods represent only a fraction of each store's business. Requiring labels for fresh food made in grocery stores, delis and bakeries could cost the industry hundreds of millions of dollars in signage, worker training and laboratory tests to determine the calories in each dish, he said. He thinks it also might prompt stores to carry fewer freshly made items to avoid the regulatory headaches.

"You're penalizing any kind of freshness. . . . It's going to be replaced with prepackaged food," Rosado said. "It's going to have a negative impact for grocery store consumers."
Lyle Denniston, meanwhile, looks at this issue from the legal perspective, and the question of whether or not these new regulations are authorized under the Constitution:
The FDA clearly operates on the assumption that it has authority from Congress to do what it is doing, and thus silently assumes that it must be acceptable under the Constitution's Commerce Clause.  The agency noted that it has had authority from Congress since 1990 to require nutrition labels on food, and that the Affordable Care Act extended that authority to restaurant menus and vending machines.

Restaurant food, of course, does contain ingredients that move across state borders, so it is an item that might be thought covered by the regulatory power granted by the Commerce Clause.

But the underlying policy rationale for this new regulatory regime appears to be something more than the interstate movement of, say, the potatoes that become French fries. The use of the phrase "obesity epidemic" in some of the agency's policy statements is a clue to what it is thinking. By labeling the problem of an overweight America as similar to some other form of social menace, it places its authority over restaurant menus in the same category, for example, as the marketing of carelessly compounded drugs or of cancer-causing tobacco.

It may be that a child entering a fast-food restaurant will be quite unaware of how fattening that experience may potentially be, but it can hardly be a surprise to any adult who has paid even the slightest attention to the media blitz over obesity.   At least for a good many people who indulge in fast food, it is a matter of consumer choice.   The government, presumably, has the authority to try to influence that choice, but no one is likely to suggest that the government could constitutionally close down the restaurant chains to give it even more influence.

The FDA, no doubt, is convinced that it is not substituting its regulatory judgment for the tastes of the American food consumer.   But of such assumptions is constitutional controversy born. It was not long ago that the Affordable Care Act was mired in such controversy as its critics likened its insurance mandates to compelling Americans to eat broccoli. Eating healthy, it seems, is a matter of private choice – even as a constitutional matter.
The Constitutionality of these menu requirements is one that has yet to be tested in Court. In no small part, of course, this is because a case against the F.D.A. would not be ripe for consideration by a Federal Court until the final round of regulations was released. Now that this has happened, it's probable that we will see at least some legal challenge to what the agency is purporting to do here. In the past, of course, the Federal Government's assertion of the Commerce Clause power would have been sufficient to defeat virtually any challenge of a law such as this. However, it's worth remembering that when the Supreme Court upheld the constitutionality of the individual mandate in 2012 its decision did so in a way that read the Commerce Clause power in a much narrower way than it had in the past. This is why, in the end, Chief Justice Roberts was required to look to Congressional taxing power to save the individual mandate, because he, along with four other Justices, had concluded that it could not be justified under the Commerce Clause. Would the same fate befall the menu requirements? That's hard to say without researching the matter further, but as Denniston notes it is exceedingly difficult to say how these menu requirements are something that ought to be seen as falling within the proper powers of Congress unless you stretch the interpretation of those powers beyond all logical meaning.
The most important thing about these requirements, though, is that they seem to me to be entirely unnecessary, costly to businesses for no good reason, and in the end potentially harmful. Despite the fact that there have been plenty of jurisdictions that have enacted them and studies from those laws that show that it has no real impact on consumer behavior. Indeed, now there's good reason to believe that the menu rules may actually make the food choices that consumers have less healthy, especially if they are indeed expanded to cover grocery stores as the FDA is purporting to do here. That last possibility doesn't even appear to be something that the FDA considered in drafting rules that seem to go well beyond what Congress intended when it authorized the agency to do this in the PPACA itself. The most important fact that the FDA is ignoring, though, is the fact that the American people are likely far more aware of the food choices they are making than bureaucrats think they are and that these laws that are clearly designed to try to change behavior are not likely to have the impact that the people who favor Nanny State regulations like this would like them to.