Failed Executive and Politician Carly Fiorina Running for President
Carly Fiorina, who flopped at Hewlett-Packard and in her lone previous political campaign, wants to be the leader of the free world.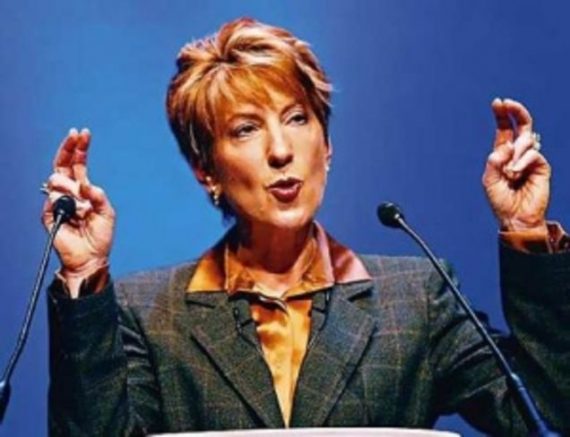 Carly Fiorina, who flopped at Hewlett-Packard and in her lone previous political campaign, wants to be the leader of the free world.
POLITICO ("Carly Fiorina: 'Yes, I am running for president'"):
Carly Fiorina announced Monday that she will seek the Republican nomination for 2016, becoming the latest entrant in an increasingly crowded field of candidates.

"Yes, I am running for president," she said on ABC's "Good Morning America," where she made the announcement to host George Stephanopoulos. "I think I'm the best person for the job because I understand how the economy actually works. I understand the world, who's in it, how the world works."

"I understand bureaucracies, and that's what our federal government has become — a giant, bloated, unaccountable, corrupt bureaucracy," she said. "I understand technology, which is a tool both to re-imagine government to re-engage citizens in the process of government, and I understand executive decision-making, which is making a tough call in a tough time with high stakes for which you're prepared to be accountable."

The former Hewlett-Packard executive said she does not believe that it is necessary to have experience in political office, something that she has heard from Americans while traveling throughout the country.

"They're kind of tired of the political class, and they believe that we need to return to a citizen government," she said.
Most of our modern presidents have previous experience as state governors or as vice president. The lone exception over the last half century is the incumbent, Barack Obama, who had no previous executive experience and had only been in big-time politics for two years before announcing his run for president.
Fiorina is especially unqualified for the office, having only a disastrous stint as CEO of a tech company on her resume. As Brent Budowsky noted in a recent column for The Hill,
If Carly Fiorina were male, she would be regarded in national politics as an anti-Clinton crony capitalist who mismanaged a company when she was its CEO, was terminated by the company's board of directors, was criticized for flying around in multiple corporate jets as she laid off many thousands of workers, became outrageously wealthy as a performance reward for the performance that led to her removal, and then turned her attention to politics which led to her being overwhelmingly defeated by Sen. Barbara Boxer (D-Calif.) in 2010, which was a banner year for other Republicans!

For those who doubt me about the qualifications of Fiorina for the presidency, I propose you Google the words "Carly Fiorina Hewlett-Packard," where one can read story after story about her performance during the highest level job she has ever held, and the reasons for her removal from that job.

Looks to me like Fiorina is the designated hatchet woman to attack Hillary Clinton, and if she were a male, the GOP would have to find another woman to play this role, and Fiorina would not be considered by any serious person to be commander in chief. If she were to manage the American economy the way she managed the business of Hewlett-Packard — and don't take my word for it, take the word of those who removed her as CEO — heaven help American business and workers!

The Republicans have many women who are superbly qualified for high office. I have written about Sen. Kelly Ayotte (R-N.H.), whom I predict will be on the short list of GOP possibilities for vice president on the 2016 ticket, and who earned that place through serious and highly regarded work. I would add New Mexico's Republican governor, Susana Martinez, who should also be on the GOP's short list for vice president because of her highly competent and skilled service as governor.

As for Fiorina, she will not be nominated for any national political position in 2016 for reasons that will be obvious after a quick google of "Carly Fiorina Hewlett-Packard." An anti-Clinton hatchet woman, sure, for a few more months. If you want a vice president or president for the GOP future, consider Kelly Aytotte or Susana Martinez because as an old commercial once said, they have earned it "the old-fashioned way," in ways that Carly Fiorina has not.
To be sure, Budowsky is a Democratic operative and not an objective analyst here. Still, he's right. If Fiorina were male, she'd be considered less qualified than Ben Carson—who none of us consider qualified to be president.