Farewell To Lotus 1-2-3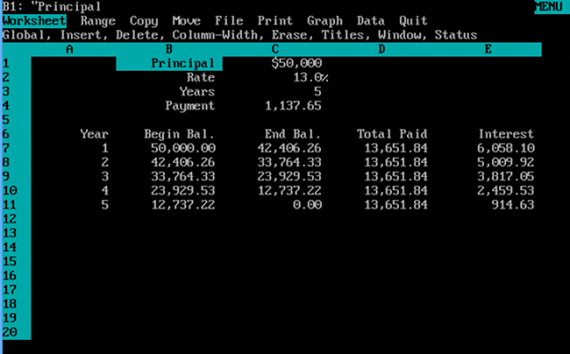 The program that helped bring IBM PC's into offices across America will soon be no more:
Thirty-one years is a good run for any product and that is how long we have lived with the spreadsheet that defined the PC generation, Lotus 1-2-3.

Earlier this week IBM Lotus 1-2-3. Millennium Edition, IBM Lotus SmartSuite 9.x, and Organizer finally, quietly passed the date on which support was due to end, September 30.

So farewell 1-2-3. It may not have been the first computer spreadsheet, that honour went to VisiCorp's, Apple II-based, VisiCalc, it was the first spreadsheet designed to run on the IBM PC which had launched two years earlier. But Lotus founder, Mitch Kapor made no secret of the fact that he wanted 1-2-3. to be the best in every category.

Commenting on the news of 1-2-3's demise, Mitch Kapor told ZDNet: "Lotus 1-2-3 had a great run and I'm proud of what we accomplished at Lotus.  It was a landmark product of its era and set the standards for productivity applications for personal computers for a long time."

(…)

Looked at with a 21st century perspective, it's hard to understand what made it such a compelling package but compelling it was and Lotus 1-2-3. sold by the bucket-load. Lotus 1-2-3. was to prove an outstanding success – the business plan had called for $1m in sales in its first year, but actual results were $54m.

Under Kapor's  leadership Lotus introduced other office products such as Ray Ozzie's Symphony office productivity suite in 1984 and the Jazz office suite for the Mac in 1985. Jazz did poorly but thanks to products like Notes, Lotus continued to do well.
Kapor's product did so will, in fact, that within a short period of time, Lotus Development ended up buying its Apple-based predecessor Visicalc and ending the product entirely. Eventually, of course, Lotus 1-2-3 found itself overtaken by Microsoft Excel in the same manner in which Wordperfect, which had been the market leader in the word processing software category, was overturn by Microsoft Word. At the time, though, 1-2-3 was a fantastically successful product that helped to greatly accelerate the introduction of computer technology in the workplace.