Fatherhood.gov Started Under Bush!
Fatherhood.gov, the website Obama launched to some criticism yesterday, actually has its roots in the Bush Administration and has a predecessor dating to 2000.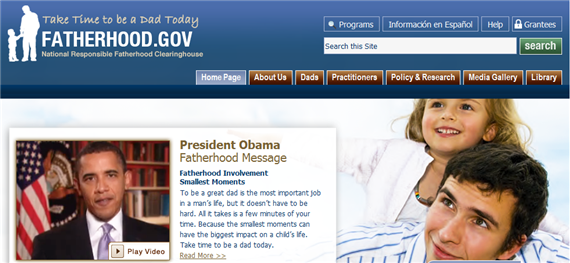 You know that Communist plot fatherhood.gov that we're all buzzing about?  It turns out that, despite the Obama administration's touting its "launch," it was actually put up by the Bush administration in 2007!
Commenter "John Personna" alerted me to this in the discussion section of my previous post, "Fatherhood and Other Things That Ain't Government's Business."  Sure enough, if you go to the Internet Archives (aka, the Wayback Machine) you'll see that the site began in September 2007 and seemed to go away about a year later: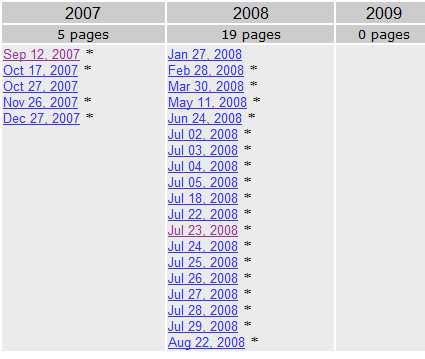 Additionally, there was apparently a predecessor site at fatherhood.hhs.gov going back to the beginning of the decade: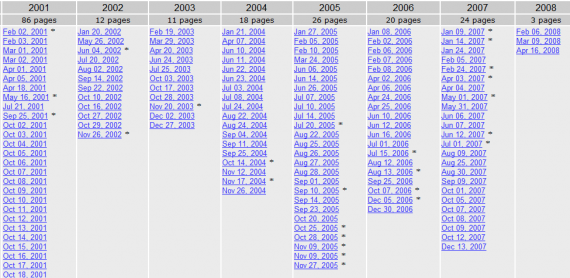 Was it dispensing advice on muting the television during sporting events?  Not insofar as I can tell.
Going back to the first listing for the HHS site, I see:
On June 16, 1995, President Clinton requested every agency of the Federal government to review its programs and policies to strengthen the role of fathers in families.  Under the leadership of Secretary Donna E. Shalala and Deputy Secretary Kevin Thurm, the Department has undertaken activities that recognize and support the roles of fathers in families.  These activities are guided by the following principles:

All fathers can be important contributors to the well-being of their children.
Parents are partners in raising their children, even when they do not live in the same household.
The roles fathers play in families are diverse and related to cultural and community norms.
Men should receive the education and support necessary to prepare them for the responsibility of parenthood.
Government can encourage and promote father involvement through its programs and through its own workforce policies.

The Department's activities account for those circumstances under which increased involvement by a father or a mother may not be in the best interest of the child.  This is true for a small number of children, however.  The Department strongly supports family preservation and reunification efforts when they do not risk the safety of the child.
The site itself was quite rudimentary, mostly linking to HHS publications and programs.   Nor did it evolve much over the years of the Clinton administration.
The Bush relaunch was done as part of  The National Responsible Fatherhood Clearinghouse (NRFC).  Indeed, that's what the site was titled.
The National Responsible Fatherhood Clearinghouse (NRFC) supports the Administration for Children and Families' Office of Family Assistance's (OFA) efforts to assist States and communities to promote and support Responsible Fatherhood and Healthy Marriage.

Primarily a tool for professionals operating Responsible Fatherhood programs, the NRFC provides access to print and electronic publications, timely information on fatherhood issues, and targeted resources that support OFA-funded Responsible Fatherhood and Healthy Marriage grantees. The NRFC Web site also provides essential information for other audiences interested in fatherhood issues.

Feel free to take a look around the NRFC Web site by looking on the left for resources relevant to who you are or in the "Topics and Tools" section in the lower left for information relevant to a specific subject.

Don't forget to search our online library for information on Responsible Fatherhood from statistical profiles, to program evaluations, to tips for how to be a better father.

There is also an NRFC email newsletter that you can sign up for to receive free email updates on what is new on fatherhood.gov!
The site was done in partnership with something called the National Fatherhood Initiative and seems mostly to have been concerned with absentee fathers, domestic abuse, substance abuse, and other deviant behavior.
The new site?  Ditto:
The initiative will be a partnership between the Administration for Children and Families, White House Office of Faith-based and Neighborhood Partnerships, National Responsible Fatherhood Clearinghouse, as well as parents, family-focused organizations and other leaders.
Is the re-launch much more ambitious than the predecessors?   It is.    Is a difference in degree a difference in kind in this case?  Possibly.
Certainly, Bush and Clinton weren't giving advice to normal fathers on how to raise their kids.   Rather, they were advising people on how to avoid committing crimes or to keep their kids from doing same.  That's pretty obviously a role for government!
Is there something insidious about telling dads to take time out to chat with the kids?  No, of course not.   Do we really want the federal government doing this?  I'd prefer they didn't.