FBI Admits It Uses Surveillance Drones In The U.S.
Thanks to one question from one Senator, we learned yesterday that the FBI has used surveillance drones inside the United States.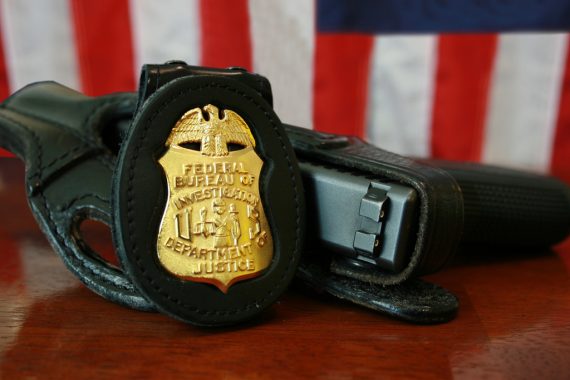 FBI Director Robert Mueller admitted during a Congressional hearing yesterday that the Federal Bureau of Investigation has used drones for surveillance purposes inside the United States:
FBI Director Robert Mueller said today the bureau was surveilling the United States with drones.

The revelation was during an FBI oversight hearing before the Senate Judiciary Committee and comes as the bureau, along with the National Security Agency, are on the defensive about revelations that they are obtaining metadata on Americans' phone records and Americans' private data from companies like Google, Facebook, Microsoft and others.

The FBI is not alone in monitoring the U.S. with drones.

Federal agencies use them to survey U.S. borders, help fight wildfires and survey dams after hurricanes. Dozens of local law enforcement agencies nationwide deploy the unmanned crafts, too.

"Our footprint is very small. We have very few," Mueller said in response to an inquiry on unmanned aircraft by Sen. Chuck Grassley (R-Iowa).

Grassley asked: "Does the FBI own or currently use drones and for what purposes?"

"Yes, for surveillance."

Grassley continued: "Does the FBI use drones for surveillance on U.S. soil?"

"Yes, in a very, very minimal way, and seldom."

Moments later, Sen. Dianne Feinstein (D-California) said drones were a huge privacy threat to Americans. The director was unprepared to answer Feinstein's questions on what "privacy strictures" are in place to protect Americans' privacy in connection to FBI drone use.
This isn't entirely surprising. For one thing, law enforcement has been using aerial observation of crime scenes and such for quite some time. Here in Virginia, one used to see signs advising "Speed enforced by aircraft" on highways quite often, although seem to be less common than they used to be and I've never actually heard of anyone who received a speeding ticket arising from aerial observation or measurement. Helicopters are commonly used to aid in the search of suspects or in pursuit cases. With respect to drones, we learned a few months ago that the FBI used a surveillance drone during a hostage standoff in Alabama involving a 5 year-0ld boy, although it's still unclear how useful the drone actually was in the resolution of that case.  In some sense, then, surveillance drones are simply another tool of law enforcement that can be used to aid the police and FBI in dealing with a particularly difficult situation such as providing a clearer picture of the layout of an area where a wanted criminal may be hiding. For example, had the technology existed at the time one imagines that drones of some kind would have been in use during the standoff outside the Branch Davidian compound near Waco, TX. Indeed, a more accurate understanding of what was happening inside the compound may have helped law enforcement avoid tragedy in that situation.
Nonetheless, there are some rather obvious privacy and Constitutional issues that come into play with the use of this technology. The prospect, for example, of surveillance drones criss-crossing the skies just looking to see what they find, for example, is something that is likely to make most Americans uncomfortable. Generally, the Fourth Amendment places limits on the kind of surveillance that law enforcement can engage in from outside someone's property without probable cause and a warrant. However, it's not entirely clear, mostly because the issue hasn't been litigated very much in the courts, how that applies to aerial observation. If law enforcement launches a drone and sends it over the property of someone they think might be engaged in illegal activity of some kind, but in a situation where they lack probable cause and a warrant, does that violate the Fourth Amendment? What about a situation where law enforcement starts using drone technology the way they now use surveillance cameras and we essentially have cameras flying above us theoretically capable of watching and reporting on anything? As with surveillance cameras, it's unclear that there would be any Fourth Amendment issues here but there are most definitely serious privacy concerns. Frankly, I doubt most Americans are going to be all that comfortable with the idea of cameras in the sky capable of recording not only their every move in public but what they might be doing in their backyard.
As with the military, it's silly to reject the very idea of using drones in law enforcement out of hand. Obviously, it would be highly inappropriate for many reasons for law enforcement to be using drones capable of unleashing deadly force except, perhaps, under highly unusual circumstances. However, the benefits of using surveillance drones equipped with both regular and infra-red cameras to, for example, assist in the tracking down of a criminal suspect on the lose such as Dzhokhar Tsarnaev in the neighborhoods of Watertown, Mass. back on the morning of April 19th, shouldn't be rejected out of hand. What's needed, though, is an open discussion of how this technology is going to be used and, where necessary, regulation by Congress or the state legislatures regarding that use. Additionally, the Courts are likely going to have to step in and rule on the application of the Fourth Amendment to surveillance drones. For example, there ought to be a distinction between using such technology in a hostage standoff or in pursuit of a suspect and using it without any real probable cause just to see what's going on in someone's backyard.  It shouldn't have taken a random question from a Senator to find out that this technology is already being used.