FBI Admits Its Forensic Experts Gave False Testimony In Hundreds Of Cases
An elite FBI Forensics unit gave flawed and false testimony in cases over a period that lasted more than 20 years.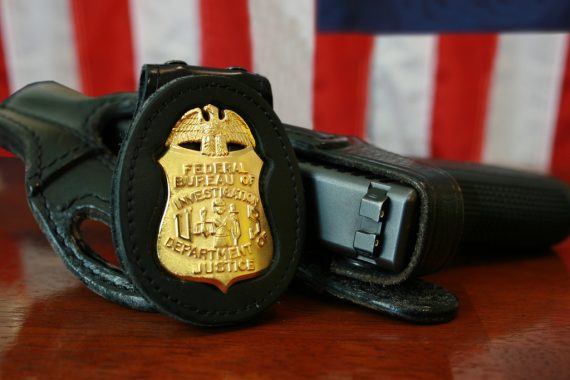 An internal review by the Federal Bureau of Investigation and the Justice Department has found that forensic experts employed by the FBI exaggerated or misstated evidence at trial in nearly every trial in which they testified over a period that lasted more than a decade:
The Justice Department and FBI have formally acknowledged that nearly every examiner in an elite FBI forensic unit gave flawed testimony in almost all trials in which they offered evidence against criminal defendants over more than a two-decade period before 2000.

Of 28 examiners with the FBI Laboratory's microscopic hair comparison unit, 26 overstated forensic matches in ways that favored prosecutors in more than 95 percent of the 268 trials reviewed so far, according to the National Association of Criminal Defense Lawyers (NACDL) and the Innocence Project, which are assisting the government with the country'slargest post-conviction review of questioned forensic evidence.

The cases include those of 32 defendants sentenced to death. Of those, 14 have been executed or died in prison, the groups said under an agreement with the government to release results after the review of the first 200 convictions.

The FBI errors alone do not mean there was not other evidence of a convict's guilt. Defendants and federal and state prosecutors in 46 states and the District are being notified to determine whether there are grounds for appeals. Four defendants were previously exonerated.

The admissions mark a watershed in one of the country's largest forensic scandals, highlighting the failure of the nation's courts for decades to keep bogus scientific information from juries, legal analysts said. The question now, they said, is how state authorities and the courts will respond to findings that confirm long-suspected problems with subjective, pattern-based forensic techniques — like hair and bite-mark comparisons — that have contributed to wrongful convictions in more than one-quarter of 329 DNA-exoneration cases since 1989.

In a statement, the FBI and Justice Department vowed to continue to devote resources to address all cases and said they "are committed to ensuring that affected defendants are notified of past errors and that justice is done in every instance. The Department and the FBI are also committed to ensuring the accuracy of future hair analysis, as well as the application of all disciplines of forensic science."

Peter Neufeld, co-founder of the Innocence Project, commended the FBI and department for the collaboration but said, "The FBI's three-decade use of microscopic hair analysis to incriminate defendants was a complete disaster."

"We need an exhaustive investigation that looks at how the FBI, state governments that relied on examiners trained by the FBI and the courts allowed this to happen and why it wasn't stopped much sooner," Neufeld said.

Norman L. Reimer, the NACDL's executive director, said, "Hopefully, this project establishes a precedent so that in future situations it will not take years to remediate the injustice."

While unnamed federal officials previously acknowledged widespreadproblems, the FBI until now has withheld comment because findings might not be representative.

Sen. Richard Blumenthal (D-Conn.), a former prosecutor, called on the FBI and Justice Department to notify defendants in all 2,500 targeted cases involving an FBI hair match about the problem even if their case has not been completed, and to redouble efforts in the three-year-old review to retrieve information on each case.

"These findings are appalling and chilling in their indictment of our criminal justice system, not only for potentially innocent defendants who have been wrongly imprisoned and even executed, but for prosecutors who have relied on fabricated and false evidence despite their intentions to faithfully enforce the law," Blumenthal said.
The review that this story references has been going on for quite some time, actually.  It was two years ago, that the FBI and Justice Department announced that they would begin the process of reviewing the testimony of Bureau forensic experts, particularly those who had testified regarding the identification of suspects via hair samples, which is often an important element in rape cases as well as in establishing the identity of a person who may have been at the scene at the crime. The review, which at the time was limited to a handful of death penalty cases, was unprecedented in the history of Federal law enforcement and, as I noted at the time, it was one that was long overdue given some of the allegations that had been made over the years regarding expert witnesses for the prosecution who may have put their thumbs on the scale just a little too much. Now that the review is done and the scope of the problematic testimony is revealed, though, it's clear that the initial estimates of how pervasive the problem was were not even close in discussing the scope of the problem.
The fact that there were problems with this forensic testimony does not mean, of course, that all of these Defendants are in fact innocent, nor does it mean that they would not have been convicted without the testimony. It's probable that in many, if not most, of these cases there was evidence other than the forensic testimony that tended to establish the Defendant's guilt, which means that in some objective sense their conviction was not wrongful. The problem that this information creates, though, is that each of the Defendants in these cases was arguably denied their right to a fair trial because one of the more important witnesses testifying against them was, essentially, not testifying truthfully and because their defense counsel was not made aware of the fact that the scientific conclusions being testified too were not supported by the evidence, something which is hard for defense attorneys to figure out to begin with since their budgets are far less generous than those of the prosecution. Depending on the nature of the testimony, this would arguably be grounds for a new trial in each case in which tainted evidence was presented to the jury. At the very least, it is likely to lead to a flood of motions from attorneys for people convicted during the time period at issue in the report, and in many of those cases it may well be the case that a new jury will find reasonable doubt.
As with the numerous stories we have heard in recent years about men and women who have spent years or even decades in prison, and even on death row, only to have newly discovered evidence, or evidence that was previously ignored, established with certainty that they were innocent, news like is something that would seem to be yet another argument against the death penalty. The problems are familiar enough that they don't need to be discussed in detail. Indigent defendants do not get the same representation that wealthy ones do. Minority Defendants are generally treated more harshly than non-minority Defendants. And, as this report reveals, prosecution witnesses either testify to outright falsehoods or engage in what is called a "testi-lie." While the rules of the court system are biased to protect Defendant's rights, the reality of criminal justice is that the prosecution almost always has the advantage. Our justice system is not perfect, and given that it was established and is run by human beings it is never going to be, but when it is given the power of life and death the kind of uncertainty and potential for abuse and dishonesty that we're talking about here is, at least from my perspective, reason enough to deprive it of the power to kill people. Yes, it's true that someone who is wrongfully convicted and sent to jail could spend years in prison before the truth is revealed, or they may even die in prison. However, at least in that situation they are still alive and able to walk out the door, and they can be compensated monetarily for what was done to them. You can't say the same thing about someone who's dead, and for that reason alone execution is something that we should join the world in recognizing as unnecessary and, indeed, barbaric.