FBI Deputy Director, Trump Target, Steps Down
Andrew McCabe has stepped down as the FBI's number two after months of attacks from President Trump.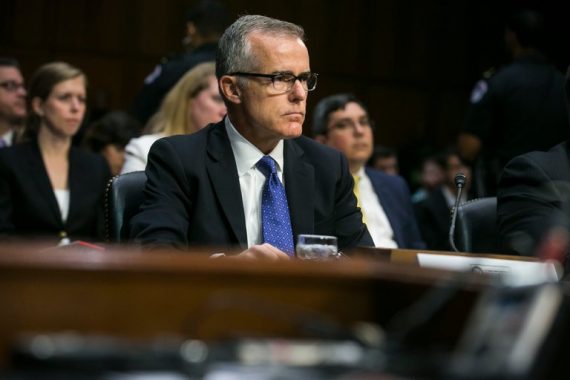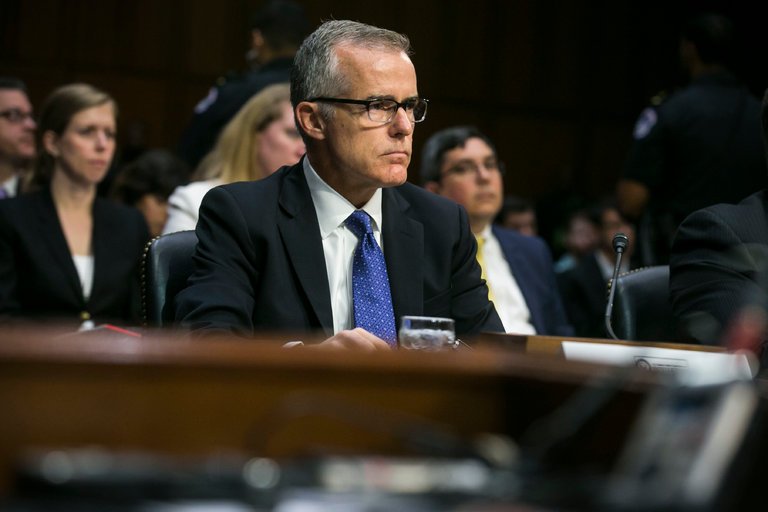 Andrew McCabe has stepped down as the FBI's number two after months of attacks from President Trump.
NYT ("Taunted by Trump and Pressured From Above, McCabe Steps Down as F.B.I. Deputy"):
Andrew G. McCabe abruptly stepped down on Monday as the F.B.I.'s deputy director after months of withering criticism from President Trump, telling friends he felt pressure from the head of the bureau to leave, according to two people close to Mr. McCabe.

Though Mr. McCabe's retirement had been widely expected soon, his departure was nevertheless sudden. It added to what has already been a chaotic upheaval at the F.B.I. under Mr. Trump, who has responded to an investigation into his campaign with broadside attacks against both the bureau and the Justice Department.

As recently as last week, Mr. McCabe had told people he hoped to stay until he was eligible to retire in several weeks. Instead, he will immediately go on leave and retire on March 18.

In a recent conversation, Christopher A. Wray, the F.B.I. director, raised concerns about a forthcoming inspector general report. In that discussion, according to one former law enforcement official close to Mr. McCabe, Mr. Wray suggested moving Mr. McCabe into another job, which would have been a demotion.

Instead, the former official said, Mr. McCabe chose to leave. In an email to F.B.I. employees, he said he was leaving with "sadness." He praised his colleagues as "the greatest work force on earth because you speak up, you tell the truth and you do the right thing."
Agents and lawyers expect the report by the Justice Department's inspector general, Michael E. Horowitz, to be highly critical of some F.B.I. actions in 2016, when the bureau was investigating both Hillary Clinton's email use and the Trump campaign's connections to Russia. The report is expected to address whether Mr. McCabe should have recused himself from the Clinton investigation because of his wife's failed State Senate campaign, in which she accepted nearly a half-million dollars in contributions from the political organization of Terry McAuliffe, then the governor of Virginia, who is a longtime friend of Mrs. Clinton and her husband, former President Bill Clinton.

[…]

The White House said Mr. Trump, who had taunted Mr. McCabe on Twitter for months, had nothing to do with Mr. McCabe's exit. "The president wasn't part of this decision-making process," said Sarah Huckabee Sanders, the White House press secretary, an assertion echoed by Mr. Wray.

"I will not be swayed by political or other pressure in my decision-making," he wrote to F.B.I. employees.

[…]

Mr. McCabe first drew Mr. Trump's ire because his wife, Jill McCabe, ran for a State Senate seat in Virginia as a Democrat and received the donations from Mr. McAuliffe's organization. Mr. McCabe did not become deputy director until after his wife was defeated, and records show that he disclosed her candidacy and sought ethics advice from senior F.B.I. officials.

But critics, including some inside the bureau itself, said he should have recused himself from the Clinton investigation. The F.B.I. has said Mr. McCabe played no role in his wife's campaign.

Mr. Trump and his allies have sought to use Mrs. McCabe's run for office as evidence that the Russia investigation was part of a Democratic-led effort to protect Mrs. Clinton and undermine Mr. Trump's presidency. Republicans cheered Mr. McCabe's departure and signaled that more change should be made.
That the president of the United States shouldn't be attacking government employees, let alone those at the FBI, on his Twitter account should go without saying.
McCabe is an interesting case, however. While I have no reason whatsoever to think that his role in the Clinton investigation—and whatever role he may have had in the ongoing investigation into the Russian intervention into the 2016 campaign—were anything but above board, it's perfectly reasonable for people to charge conflict of interest. Like it or not, his wife's run for partisan office—and tapping into the Clinton machine for financial support—makes her a political operative. And the nature of the spousal relationship is such that his claiming "no role" in his wife's campaign is absurd; he's her husband.
As I've noted in other such cases, notably that of Supreme Court Justice Clarence Thomas and his wife, Ginny, we're going to routinely have these sorts of conflicts now that women are increasingly in major political roles. Powerful women are naturally going to be married to powerful men. And that's going to create all manner of conflicts of interest. Nor is there an obvious solution. We can't reasonably exclude the spouses of FBI officials from running for office. Yet their doing so creates an obvious appearance of conflict.
I'm not an attorney and don't know whether McCabe was legally or ethically bound to have recused himself from the Clinton investigation. He says he consulted senior officials on the matter and they apparently didn't think he needed to. While the Clinton-McAuliffe tie is well known, McAuliffe was after all his own man at this point—the governor of Virginia. And, of course, there's a slippery slope; should McCabe have recused himself in every investigation involving someone with a political party affiliation?