FBI Raids Trump's Mar-a-Lago Home
The former President and his supporters are crying "weaponization of the justice system."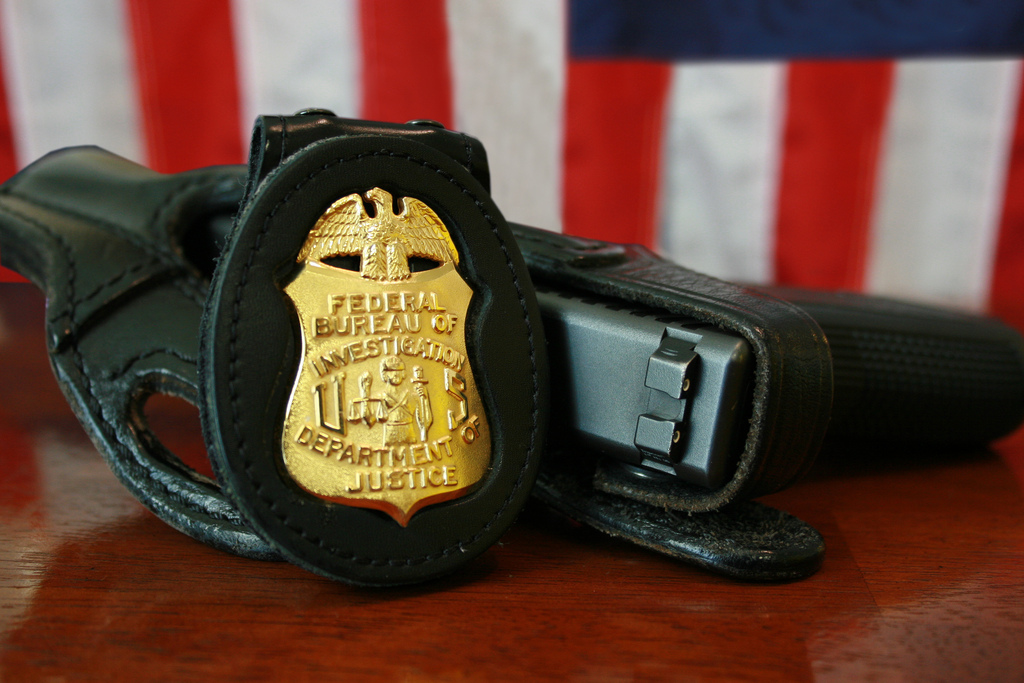 WaPo ("FBI searches Trump safe at Mar-a-Lago Club, former president says"):
Former president Donald Trump said Monday that the FBI had raided his Mar-a-Lago Club and searched his safe — activity related to an investigation into the potential mishandling of classified documents, according to two people familiar with the probe.

One of the people, who spoke on the condition of anonymity to discuss its details, said agents were conducting a court-authorized search as part of a long-running investigation of whether documents — some of them top-secret — were taken to the former president's private golf club and residence instead of sent to the National Archives when Trump left office. That could be a violation of the Presidential Records Act, which requires the preservation of memos, letters, notes, emails, faxes and other written communications related to a president's official duties.
The PRA was passed in 1978 and established that, starting with the next Presidential administration (which turned out to be Ronald Reagan's but could have been Jimmy Carter's second term) all Presidential documents are the property of the US Government and not the officeholder and set forth the particulars of managing said records. Violation is potentially a felony, although I don't know that anyone has ever been prosecuted. But Trump's violations were repeated, well-documented, and brazen.
Searching a former president's property to look for possible evidence of a crime is highly unusual and would require approval at the top levels of the Justice Department. It represents a historic moment in Trump's tortured relationship with the Justice Department, both in and out of the White House.

A department spokeswoman declined to comment when asked whether Attorney General Merrick Garland approved the search. The FBI also declined to comment.
The FBI absolutely is not in the business of "breaking in" to the homes of former Presidents or, indeed, anyone without proper authority.*
In a lengthy statement in which he equated the raid to Watergate, Trump accused the FBI of "even" breaking into his safe. He provided no further details on what federal agents were looking for, or what else happened during their visit.

"My beautiful home, Mar-A-Lago in Palm Beach, Florida, is currently under siege, raided, and occupied by a large group of FBI agents," Trump said in a statement released through his political action committee, Save America.

Trump said the raid was "unannounced" and claimed it was not "necessary or appropriate." The former president, without evidence, accused Democrats of weaponizing the "justice system" against him.
Naturally, the usual suspects are going along:
Many Republican lawmakers and political candidates also reacted with outrage Monday night, declaring the search of Mar-a-Lago a politically motivated attack intended to impede Trump's chances if he runs for president again.
House Minority Leader Kevin McCarthy (R-Calif.), who is poised to possibly become speaker should Republicans win the majority in November's midterm elections, vowed to launch oversight investigations into the Justice Department.

"The Department of Justice has reached an intolerable state of weaponized politicization," he said on Twitter. "Attorney General Garland, preserve your documents and clear your calendar."
And this analysis doesn't help contain this nonsense:
Trump nominated the current head of the FBI, Christopher A. Wray, to the position in 2017, after firing the previous FBI director, James B. Comey, amid a probe into whether any Trump campaign advisers had conspired with Russian operatives to influence the 2016 election.

But Trump's relationship with Wray also soured, and the president considered firing him on multiple occasions, former advisers said. Through most of Trump's presidency, the two men had limited interactions.
One would have FBI Directors don't make these decisions based on whether they happen to have a good relationship with the party under investigation. Absent evidence to the contrary, the press shouldn't imply otherwise.
Also interesting:
Mar-a-Lago is closed in the hot months of Florida's summer, and Trump's advisers said he was not there on Monday when the search involving more than a dozen FBI agents was conducted. Trump advisers said a coterie of agents arrived Monday morning and left by late afternoon. There were few Trump employees around, but the Secret Service was present.

The former president has spent much of the summer at Bedminster, his golf resort in New Jersey. But on Monday he was in New York, according to a person familiar with his whereabouts. Trump's team was given no heads-up about the search, several advisers said. There was no indication the FBI had searched any of Trump's other properties, and advisers said law enforcement had not.
The Newspaper of Record, the NYT, has a weird live-blog under the heading "F.B.I. Searches Trump's Mar-a-Lago Residence in Florida" instead of a news report.
It notes this:
The search marked the latest remarkable turn in the long-running investigations into Mr. Trump's actions before, during and after his presidency — and even as he weighs announcing another candidacy for the White House.
Not that it will make much difference with his most ardent supporters but, given the number of these investigations bearing down on him, I'm surprised that he didn't preemptively announce his candidacy for his old job. An FBI raid on an announced Biden opponent would have strengthened the argument that this was a "political act."
They also remind us of this:
Criminal codes, which carry jail time, can be used to prosecute anyone who "willfully injures or commits any depredation against any property of the United States" and anyone who "willfully and unlawfully conceals, removes, mutilates, obliterates or destroys" government documents.

Samuel R. Berger, a national security adviser to President Bill Clinton, pleaded guilty in 2015 to a misdemeanor charge for removing classified material from a government archive. In 2007, Donald Keyser, an Asia expert and former senior State Department official, was sentenced to prison after he confessed to keeping more than 3,000 sensitive documents — ranging from the classified to the top secret — in his basement.

In 1999, the C.I.A. announced it had suspended the security clearance of its former director, John M. Deutch, after concluding that he had improperly handled national secrets on a desktop computer at his home.
I knew about Berger (it happened in 2005, not 2015) and Deutch but either never read about or had forgotten about Keyser. Regardless, the juxtaposition is once again confirmation that low-level offenders tend to be punished much, much more harshly than big-wigs. Berger, especially, should have received much harsher treatment. My guess is that, even if Top Secret documents were found in Trump's safe, the consequences will be minimal.
And, alas, there is also this:
The question of how Mr. Trump has handled sensitive material and documents he received as president loomed throughout his time in the White House, and beyond.

He was known to rip up pieces of official paper that he was handed, forcing officials to tape them back together. And an upcoming book by a New York Times reporter reveals that staff members would find clumps of torn-up paper clogging a toilet, and believed he had thrown them in.

The question of how Mr. Trump handled classified material is complicated because as president he had the authority to declassify any government information. It is unclear whether Mr. Trump, before leaving office, had declassified materials the archives discovered in the boxes. Under federal law, he no longer maintains the ability to declassify documents after leaving office.

While in office, he invoked the power to declassify information several times as his administration publicly released materials that helped him politically, particularly on issues like the investigation into his campaign's ties to Russia.

Toward the end of the administration, Mr. Trump ripped pictures that intrigued him out of the President's Daily Brief — a compendium of often classified information about potential national security threats — but it is unclear whether he took them to the residence with him. In one prominent example of how he dealt with classified material, Mr. Trump in 2019 took a highly classified spy satellite image of an Iranian missile launch site, declassified it and then released the photo on Twitter.

Earlier this year, Kash Patel, a former Defense Department senior official and Trump loyalist whom Mr. Trump named as one of his representatives to engage with the National Archives, suggested to the right-wing website Breitbart that Mr. Trump had declassified the documents before leaving the White House and that the proper markings simply had not been adjusted.
While Nixon's admonition that "it's not a crime if the President does it" has often been ridiculed as an example of peak authoritarianism, it may well be the case in this particular instance. One would think a President would have to take some sort of documented action to declassify documents but his power in that regard is vast and plenary.
A separate WaPo report ("Top Republicans echo Trump's evidence-free claims to discredit FBI search") dives deeper into that aspect of the matter, observing
The quick defense of Trump and combative posture by leading Republican officeholders and potential 2024 presidential aspirants underlined the former president's status as a standard-bearer in the party, even as he was tainted anew by another investigation. With fewer than 100 days before the midterm elections, many Republicans continue to rally around Trump's false claims about the 2020 election, his baseless attacks on a slew of officeholders and his divisive rhetoric.
and notes the irony
Many of the Republicans aghast at the FBI raid had supported FBI probes of former secretary of state Hillary Clinton's use of a private email server in 2016. When then-FBI Director James B. Comey found no reason to charge Clinton after an initial investigation, and after another probe of emails on a laptop belonging to a Clinton aide shortly before the election, they asked whether the Democrat had gotten off easy.

"Secretary Clinton's fundamental lack of judgment and wanton disregard for protecting and keeping information confidential raises continued questions about the exposure of our nation's diplomatic and national security secrets," McCarthy said in 2016, after Comey initially announced the end of the investigation.

Sen. Lindsey O. Graham (R-S.C.), a onetime Trump critic turned Trump defender during the 45th president's tenure, said Monday on Twitter: "We're 100 days away from midterm elections. President Trump is likely going to run again in 2024." He added, "Launching such an investigation of a former President this close to an election is beyond problematic."

Six years earlier, however, Graham was critical of the FBI after it found no crime to charge in its probe of Clinton's email server.

"We need a special prosecutor, someone outside the Justice Department, to look into this matter," said Graham in an August 2016 interview on Fox News, 75 days before that year's presidential election. "If you're waiting on this Justice Department to hold anybody in the Obama-Clinton world accountable, you'll die of old age. It's sad but it's true."
Media Matters, which granted is far from an impartial source, reports "Fox is furiously poisoning the well after the Mar-a-Lago search." After some inflammatory lead-in, they get to the facts:
Jesse Watters claimed on his 7 p.m. ET show that the search "is going to absolutely enrage the country, especially the Republican base, a base that is clearly behind the ex-president." He later called it "insane," adding, "and the people in this country are not going to go for this."

Later in the program, Watters said that Christopher Wray, the FBI director who was appointed by Trump, "has to be fired by the next Republican president. Got to be fired on day one. Don't even wait. Just fire him right off the jump because this guy is so corrupt."

Talk radio host Buck Sexton told Watters that the situation "almost feels like a preemptive coup, we've heard so much about the insurrection and the coup, but this is preventing, this is meant to prevent Donald Trump from being able to run again." He also called the search "the Rubicon being crossed" and "thug, police state tactics."

He later added, "This is undermining our faith, not only in the peaceful transition of power, but of the executive arm of the government under an opposition party. Not to act like the Stasi, not to act like the secret police that we've seen in totalitarian regimes." 

"This is some Third World bullshit right here," Fox host Dan Bongino told Watters. "Let me say it again: Third World bullshit."

"I think there is going to be some more action you are going to see out on the streets from the base after they see this break tonight," Watters concluded. "There are a lot of honest Americans that've had it with what this corrupt government and what the FBI has done."

Fox's Will Cain, in for prime-time host Tucker Carlson, opened the 8 p.m. ET hour by asking, "Was there a legal basis? Or was this a partisan witch hunt?" His guests that night overwhelmingly said it was the latter.

They included former Trump aide Stephen Miller, who called the FBI executing a warrant against the former president's residence "an abomination"; Trump's daughter-in-law and Fox contributor Lara Trump, who said it was "about weaponizing the justice system as it has been so many times in the past against somebody who you politically do not like"; and former Trump White House strategist Steve Bannon, who called on congressional Republicans to cut off funding for the FBI, saying that "the FBI, right now, is the Gestapo."

Fox host and Trump adviser Sean Hannity opened his 9 p.m. ET show by mourning "a dark day for our republic, the Department of Justice, the rule of law, what looks to be potentially a shocking overreach – we'll find out in due time – that will have serious ramifications potentially for many, many years to come." He added that "DOJ is now being used as a weapon against Biden's top political rival, that's the former president of the United States of America, Donald Trump."
This is borderline incitement to riot. It's good for ratings, though.
MediaITE ("Bernard Kerik Says Democrats May Try to Orchestrate Trump's 'Assassination' After FBI Raid") reports that NewsMax is going further still:
Former NYPD commissioner Bernard Kerik said Monday he is worried Democrats might try to assassinate former President Donald Trump.

[…]

The Department of Justice has not commented publicly on the raid, but Kerik claimed on Newsmax TV he is afraid for Trump's life.

Kerik joined The Balance with host Eric Bolling, where he said he feels Trump is in grave danger – not only from politically-motivated prosecution – but from the threat of death. He said:

If you remember back in 2016, right before he got elected, I was in Washington D.C. I was at a couple of different social events, and I hear people talking, they said the Democrats want this guy so bad that they wouldn't put assassination behind it. And I'm gonna tell you something. they've tried impeachment, they've tried another impeachment, they've tried one investigation after another.

This is about one thing: this is about stopping him from running in 2024. And I'm gonna tell you something, I'm not into conspiracies, I'm not into anti-government rhetoric. This is the first time in my lifetime that I would say I am deathly afraid for Donald Trump. I would not put assassination behind these people.
This is just insanity.
__________________
*That said, and completely independently of Trump, if the FBI actually broke open the safe, I find it egregious unless they first tried to get someone in possession of the code to open it for them. There's just no need for law enforcement to destroy property in cases where there's zero expectation of being met with violent resistance.