February Jobs Report Mostly Positive, But Long Term Problems Remain
A somewhat good jobs report for February, but still no sign that the jobs recession is ending any time soon.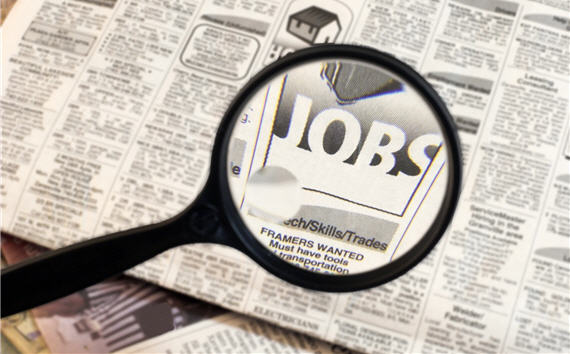 Going into today's release of the February Jobs Report, analysts were expecting to see about 160,000 new jobs created and an unemployment rate of 7.9%, as it turned out we ended up with one of the better reports we've seen in awhile:
Bolstered by a healthier private sector, the United States economy gained 236,000 jobs in February, well above what had been expected, while the unemployment rate fell to 7.7 percent, its lowest level since December 2008.

The gains were broad-based, the Labor Department said Friday, with sectors ranging from manufacturing to business services turning in healthy results. Construction was especially strong, adding 48,000 jobs, a sign that the recovery in the housing market is beginning to translate into new jobs.

Public-sector employment continued to shrink, however, as the number of government employees nationwide fell by 10,000.

While many economists were encouraged by the report, some noted that the size of the labor force contracted by 130,000. Some of that was because of retirements, but some was also a result of discouraged workers giving up the search for jobs.

As a result, the labor participation rate sank to 63.5 percent, a low for the current economic cycle.

At the current rate of job creation, unemployment could actually crack the 7 percent level by the end of the year. However, economists expect the budget cuts now under way in Washington to contribute significant headwinds in the months ahead. The so-called sequester went into effect March 1.

"We think we'll see some slowdown in April and May because of the sequester," said Michelle Meyer, senior United States economist at Bank of America Merrill Lynch. "We're going to see federal job cuts and the spring is going to be a soft patch for the labor market."

She estimated that the unemployment rate would stabilize at about 7.5 percent later this year.

The unemployment fell from 7.9 percent in January. Economists had been expecting the economy to add 165,000 jobs in February, with no movement in the rate.

After peaking at 10 percent in October 2009, the unemployment rate fell steadily for three years but has been stuck at just below 8 percent since last September.
As the report shows,there were gains across nearly all jobs sectors, with substantial gains in the construction industry:
Total nonfarm payroll employment increased by 236,000 in February, with job gains in professional and business services, construction, and health
care. In the prior 3 months, employment had risen by an average of 195,000 per month. (See table B-1.)

Professional and business services added 73,000 jobs in February; employment in the industry had changed little (+16,000) in January. In February,
employment in administrative and support services, which includes employment services and services to buildings, rose by 44,000. Accounting and
bookkeeping services added 11,000 jobs, and growth continued in computer systems design and in management and technical consulting services.

In February, employment in construction increased by 48,000. Since September, construction employment has risen by 151,000. In February, job growth
occurred in specialty trade contractors, with this gain about equally split between residential (+17,000) and nonresidential specialty trade contractors
(+15,000). Nonresidential building construction also added jobs (+6,000).

The health care industry continued to add jobs in February (+32,000). Within health care, there was a job gain of 14,000 in ambulatory health care services, which includes doctors' offices and outpatient care centers. Employment also increased over the month in nursing and residential care facilities (+9,000) and hospitals (+9,000).

Employment in the information industry increased over the month (+20,000), lifted by a large job gain in the motion picture and sound recording industry.

Employment continued to trend up in retail trade in February (+24,000). Retail trade has added 252,000 jobs over the past 12 months. Employment also
continued to trend up over the month in food services and drinking places and in wholesale trade. Employment in other major industries showed little change over the month.
There are a few caveats to the report. First, January's new jobs numbers were revised downward from 157,000 to 119,000 while December's numbers were revised upward from 196,000 to 219,000. Second, as noted above, there is the issue of the labor force participation rate, which declined once again in February and is likely responsible at least in part for the .2% drop in the unemployment rate. Indeed, if the labor force participation rate were the same as it was a year ago, the unemployment rate would be 8.3%. If the rate were the same as it was in January 2009, the unemployment rate would be 10.8%. In those kinds of environments, the job creation numbers we've been seeing would be having far less of an impact on the unemployment rate, and while there's nothing to sneeze at in 236,000 new jobs, it certainly isn't something that's going to get us back from the recession any time  soon. If we assume, for example, that the roughly 190,000 new jobs created on average over the past three months were to be sustained, it would still take us more than eight years to return the labor market to where it was In other words, we're dealing with a declining labor force that is making what are still mostly weak job numbers appear far better than they actually are.
Calculated Risk gives us an idea of just how slow the labor market recovery has been with what has been called "The Scariest Chart Ever":
In other words, we are still in the middle of the worst jobs recession since World War II, and there's little sign that it's going to end any time soon.