Federal Appeals Court Bars Enforcement Of Don't Ask, Don't Tell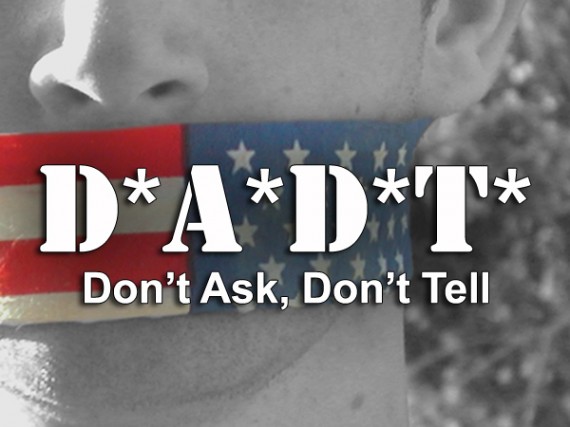 Perhaps in response to the perception that the Pentagon is moving too slowly in implementing the appeal of Don't Ask, Don't Tell, a Federal Appeals Court has reinstated an injunction against its enforcement:
A federal appeals court ordered a halt today to the armed forces' discharge of openly gay service members, citing the Obama administration's disavowal of laws that discriminate based on sexual orientation.

The Ninth U.S. Circuit Court of Appeals in San Francisco had intervened in November to allow the government to continue enforcing the "don't ask, don't tell" law, despite a federal judge's decision that the law was unconstitutional.

Today, however, a three-judge panel of the court lifted the stay, saying, "The circumstances and balance of hardships have changed."

The court noted that Congress has voted to repeal "don't ask, don't tell" as soon as President Obama and the Pentagon certify that the change will not interfere with military readiness or recruiting. The administration has said most troops should be trained for the new policy change by mid-summer, although it had told the court the law should probably stay in effect for the rest of the year.

The panel also cited Obama's decision in February to withdraw support from another federal law denying benefits to married same-sex couples, and his newly announced view that laws discriminating against gays and lesbians should be declared unconstitutional unless they serve some compelling government need.

The panel consisted of Chief Judge Alex Kozinski and Judges Kim Wardlaw and Richard Paez.
Kozinski was appointed by President Reagan and is one of the most prominent conservative/libertarian legal thinkers on the Federal Bench. Judges Paez and Wardlaw were both appointed by Bill Clinton.
The Court's order, which is fairly short, makes specific reference to not only the change in law but also Attorney General Holder's March letter regarding the Defense of Marriage Act:
In their briefs, appellants/cross-appellees do not contend that 10 U.S.C. § 654 is constitutional. In addition, in the context of the Defense of Marriage Act, 1 U.S.C. § 7, the United States has recently taken the position that classifications based on sexual orientation should be subjected to heightened scrutiny. See Golinski v. U.S.  Office of Pers. Mgmt., No. C 3:10-00257-JSW (N.D. Cal.) (Doc. 145, July 1, 2011) ("gay and lesbian individuals have suffered a long and significant history of purposeful discrimination"); Letter from Attorney General to Speaker of House of Representatives (Feb. 23, 2011) ("there is, regrettably, a significant history of purposeful discrimination against gay and lesbian people, by governmental as well as private entities"). Appellants/cross-appellees state that the process of repealing Section 654 is well underway, and the preponderance of the armed forces are expected to have been trained by mid-summer. The circumstances and balance of hardships have changed, and appellants/cross-appellees can no longer satisfy the demanding standard for issuance of a stay.
The Court also ordered that a hearing on the merits of the appeal be scheduled for August. At this point, I think its fairly obvious how this is going to end, why the government is dragging its feet is puzzling.