Federal Appeals Court Judge Resigns Amid Sexual Harassment Allegations
Federal Appeals Court Judge Alex Kozinski is resigning immediately after a barrage of sexual harassment allegations.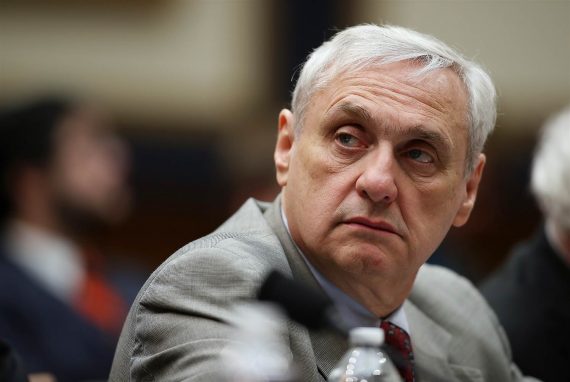 Federal Judge Alex Kozinski, who has served on the Ninth  Circuit Court of Appeals since 1985 and served as Chief Judge of that Court from 2007 to 2014, has announced his immediate resignation amid a rash of allegations from former law clerks and other court employees of sexual harassment and other improprieties:
Alex Kozinski, a federal court judge in California, is retiring after multiple women accused him of sexual harassment.

In a statement, Mr. Kozinski said his family and friends had urged him to remain and defend himself, but that doing so would make it difficult to do his job well.

"I cannot be an effective judge and simultaneously fight this battle," he said in the statement. "Nor would such a battle be good for my beloved federal judiciary. And so I am making the decision to retire, effective immediately."

Citing a "broad sense of humor and a candid way of speaking to both male and female law clerks alike," Mr. Kozinski also offered an apology to his accusers.

"It grieves me to learn that I caused any of my clerks to feel uncomfortable; this was never my intent," he said. "For this I sincerely apologize."

At least 15 women had accused Mr. Kozinski of subjecting them to unwanted sexual comments or physical contact, including kissing, hugging and groping, according to The Washington Post. The allegations spanned decades and included colleagues as well as women who met him at event
The announcement came just a day after The Washington Post reported that nine more women had come forward to accuse Judge Kozinski of sexual harassment during the time they worked at the court:
Nine more women say that Alex Kozinski — a high-profile judge who sits on the U.S. Court of Appeals for the 9th Circuit — subjected them to sexual comments or other conduct, including four who say he touched them inappropriately.

Kozinski, known for his libertarian views and colorful written opinions, already had been accused of subjecting several women to a range of inappropriate sexual conduct or comments, and the circuit's chief judge on Thursday took the first step in launching an investigation into his behavior. The matter was assigned Friday to the 2nd Circuit judicial council.

The new allegations — which span decades and include not just those who worked for Kozinski but also those who encountered him at events — bring the total number of women accusing the judge of inappropriate behavior to at least 15.

A University of California at Irvine law professor said Kozinski pinched her at a dinner this year, and he also joked that he had just had sex with his wife and she or others at the table would be "happy to know it still works."

A former U.S. Court of Federal Claims judge said Kozinski grabbed and squeezed each of her breasts as the two drove back from an event in Baltimore in the mid-1980s, after she had told him she did not want to stop at a motel and have sex.

The Washington Post reported on Dec. 8 that six women — all former clerks or more junior staff members known as externs in the U.S. Court of Appeals for the 9th Circuit — alleged that Kozinski had subjected them to inappropriate sexual conduct or comments, including two who said the judge showed them pornography in his chambers.

Soon after that account became public, two others made allegations of impropriety in published, firsthand accounts that included their names. Dahlia Lithwick, who clerked for another judge in the 9th Circuit in the mid-1990s, wrote in Slate about how Kozinski, upon learning she was in a hotel room, had asked her what she was wearing. Nancy Rapoport, special counsel to the president of the University of Nevada at Las Vegas — wrote in a personal blog post how the judge had invited her to drinks during her clerkship for another 9th Circuit judge and remarked: "What do single girls in San Francisco do for sex?"

Seven more women have since described their experiences to The Washington Post, three of them in on-the-record interviews.

In a statement read by one of his lawyers, Susan Estrich of the firm Quinn Emanuel Urquhart and Sullivan, Kozinski said: "Many of the things that are being said about me are simply not true, but I deeply regret that my unusual sense of humor caused offense or made anyone uncomfortable. I have always treated my male and female law clerks the same."

After The Post published its first report, Kozinski told the Los Angeles Times, "If this is all they are able to dredge up after 35 years, I am not too worried."
Several of these new charges, as well as many of those made against Kozinski over the past several weeks, are detailed in the remainder of the Washington Post report, and they make clear that the Judge had engaged in this type of behavior over a long period of time and that much of it went unreported. In several instances, there were witnesses to the comments that Kozinski made toward women at legal conferences and other events, including several prominent law professors and other members of the California legal community. The reports quote these witnesses as largely corroborating the claims the women made, although most of them were unable to corroborate the claims of inappropriate physical advances or groping that were also made against the Judge. Given that, it was clear that these were not isolated incidents and that the claims of harassment would likely mount in the weeks and months to come if Kozinski had not stepped aside.
As it stands, of course, Kozinski could not have been forced to resign due to the fact that he has lifetime tenure. The most that could have happened absent this decision today was that he could have faced an ethics investigation that would have imposed some form of discipline on him, but which would have been powerless to remove him. Short of that, the other Judges of the Ninth Circuit could have decided to remove him from the active case roster, meaning that he would have essentially had nothing to do, although it's unclear how long such a punishment could or would have lasted given the heavy caseload that the Ninth Circuit faces on a regular basis. Other than resignation, the only other option would have been impeachment charges in the House of Representatives and a trial in the Senate aimed at removing him from office. While not common, judicial impeachments are not uncommon in the United States. Since 1789, there have been nineteen impeachment proceedings in Congress, of those fifteen have been of Judges and, in one notable case that was not successful, a Supreme Court Justice named Samuel Chase who became the primary focus of the Democratic-Republican Party's anger over what they perceived at the time to be the Supreme Court's power grab via the Marbury v. Madison decision, which established the doctrine of judicial review. Of those fifteen judicial impeachments and trials, eleven Judges were either convicted and removed from office. (Source). While it's certainly possible that Congress could have pursued that course, it's not clear that sexual harassment in and of itself is an appropriate ground for impeachment, or that there would be sufficient support in the House or Senate to proceed on these grounds.
Kozinski has been a notable appointment to the Ninth Circuit from the day that it was first announced by President Reagan more than thirty years ago. His resume at the time was top-notch, and once he took the bench it was clear that he was going to become a strong, strident, and in many cases correct voice in the Federal Judiciary. Though he was appointed by a conservative President, Kozinski's opinions were often not in line with conservative legal thought on the issues before him, and the suggestion that his own inclinations leaned more libertarian than conservative were borne out in his rulings on Fourth Amendment and other personal rights issues. For a time at least, he was considered a potential nominee for the Supreme Court by a Republican President. As with fellow Circuit Court of Appeals Judge Richard Posner, though, Kozinski's sometimes controversial decisions, as well as his outside writing, were seen by many as blocks to advancement in what had become an entirely new era of judicial nominations in the wake of the Bork fiasco. In that case, after all, it was Bork's outside and academic writing about controversial issues that served as fodder for Democrats who had targeted him for defeat. One response to that on the part of subsequent Presidents has been to play it safe with Supreme Court nominations by avoiding nominees with an extensive extra-judicial writing career, especially when that nominee was facing a Senate controlled by the opposing party.
In any case, all of that is water under the bridge now. Kozsinski's career as a Judge will remain a part of the record and a part of history, but so too will the circumstances under which he was forced to walk away from all of it.