Federal Judge Blocks Cigarette Warning Labels
A Federal Judge has blocked a new FDA rule that would have placed these labels on cigarette packaging.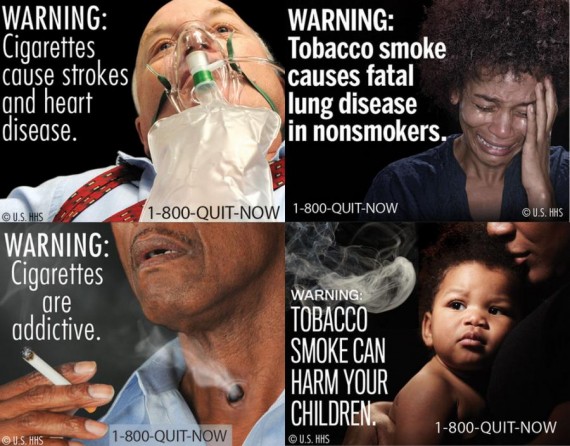 A Federal Judge has ruled that the new, graphic, cigarette warning labels mandated by the Federal Government are unconstitutional because they compel manufacturers to engage in advocacy speech mandated by the Federal Government:
A federal judge blocked the federal government Monday from requiring tobacco companies to begin putting graphic new warning labels on cigarette packages, cartons and advertisements beginning next year.

In a 29-page decision, U.S. District Judge Richard J. Leon granted a request from five tobacco companies to issue a preliminary injunction barring implementation of the Food and Drug Administration's new mandate.

"The Court concludes that plaintiffs have demonstrated a substantial likelihood that they will prevail on the merits of their position that these mandatory graphic images unconstitutionally compel speech, and that they will suffer irreparable harm absent injunctive relief pending a judicial review of the constitutionality of the FDA's rule," Leon wrote.

The tobacco companies hailed the decision.

"We are pleased with the judge's ruling and look forward to the court's final resolution of this case," said Bryan D. Hatchell, a spokesman for R.J. Reynolds Tobacco.

The judge's decision puts on hold a plan unveiled in June by the FDA designed to shock customers with nine graphic images of tobacco's impact, including smokers exhaling through a tracheotomy hole, struggling for breath in an oxygen mask and lying dead on a table with a long chest scar.Cigarette cartons, packs and advertising would have been required to feature these and six other graphic warnings, replacing the discreet admonitions that cigarette manufacturers have been required to offer since 1966. The startling images would have dominated half of the front and back of each carton and pack and 20 percent of each large ad.

(…)
The color images also would include a diseased lung, a mouth with mottled teeth and a disfigured lip, a weeping woman and a cartoon of a crying baby in an incubator along with messages such as "Warning: Cigarettes are addictive," "Warning: Cigarettes cause cancer" and "Warning: Smoking can kill you."

Each brand would have rotated all the images randomly throughout the year. Every warning would also have to include "1-800-QUIT-NOW," a hotline smokers could call for help kicking the habit.
This strikes me as a sensible decision, and I say that as someone who's never smoked a cigarette in my life. The idea that a business should be forced to host graphic government propaganda on its packaging strikes me as completely nonsensical, and really points out the continued government hypocrisy when it comes to issues like this. The government has been telling us that smoking is bad for you for nearly 50 years now, while at the same time providing financial assistance to tobacco farmers and profiting off the taxes charged on cigarettes and cigars. At the same time they want to put these warnings on cigarette packaging, it's fairly obvious that neither the Federal Government nor the states have any intention of  acting to ban tobacco because they make far too much money off those taxes (not to mention that we already know that prohibition never works). You can't really have it both ways, and when you get right down to it, it really isn't the government's business to be telling people how to live their lives.
If you aren't smoking now, don't start. If you are smoking, stop. That's my advice. But if people want to continue buying and using a lawful product, that's their right, and they don't need to be subjected to endless government propaganda in the process of doing so. We are, I think, at the point in our society where people know that cigarette smoking is an unhealthy habit, but it is their right to continue taking that risk, isn't it?
Here's the court's decision: