Federal Judge Blocks Release Of Plans For 3-D Printable Guns
A Federal Judge in Washington State has, at least temporarily, blocked the release of files that would allow anyone to make a 3-D printed gun. The First Amendment seems to clearly indicate that this ruling is wrong.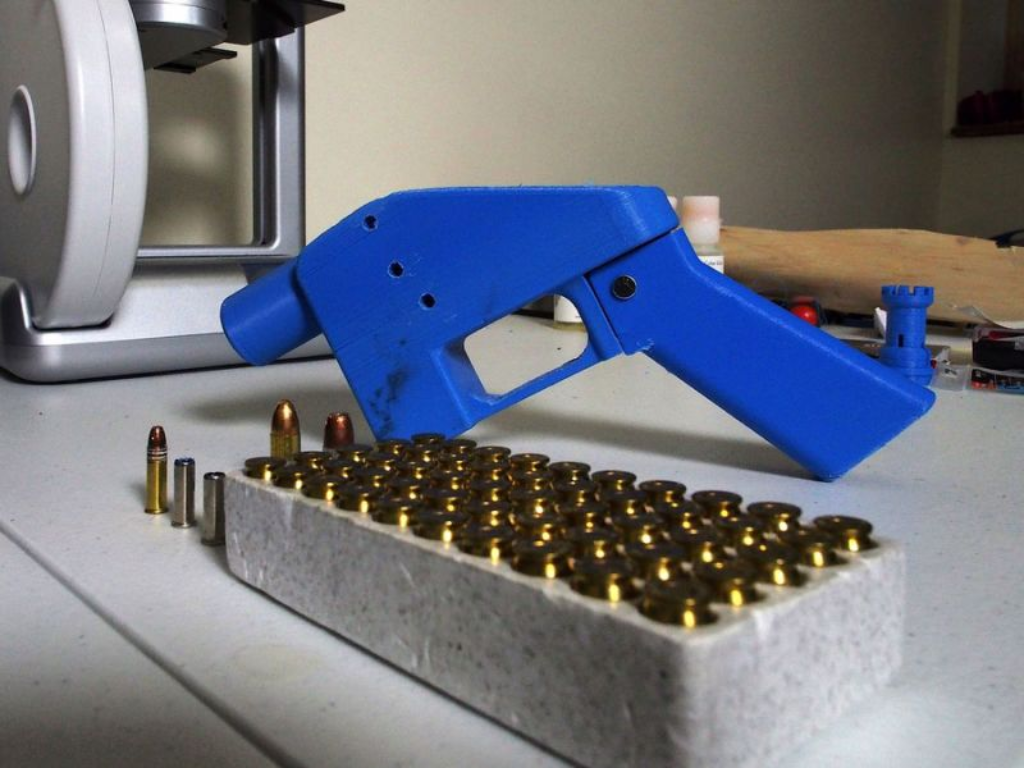 Late yesterday, a Federal District Court in Washington issued an injunction barring the publication of plans that would allow someone with the right kind of 3-D printer to manufacture guns of various types in the home, but it's unclear how the order can be enforced or how it could possibly withstand appeal:
WASHINGTON — For years, Cody Wilson, a champion of gun-rights and anarchism from Texas, has waged a battle to post on the internet the blueprints for making plastic guns on 3-D printers, claiming the First Amendment gives him the right to do it.

Plastic guns are difficult to detect, and concerned about making it easier to produce them, the Obama administration had used export laws banning the foreign distribution of firearms to prevent publication of the blueprints. But an abrupt reversal by the State Department last month appeared to finally clear the path for Mr. Wilson to usher in what his website calls "the age of the downloadable gun."

That age, he said, would start Wednesday when he would begin uploading the instructions. But faced with dire warnings about an imminent risk to public safety from alarmed public officials across the country, a federal judge in Seattle on Tuesday evening abruptly granted a temporary nationwide injunction blocking Mr. Wilson from moving forward with his plans.

Attorneys general in eight states and the District of Columbia had filed a joint lawsuit attempting to force the Trump administration to prevent Mr. Wilson's nonprofit organization, Defense Distributed, from making the technical plans for the plastic guns available online.

In a decision from the bench issued immediately after an hourlong argument by lawyers for both sides, Judge Robert S. Lasnik of United States District Court said the lawyers bringing the suit had established "a likelihood of irreparable harm" and of success on the merits.

Judge Lasnik said in his ruling that there were "serious First Amendment issues" that would need to be worked out later in court, but that for the moment, there should be "no posting of instructions of how to produce 3-D guns on the internet." The judge set a follow-up hearing for Aug. 10 in his courtroom in downtown Seattle.

The decision followed a legal skirmish in New Jersey on Tuesday afternoon in which Mr. Wilson agreed to stop uploading new files to his website and to prevent internet users in the state from downloading the plans until a full hearing in September. State officials in Pennsylvania won a similar temporary concession on Sunday.

"Cody Wilson backs down," said the New Jersey attorney general, Gurbir Grewal, on Twitter. "The fight for public safety continues."

The court rulings are just the beginning of what could become a fierce legal clash pitting concerns about public safety and Mr. Wilson's claim of a First Amendment right to publish the materials. His lawyer, Josh Blackman, compared it to the Pentagon Papers case, in which the Supreme Court famously rejected the government's attempts to block news organizations from publishing a secret history of the Vietnam War.

"This is a huge free speech case," said Mr. Blackman, who vowed to continue fighting the efforts to prevent Mr. Wilson from posting his documents online.

Critics say the homemade firearms produced by Mr. Wilson's schematics can be printed without serial numbers or government registration. They say the firearms — known as "ghost guns" — would allow criminals and terrorists to evade detection.

Mr. Wilson challenged the Obama administration's attempt to block publication of the blueprints in 2015, and the legal case had dragged on until last month, when the State Department concluded they do not violate the defense export controls meant to keep delicate military technology out of the hands of the country's enemies. A court-approved settlement between the State Department and Mr. Wilson ended the legal case and gave Mr. Wilson the right to distribute the schematics.

But White House officials appeared to be caught by surprise by Monday's flurry of legal activity. In a tweet on Tuesday morning, President Trump said he was "looking into" his administration's decision last month to clear the way for Mr. Wilson's actions.

Mr. Trump's comments on Twitter underscored the competing views even inside the administration and raised the prospect of another shift in his administration's approach.

"Already spoke to NRA, doesn't seem to make much sense!" Mr. Trump wrote.

A spokesman for the president insisted later in the day that Mr. Trump "is committed to the safety and security of all Americans" but declined to say what — if anything — the president was prepared to do regarding Mr. Wilson's efforts to distribute the blueprints for printed guns.

Hogan Gidley, a deputy White House press secretary, noted that federal law already makes it illegal to own or make a gun out of only plastic. But Mr. Gidley did not address the issue of Mr. Wilson's desire to distribute the instructions for how to do so.

"The administration supports this nearly two-decade-old law," Mr. Gidley said. "We will continue to look at all options available to us to do what is necessary to protect Americans while also supporting the First and Second Amendments."

Mr. Wilson expressed disappointment on Tuesday evening after the ruling by the judge in Washington State.

"The law is clear," Mr. Wilson said. "These plaintiffs just don't have standing to challenge the settlement. You can't unclose a federally closed matter. And I consider the matter to be closed."
Judge Lasnik's ruling came in one of a flurry of lawsuits that had been filed over the past week attempting to stop Defense Distributed, the Texas-based nonprofit company at the center of this dispute from making the plans available online where anyone could download them and, provided that they had the correct raw materials and a rather expensive 3-D printer, manufacture in their home a firearm made entirely of plastics that would be undetectable by metal detectors and other security screening methods. One of those lawsuits was filed in state court in New Jersey and it resulted in the entry of a consent agreement under which Defense Distributed agreed that it would hold off publishing plans online until September 30th. Despite this agreement, though, the plans had been leaked online at some point yesterday and thousands of people had downloaded the necessary files, although it's unclear how many of those people had either the raw materials or the equipment necessary to "print" a gun in their home. Additionally, those files began appearing on mirror sites both inside and outside the United States well before Judge Lesnik issued his ruling late in the day yesterday. Given that, it seems clear that the injunction in Washington and consent decree in New Jersey will really have much of an impact.
As a preliminary matter, it should be noted that it is not illegal for Americans to make firearms in their homes. Indeed, it has long been possible for consumers to purchase kits with untraceable parts and assemble those parts themselves. Alternatively, someone with the right equipment could, at least in theory, manufacture crude handguns and other weapons in their home regardless of whether or not they are legally eligible to purchase a gun under applicable Federal or state law. What is illegal, though, is the manufacture and possessions of the kind of all-plastic guns that these plans make it possible for someone to make. The Undetectable Firearms Act. a Federal law passed in 1988, makes it illegal to own a gun that can pass through a metal detector without being noticed. As a general rule, this was a non-issue prior to the rise of 3-D printers since few people had access to the kind of equipment and information necessary to manufacture such weapons. Thanks to the Internet and the fact that some 3-D printers can be purchased for under $1,000, though, we're getting closer to the day when anyone would be able to manufacture a functional weapon, albeit one that would fall far short of the accuracy or power of commercially available weapons, in the comfort of their own home. Given that, the concerns raised by the Attorneys General and other state officials who have acted to attempt to stop the publication of these plans, are entirely understandable even though the legal basis for their claims is questionable at best and, at the very least, those efforts appear to be too little, too late.
It's important to note that the issue before the courts in Washington and New Jersey isn't about the aforementioned Federal law. Even with the advent of 3-D printer technology, it remains illegal to own a gun that cannot be detected by a metal detector or other similar technology. Similarly, at first glance, I don't believe there would be a constitutional problem with a law that made it illegal to manufacture, either as part of a commercial enterprise or an individual activity, such weapons. That's not the issue before the Courts in this case, though, and as Brian Doherty points out, what the courts are doing here amounts to nothing more than a seemingly unconstitutional prior restraint on speech:
Since the case ended via settlement and not a decision, no explicit precedent has been set that these specific computer instructional files count as expression protected under the First Amendment. But that was the core of the legal argument Defense Distributed was making, and is still having to make against all the new authorities trying to restrain it.

As the company's legal team wrote in the lawsuit, "the use of the ITAR to impose a prior restraint on publications of privately generated unclassified information into the public domain violated the First Amendment of United States Constitution," a point with which they believed previous Department of Justice doctrine agreed.

In a court filing responding to the multi-state lawsuit to stop Wilson's organization from distributing the files, one of Defense Distributed's lawyers, Josh Blackman, said that such attempts to legally prohibit Americans ability to "access, discuss, use, reproduce, or otherwise benefit from the technical data" are not constitutionally permitted, as such acts are "expressly protected by the First Amendment. In Sorrell v. IMS Health Inc. [2011], the [Supreme] Court recognized 'that the creation and dissemination of information are speech within the meaning of the First Amendment.'"

As Blackman rightly stated, this latest state lawsuit to limit Defense Distributed's activities constitutes a

demand [of] a prior restraint of constitutionally protected speech that is already in the public domain. We know that "[a]ny system of prior restraints of expression comes to this Court bearing a heavy presumption against its constitutional validity." That presumption of liberty is even heavier where, as here, the speech is already available on the internet, and has been available for years….Yet, nine Attorneys General, who swore an oath to the Constitution, failed to even mention the First Amendment in their emergency pleadings. Such a careless disregard for the Bill of Rights fails to meet the "heavy burden" needed to justify a prior restraint.

By eliding what's really at stake here—more a matter of free expression than any meaningful expansion of the already existing legal ability to make a gun at home—the states suing, and alas too much of the media, are ginning up unwarranted fear to expand the government's power to restrict speech, and alas those states have had at least a temporary success for now.
The fact that the CAD files at issue here can potentially be used to manufacture a weapon is, in of itself, irrelevant for First Amendment cases. In the end, there is no functional difference between these CAD files and publications such as The Anarchist Cookbook, a publication that has been around since the 1970s in various forms and which even today can be purchased on Amazon in both its original and updated form. While that publication has proven to be controversial in no small part due to the fact that it includes instructions that would make it possible for someone with the right materials to make explosives and other illegal items, there doesn't seem to be any argument against the proposition that the publication of the book itself is perfectly legal and protected by the First Amendment. The analysis is the same for the CAD files at issue here. In the end, they are simply a form of information, and the First Amendment does not permit either a legislature or a court to ban them simply because of how they might be used.
Here is Judge Lesnik's opinion:
Washington Et Al v. Dept of State Et Al by Doug Mataconis on Scribd
And the Complaint filed in New Jersey:
Grewel Et Al v Defense Distributed et al Complaint by Doug Mataconis on Scribd
;