Federal Judge Upholds Louisiana Ban on Same-Sex Marriages
A lower court judge has upheld the Louisiana Constitution's limitation of marriage to "one man and one woman."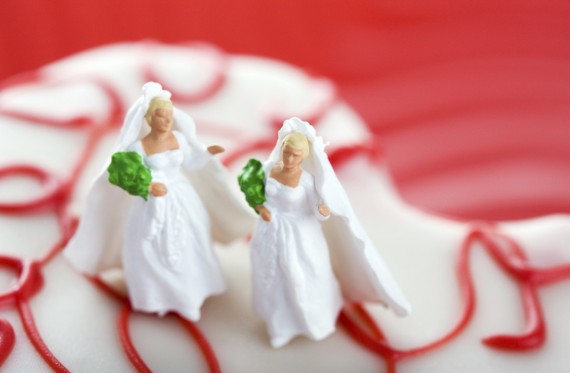 A lower court judge has upheld the Louisiana Constitution's limitation of marriage to "one man and one woman."
Buzzfeed's Chris Geidner ("Louisiana Marriage Ban Is Constitutional, Federal Judge Rules"):
A federal judge broke ranks on Wednesday, ruling that Louisiana's ban on same-sex couples' marriages is constitutional.

The ruling, from U.S. District Court Judge Martin Feldman, is the first federal court ruling upholding a state's ban since the U.S. Supreme Court struck down the federal law defining marriage as only including opposite-sex couples in June 2013.

Feldman, appointed to the bench in 1983 by President Reagan, noted his departure from other judges, writing, "It would no doubt be celebrated to be in the company of the near-unanimity of the many other federal courts that have spoken to this pressing issue, if this Court were confident in the belief that those cases provide a correct guide."

Nonetheless, Feldman concluded first that no "fundamental right" was at stake — "Public attitude might be becoming more diverse, but any right to same-sex marriage is not yet so entrenched as to be fundamental" — and that laws that distinguish based on sexual orientation are not subjected to heightened scrutiny. As such, only the lowest level of scrutiny — rational basis review — applied to the ban, meaning the state needed only to show a legitimate reason for barring same-sex couples from marrying.

With that, he examined the reasons the state gave for the ban and concluded that they "offer a credible, and convincing, rational basis" for the ban.
While I believe bans on same-sex marriage ultimately come down to bigotry and inertia rather than any true rational public policy interest, I concur with Feldman's reasoning here. Specifically:
Many states have democratically chosen to recognize same-sex marriage. But until recent years, it had no place at all in this nation's history and tradition. Public attitude might be becoming more diverse, but any right to same-sex marriage is not so entrenched as to be fundamental.
Specifically, it's manifestly obvious that the 14th Amendment, adopted in July 1868 to provide legal equality for the slaves freed by the 13th Amendment and which provides, among other things, that "No state shall . . .  deny to any person within its jurisdiction the equal protection of the laws" was not intended to give people of the same sex the right to marry one another. That notion would have been ludicrous a century later. Moreover, despite my policy preference being contrary to the majority will of the people of Louisiana (78 percent of voters approved the amendment to the state constitution in 2004) I nonetheless concur with Feldman that "fundamental social change, in this instance, is better cultivated through democratic consensus."
Ironically, Feldman cites the US Supreme Court's 5-4 decision last summer in US v Windsor, striking down the Defense of Marriage Act, favorably in his opinion, noting that, while it "correctly discredited the tainted unconstitutional result that DOMA had on democratically debated and then adopted New York state law blessing same-sex marriage," it did so on the basis "The recognition of civil marriages is central to state domestic relations law applicable to its residents and citizens." Moreover, he observes that "Windsor starkly avoids mention of heightened scrutiny," adding, "If the Supreme Court meant to apply heightened scrutiny, it would have said so."
Feldman concludes, "In light of still-binding precedent, this Court declines to fashion a new suspect class. To do so would distort precedent and demean the democratic process." While, again, I disagree with the result here, I believe his ruling correct under the US Constitution and existing precedent. The lower courts who have invalidated state laws—and even state constitutions—are in effect substituting their policy preferences for those of the people of the states in a matter where the states have always been presumed to have sovereignty. Federal law has traditionally trumped state law in marriage only in matters—most notably racial discrimination—where the US Constitution clearly speaks.
Now, Feldman undermines his argument substantially by going into tired slippery slope comparisons such as "must the states permit or recognize a marriage between an aunt and a niece? Aunt and nephew? Brother/borther? Father and child? May minors marry? Must marriage be limited to only two people?"  Those are rather obviously separate issues and in no way implicated by the argument the discrimination on the basis of gender requires strict scrutiny rather than a rational basis.
Furthermore, Feldman's admonition that the state's ban is justified because "Louisiana has a legitimate interest … whether obsolete in the opinion of some, or not, in the opinion of others … in linking children to an intact family formed by their two biological parents" doesn't hold water. While I certainly support that linkage, the fact of the matter is that Louisiana, like all other states, permits people to marry who are too old, biologically incapable, or simply uninterested in having children. 
Regardless, Feldman's ruling—which simply denies a motion for summary judgment—will doubtless not be final. The 5th Circuit, which has jurisdiction here, is one of the few that has not yet ruled on the issue. If it upholds Feldman here, we'll have a conflict among the circuits that would make the case ripe for the Supreme Court to rule.
In the meantime, we're moving closer to the point when "democratic consensus" will make the matter moot. I suspect that, even in Louisiana, there's much less support for this ban than there was when it was enacted a decade ago.