Feds May Challenge Arizona Law On Racial Discrimination Grounds
Attorney General Eric Holder said today that the Federal Government retains the option of suing Arizona a second time if the state's new immigration law is enforced in a discriminatory manner.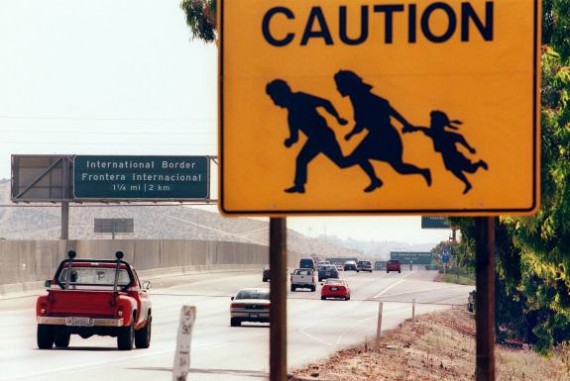 Attorney General Eric Holder hinted today that the Federal Government may expand it's lawsuit against Arizona's new immigration law if it turns out the law is being applied in a racially discriminatory manner:
Attorney General Eric Holder, just days after filing a federal lawsuit against Arizona's immigration law, on Sunday floated the possibility of filing another suit on racial profiling grounds.

The lawsuit filed Tuesday in U.S. District Court in Arizona claimed the state was infringing on federal immigration responsibilities and urged the judge to prevent the law from going into effect at the end of July. Despite some officials' claims that the law could lead to racial profiling, that concern was not cited as grounds for the suit.

However, Holder said on CBS' "Face the Nation" that the federal government was leading with its "strongest" argument in the suit filed Tuesday and would not rule out a second suit months down the road — if the law ends up going into effect.

"It doesn't mean that if the law for whatever reason happened to go into effect, that six months from now, a year from now, we might not look at the impact the law has had … and see whether or not there has been that racial profiling impact," Holder said. "If that was the case, we would have the tools and we would bring suit on that basis."
Holder's comment would seem to be a response to some critics on the right who thought it newsworthy that the recently filed Federal lawsuit did not include any counts claiming that the law discriminated against Hispanics. The reason for that, of course, is that it's very rare that a law of this type would be discriminatory on it's face so there isn't any legal basis for making that type of argument before the law is actually enforced. Once that begins to happen, though, such a claim will exist if it appears that Arizona law enforcement is applying the law in a discriminatory fashion, something which is entirely probable given the nature of the law despite the so-called "safeguards" the law contains against such discrimination.
So, rather than being a hollow threat as some bloggers are contending today, I would take Holder's comments as a recognition of legal reality. And a warning that Arizona will face more legal challenges in the future if the law isn't applied fairly.