Final Election Eve Poll In Scotland Finds 'No' Leading By Six Points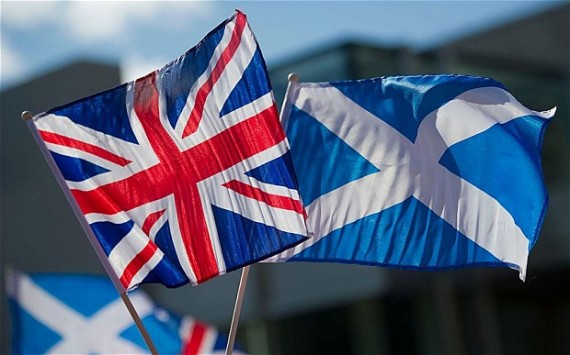 As this post is being written, voters in Scotland have been heading to the polls for roughly seven hours, and polls will remain open until 10pm local time, or 5pm U.S. Eastern time. By all accounts, turnout is expected to be quite high, and neither side is claiming that they are assured of victory. However, the final poll released on the eve of voting showed the 'No' side leading by six points, suggesting that there has been surge toward the United Kingdom in the last week or so:
The campaign to keep Scotland in the Union has increased its narrow lead, according to the last referendum poll
An Evening Standard/ Ipsos Mori poll, conducted on Tuesday and Wednesday, found that the No campaign had taken a six point lead in the run up to the referendum.

It found that six in 10 of those voting for Scotland to stay in the union were motivated more by "fear" about the risks of independence than "hope" for the future. By contrast eight in 10 Yes voters said they were motivated more by hope than fear.

The poll highlighted a significant gender divide, with men 53 per cent of men favouring independence while 58 per cent of women said they intended to vote for Scotland to stay in the union.
People aged between 35 and 34 were the most likely to vote yes, dividing 73 to 27, while those over-55 were split two to one in favour of Scotland staying in the Union.
Reports from the British media are saying that we shouldn't expect a final result until some time early tomorrow morning, which means that most of the United States will have to wait until wakes up to find out the results. As many observers have noted, the fact that turnout is expected to be quite high, some estimates put it at 85% or higher across all of Scotland, the polls may not be telling the entire story of what is likely to happen. That being said, and based solely on what I've read from analysts on the other side of the Atlantic, my guess is that Scotland will, in the end, reject independence notwithstanding the emotional and patriotic appeals. Since I'm hardly an expert on Scottish politics or the state of public opinion there, it's not a guess I'm placing a huge amount of confidence in, but it strikes me that if independence was going to win, we'd see stronger evidence of that in the polling right now.
In any case, by this time tomorrow we should know how it all turned out and whether or not the United Kingdom will remain, well, united.