Finland and Sweden Apply to NATO, Turkey an Obstacle
A diplomatic nightmare brewing since last week is now upon us.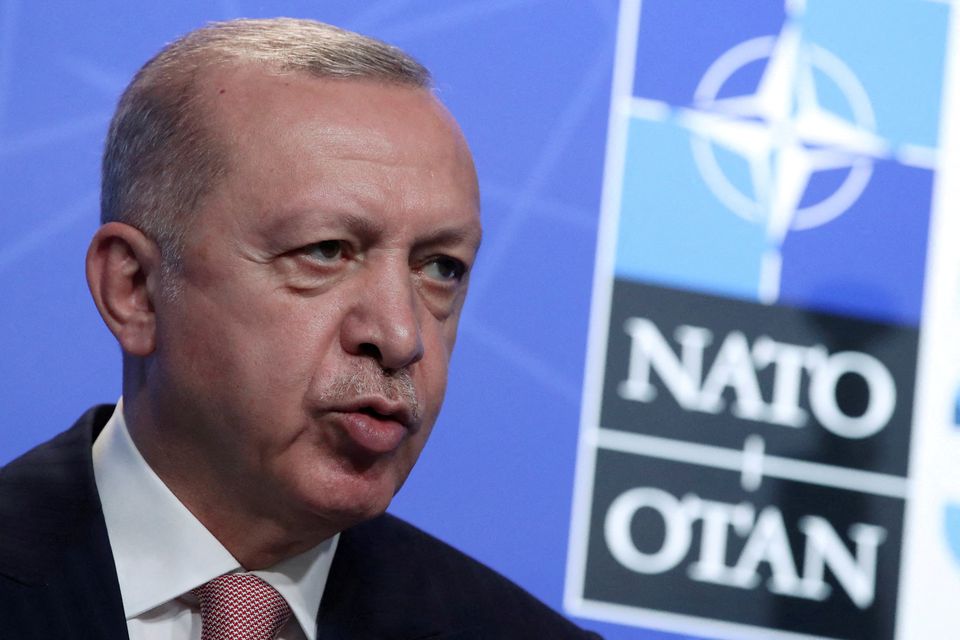 After weeks of foreshadowing, Finland and Sweden have made it official. Reuters:
Finland and Sweden formally applied to join the NATO alliance on Wednesday at allied headquarters, a decision spurred by Russia's invasion of Ukraine, but face objections from Turkey to an accession process that is expected to take only a few weeks.

Neutral throughout the Cold War, Sweden's and Finland's decision to join NATO is one of the most significant changes in Europe's security architecture for decades, reflecting a sweeping shift in public opinion in the Nordic region since Russia's Feb. 24 invasion.

"This is a historic moment, which we must seize," NATO Secretary-General Jens Stoltenberg said at a short ceremony in which the Swedish and Finnish ambassadors to the alliance handed over their application letters, each in a white folder embossed with their national flag.

"I warmly welcome requests by Finland and Sweden to join NATO. You are our closest partners, and your membership in NATO will increase our shared security," Stoltenberg said. The alliance considers that the accession of Finland and Sweden would hugely strengthen it in the Baltic Sea.

With the applications formally submitted, the Nordic countries and their many backers now face uncertain months where any resistance to their bids needs to be overcome, with all 30 of NATO's members needing to approve the enlargement.

Ratification by all allied parliaments could take up to a year, diplomats say.
While I've long been a skeptic of NATO expansion, which has concentrated on former Warsaw Pact members who bring little to no military value to the Alliance, this one is a no-brainer. Sweden and Finland are robust partners with modern militaries that are already routinely included in exercises. Bringing them under the umbrella makes good strategic sense.
Alas, there's a fly in the ointment in the form of NATO's worst member. For those who missed it:
Turkish President Tayyip Erdogan said on Monday that Swedish and Finnish delegations should not bother coming to Ankara to convince it to approve their NATO bid.

[…]

Turkey surprised its NATO allies last week by saying it would not view their applications positively, mainly citing their history of hosting members of groups Ankara deems terrorists.

In a news conference on Monday, Erdogan repeated that Turkey would not approve their bids to join NATO, calling Sweden a "hatchery" for terrorist organisations, and adding it had terrorists in its parliament.

"Neither of these countries have a clear, open attitude towards terrorist organisation," Erdogan said. "How can we trust them?"

The Swedish foreign office said earlier on Monday that senior representatives of Sweden and Finland plan to travel to Turkey for talks to address Ankara's objections.

"They are coming to Turkey on Monday. Are they coming to convince us? Excuse me but they should not tire themselves," Erdogan said about the planned visit.

Erdogan said NATO would become "a place where representatives of terrorist organisations are concentrated" if the two countries join.

Ankara says Sweden and Finland harbor people it says are linked to groups it deems terrorists, namely the Kurdistan Workers Party (PKK) militant group and followers of Fethullah Gulen, whom Ankara accuses of orchestrating a 2016 coup attempt.

Turkish state broadcaster TRT Haber said on Monday that Sweden and Finland had not granted approval for the repatriation of 33 people that Turkey requested. 

Erdogan also said Turkey would oppose the NATO bids from those who imposed sanctions on it. Sweden and Finland had slapped arms export embargoes on Turkey after its Syria incursion in 2019.
The prevailing wisdom is that Erdogan is just being his autocratic self, taking a hardline position to wring concessions out of ostensible allies who have tired of his ways.
Some analysts are skeptical of Erdogan's tough talk, convinced he won't actually block the NATO membership bids — rather, they predict he will simply use his country's leverage to extract concessions and boost his own waning popularity at home.

"Despite its objections, Ankara will not block the countries' entry into NATO," analysts at political risk consultancy Eurasia Group wrote in a research note late Monday.

"Erdogan is likely looking for concessions for green-lighting NATO's expansion, mainly from Sweden. These might include the easing of Stockholm's bilateral arms embargo on Turkey and some recognition of PKK as a terrorist organization to curtail its fund-raising and recruitment activities," the note said.

Erdogan's top foreign policy advisor, Ibrahim Kalin, over the weekend reassured allies by saying in an interview with Reuters: "We are not closing the door. But we are basically raising this issue as a matter of national security for Turkey," concerning NATO accession for Sweden and Finland.
Regardless, his support is crucial: NATO's charter requires unanimous support for adding new members. Given that the addition of these two states is a huge symbolic gesture in the face of Putin's aggression in Ukraine, the other Allies are none too happy with Erdogan's grandstanding here.
Some analysts think this is all for show:
The best-case scenario from NATO's perspective is that the Turkish leader will be satisfied merely with the attention — he has a weakness for the international spotlight. Some pro forma expressions of solicitude about Ankara's anxieties from the Finns and Swedes, along with a promise to be vigilant about any anti-Turkish activity on their soil, would allow Erdogan to claim, for his domestic audience, that he has extracted important concessions from the Europeans.

He will undoubtedly want more, including more sophisticated arms from his NATO partners and possibly some financial assistance. But the NATO countries seeking Erdogan's signoff should demur: He isn't in a position to hold out for very long.

The domestic audience is the key to understanding where his head is at the moment. Turkey's economic crisis — soaring inflation and a plunging lira are just two indicators of its gravity — has left the president politically more vulnerable than at any other time in his nearly two decades at the helm. His poll numbers are poor, powerful workers' unions are restive, the traditional opposition parties are rallying and new rivals are emerging.

With barely a year to go before he is up for re-election, Erdogan badly needs some wins. He has swallowed his pride and set aside his longstanding contempt for the Gulf Arab sheikhdoms in the hope that they will bail out the Turkish economy. But even if the billions of dollars of promised investment do materialize, it will be years before ordinary Turks see any of the benefits.

On the wider international stage, having antagonized his NATO partners for years by making a "dear friend" of Vladimir Putin, Erdogan has been a peripheral figure in the alliance's most serious confrontation with Russia since the end of the Cold War. (He has sought the role of peacemaker between Moscow and Kyiv, but to little avail.)

And in the lead-up to next year's election, he will likely take even more reckless measures: Expect, for instance, a reprise of his previous threats to unleash a flood of refugees into Europe unless the EU ponies up more assistance. The challenge for Turkey's NATO partners, and for those seeking to join the group, is to hold their collective nerve.
Years ago, there was hope among Atlanticists that Turkey would become a regional lynchpin, a bridge between Europe and the Muslim world. Under Erdogan, alas, Ankara has turned away from the West and become more of a thorn in our side than a strategic partner. Alas, it is next to impossible to simply kick them out of NATO.