Firing McChrystal: Anatomy of a Decision
Both President Obama and General McChrystal handled a bad situation incredibly well.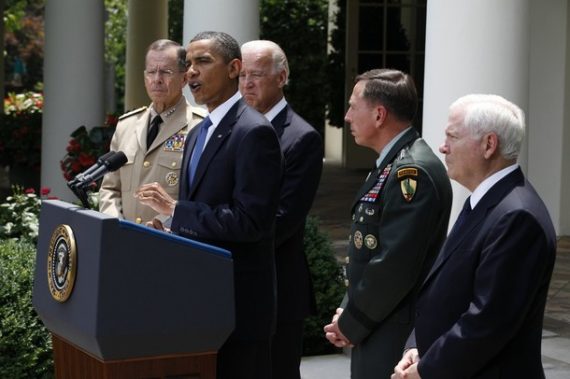 NYT's Mark Landler reports on the process that led to President Obama's inevitable firing of General Stanley McChrystal.   Granting that it's by necessity entirely based on information from sources favorable to the president, it's a flattering profile.
By the time he woke up Wednesday morning, President Obama had made up his mind.

During the 36 frenetic hours since he had been handed an article from the coming issue of Rolling Stone ominously headlined "The Runaway General," the president weighed the consequences of cashiering Gen. Stanley A. McChrystal, whose contemptuous comments about senior officials had ignited a firestorm.

Mr. Obama, aides say, consulted with advisers — some, like Defense Secretary Robert M. Gates, who warned of the dangers of replacing General McChrystal, others, like his political advisers, who thought he had to go. He reached out for advice to a soldier-statesman, Colin L. Powell. He identified a possible successor to lead the war in Afghanistan.

And then, finally, the president ended General McChrystal's command in a meeting that lasted only 20 minutes. According to one aide, the general apologized, offered his resignation and did not lobby for his job.

After a seesaw debate among White House officials, "there was a basic meeting of the minds," said Rahm Emanuel, the White House chief of staff and a major player in the deliberations. "This was not good for the mission, the military and morale," Mr. Emanuel said.

[…]

In a subsequent meeting with his Afghan war council, Mr. Obama delivered a tongue-lashing, instructing his advisers to stop bickering among themselves. "The president said he didn't want to see pettiness; that this was not about personalities or reputations — it's about our men and women in uniform," said a senior administration official, who like others, spoke on the condition of anonymity in offering an account of the last two days.

[…]

General Petraeus was not offered the job until he walked into the White House on Wednesday, soon after the president's meeting with General McChrystal, a senior aide said.

[…]

After meeting with General McChrystal, he held a 40-minute meeting with General Petraeus and a broader session with his war council and then stepped into the Rose Garden to explain his decision to the American public.
Obama handled this as well as he could have: He formed an initial impression that McChrystal had to go, listened to some smart folks, and ultimately confirmed his instinct. And he chose a replacement that allayed the most obvious concerns about replacing a commander at a crucial juncture.
This was Obama at his best. He's almost always cool under stress but he frequently belabors the decision far too long, allowing the debate to get ahead of him. Here, he both allowed himself to cool down to avoid acting rashly but nonetheless made the right call with deliberate speed. And the speech explaining what he did and why to his bosses, the American people, couldn't have been better.
Additionally, while he behaved like an ass during a bus ride with a reporter, McChrystal couldn't have handled this any better. When he realized the shit was about to hit the fan, he immediately manned up and made some humiliating phone calls to let his bosses know what was coming. And he not only offered apologies to those he had embarrassed, he did so fully expecting that it wouldn't save his job. Indeed, he pretty much told the president that firing him was necessary when he acknowledged having compromised the mission.
Photo: Reuters Pictures