Firing Workers For Being Too Sexy Approved By Iowa Supreme Court
In Iowa, women can be fired for being too sexy.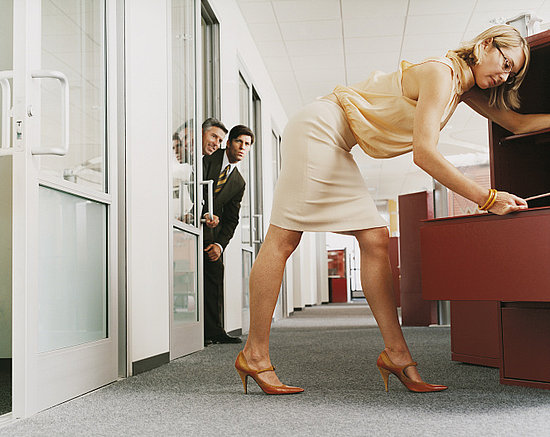 In Iowa, women can be fired for being too sexy.
AP ("Iowa court: Bosses can fire 'irresistible' workers"):
A dentist acted legally when he fired an assistant that he found attractive simply because he and his wife viewed the woman as a threat to their marriage, the all-male Iowa Supreme Court ruled Friday.

The court ruled 7-0 that bosses can fire employees they see as an "irresistible attraction," even if the employees have not engaged in flirtatious behavior or otherwise done anything wrong. Such firings may be unfair, but they are not unlawful discrimination under the Iowa Civil Rights Act because they are motivated by feelings and emotions, not gender, Justice Edward Mansfield wrote.

An attorney for Fort Dodge dentist James Knight said the decision, the first of its kind in Iowa, is a victory for family values because Knight fired Melissa Nelson in the interest of saving his marriage, not because she was a woman.

But Nelson's attorney said Iowa's all-male high court, one of only a handful in the nation, failed to recognize the discrimination that women see routinely in the workplace.
"These judges sent a message to Iowa women that they don't think men can be held responsible for their sexual desires and that Iowa women are the ones who have to monitor and control their bosses' sexual desires," said attorney Paige Fiedler. "If they get out of hand, then the women can be legally fired for it."

Nelson, 32, worked for Knight for 10 years, and he considered her a stellar worker. But in the final months of her employment, he complained that her tight clothing was distracting, once telling her that if his pants were bulging that was a sign her clothes were too revealing, according to the opinion.

He also once allegedly remarked about her infrequent sex life by saying, "that's like having a Lamborghini in the garage and never driving it."

Knight and Nelson — both married with children — started exchanging text messages, mostly about personal matters, such as their families. Knight's wife, who also worked in the dental office, found out about the messages and demanded Nelson be fired. The Knights consulted with their pastor, who agreed that terminating Nelson was appropriate.
As weird and embarrassing as this case is, it's a reasonable decision in the narrow case of a sole proprietorship. Should the boss be able to work with women he finds attractive and resist crossing boundaries of professionalism? Sure. But, if it's his shop, he should have the right to remove the temptation.
This obviously becomes more problematic in a larger firm, especially when the supervisor isn't also the owner. In those cases, asking for reassignments or just moving on to another firm are more appropriate solutions. But that's unreasonable if it's your firm.