Fixing America's Stupid Immigration Policy
Jon Huntsman calls for an end to "unforced errors in immigration policy."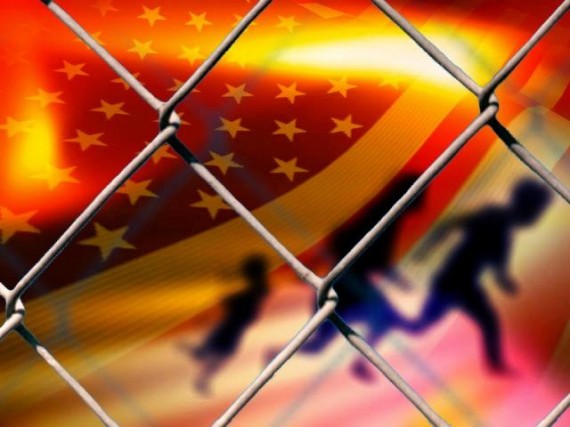 Jon Huntsman tweeted this morning, "Human capital is a cornerstone of our economy, no more unforced errors in immigration policy. " He then links to his op-ed in the WSJ titled "A GOP Opportunity on Immigration."
According to a 2011 Kauffman Foundation study, an immigrant is twice as likely to start a company as an American born here. A quarter of all American high-technology firms founded between 1995 and 2005 have had at least one immigrant founder, and 42% of the individuals who earn doctorates in science and engineering from our universities were born overseas.

Given these achievements, imagine the opportunity costs of the 1907 Gentleman's Agreement, which restricted Japanese immigration; the 1882 Chinese Exclusion Act; and the 1924 Immigration Act, which effectively ended mass Eastern and Southern European immigration. Those laws deprived the United States of millions of talented and driven citizens.

We should not be making the same error today that past generations have made. Yet we are. Rather than lead and work with Congress to deliver permanent solutions, President Obama chose to use an executive order as a policy Band-Aid for young people caught in our immigration laws. This was political theater. America deserves better.

Republicans meeting in Tampa this week should offer a clear alternative. The party should champion a plank that will enhance economic growth by embracing immigrants.
That's, of course, highly unlikely. Not only is the party base wrongheaded on immigration policy but the platform is already written. Still, his prescription is one that's salable to the base.  Huntsman argues that we're focusing our energies on the wrong end of the immigration spectrum:
The situation has changed radically from 2007, when President George W. Bush's effort to reform our immigration laws collapsed in Congress. People aren't crossing our borders—legally or illegally—as they once were, because there are fewer jobs available. According to the Pew Hispanic Center, Mexican immigration may have actually reversed in 2011, with outflows surpassing immigration to the U.S.

While lack of opportunity is reducing the low-skilled illegal population, those who are already here need to be brought out of the shadows of a nation they are already a part of. Most important, the debate must move away from illegal immigration toward immigration as a cornerstone of economic vitality.
Alas, the illegal immigration debate has the most saliency and is unlikely to be resolved in a sane direction in a time of economy crisis. But that doesn't mean we can't fix the less controversial part of our policy.
Work-based immigration programs like the H-1B visa, which is a temporary program for workers with special skill sets, have to be expanded. Foreign graduates of American universities simply have to be given the opportunity to pursue U.S. citizenship. Beyond that, we must move from passively opening our arms to immigrants to actively seeking them.

Let's start by making sure that graduates of elite foreign universities who receive degrees in mathematics, science or engineering can immigrate to the U.S. if they so choose. Every U.S. Embassy should work with the private sector to continuously identify and recruit local talent. Such initiatives won't only bring talent here—they will allow us to deny it to our competitors.

Immigrants also create backward linkages to their native lands, facilitating investment abroad and attracting foreign direct investment to the U.S. Additional foreign capital could be attracted to our shores by expanding the EB-5 program, which provides green cards for immigrants who invest a set amount in the U.S. or create jobs there—and by reforming our broken and backlogged visa system at our consulates abroad to increase travel and tourism opportunities.
I'm in favor of all these things, although I must admit to being a bit queasy  on moral grounds about encouraging a brain drain out of less prosperous countries. It's both good for us and bad for them to soak up the talented people others have invested resources to train. If nothing else, the old "staple a green card to every STEM degree earned by a foreigner in an American university" idea makes sense in this regard.
As he demonstrated during his quixotic presidential campaign, Huntsman can't resist twisting the knife a bit:
For far too long we as a nation have tolerated an ugly nativist strain that dresses itself up with legitimate concerns about security and the breakdown of the rule of law. This is nothing new. It wasn't long ago that "Irish need not apply" signs dotted Boston, and laws in some places banned speaking German. But we would be fools not to learn from our history, since our competitors—like Singapore, which is working to attract immigrants—surely are.
He's right. But that's not exactly the most effective way to appeal to the ugly nativists whose minds need to be changed for this to happen.