Fixing Diplomacy and Development on the Cheap
State and AID budgets are a rounding error in the Defense budget.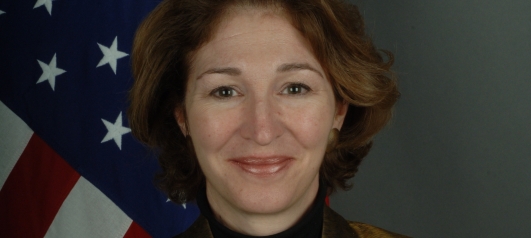 I attended a breakfast roundtable this morning with State Department Policy Planning Director Anne-Marie Slaughter hosted and moderated by the New America Foundation's Steve Clemons and Talking Points Memo's Josh Marshall.  Atypically for an on-the-record event with a sitting official, it was lively and candid.  (Perhaps the fact that Slaughter is heading back to Princeton next week is a contributing factor.)
The whole thing is on video here:
For those who can't spare eighty minutes to watch, I've summarized some of the main points at New Atlanticist under the title "Leading Through Civilian Power When Military Power Gets Funded."  A somewhat self-serving excerpt:
Given the QDDR's focus on a whole-of-government approach, in which State, AID, and Defense will not only work together on missions but actually pool resources, I asked Slaughter if we shouldn't look at a Goldwater-Nichols model, in which mid- and senior-level personnel are actually required to serve in other agencies as part of their career progression.   She is enthusiastic about the idea, and says that there have already been small steps taken in that direction.   Secretary of State Hillary Clinton has already said that promotions will be tied to interagency knowledge and assignment history.  But the logistics will have to be worked out, most notably the issue of a "training float."  Because State and AID are so much smaller than Defense, they're not staffed to backfill officers who are on assignment elsewhere.

My grad school mentor, Don Snow, taught me that "policy is what gets funded."  In that sense, the QDDR's goal of "Leading Through Civilian Power" is not yet policy but aspiration. The fact of the matter is that the State and AID budgets remain, as Clemons aptly put it, "a rounding error" in the Defense budget.  Which means that, unless the Pentagon continues to be led by men sharing Gates' and Mullens' vision of the interagency relationship, the civilians will always be under-resourced.

Then again, we should remember that it took nearly two decades for Goldwater-Nichols' effects to filter through the military establishment and make "jointness" a reality, not just a buzzword.  It could take longer than that to see the results of this QDDR even if the current consensus gels.
More at the link.