Food and Race
Whites make more money than non-whites throughout our food distribution system.
An activist group called Applied Research Center has put out a new report titled "The Color of Food," which documents racial disparities in earnings in America's food supply chain. In a blog post summarizing the findings, they produce this eye-opening chart: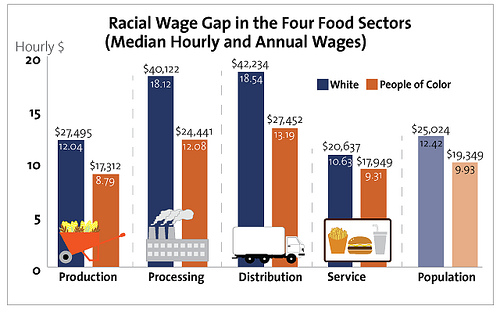 Among the findings:
People of color typically make less than whites working in the food chain. Half of white food workers earn $25,024 a year, while workers of color make $5,675 less than that. This wage gap plays out in all four sectors of the food system—production, processing, distribution and service—with largest income divides occurring in the food processing and distribution sectors. Women working in the food chain draw further penalties in wages, especially women of color. For every dollar a white male worker earns, women of color earn almost half of that.

Few people of color hold management positions in the food system. Whites dominate high-wage professional and management occupations; three out of every four managers in the food system are white. Almost half of white men working in the food chain were employed as managers, while less than 10 percent of workers of color held comparable positions.

People of color are concentrated in low-wage jobs in the food chain. According to the 2008 Census, people of color make up 34.6 percent of the population (that percentage is expected to rise as 2010 Census data becomes available). But workers of color are represented at a level almost one and a half times that in sectors of the food chain. For instance, 50 percent of food production workers are people of color. This includes farm workers, 65 percent of whom are Latino.
None of this will surprise anyone who's been paying attention. But it would be a mistake to conclude that the wage gap is based on racial discrimination rather than broader societal inequities.
Skimming through the full report [PDF], there's no evidence that even obvious variables aside from race and gender were accounted for. For example, one would expect those with MBAs to make more than high school drop outs, since they're likely working in different parts of the system. Similarly, there's a huge difference between manning the cash register at Mickey D's and being the maitre d' at a four-star restaurant.
Even more bizarrely, the authors act as if racial groups are evenly represented in society, rather than whites being by far the modal group in the country.
via Andrew Sullivan.