For Now, Obama Is Staying On The 2020 Sidelines
For now,former President Obama is staying on the sidelines in the race for the Democratic nomination.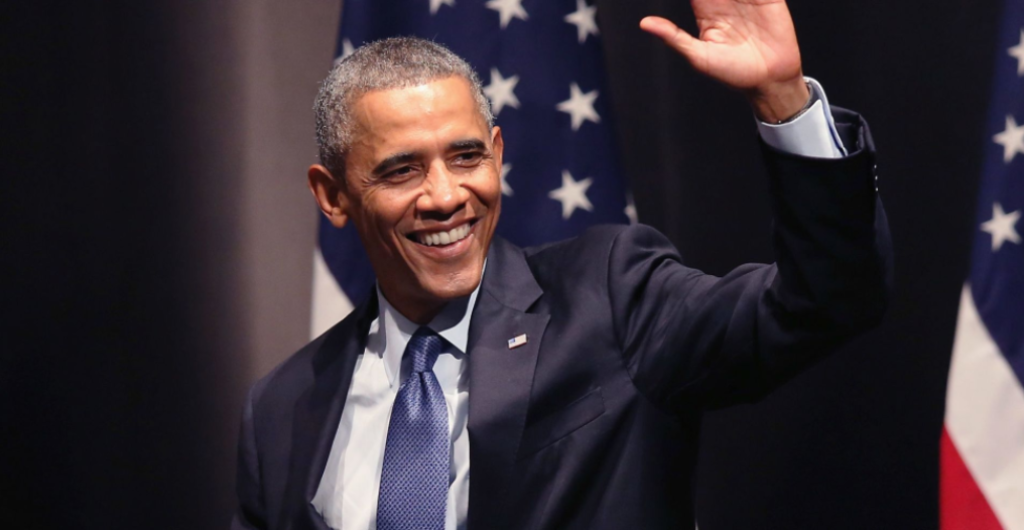 Former President Obama hasn't taken a prominent role in the 2020 campaign yet, but he's quietly advising a number of candidates behind the scenes:
A secret meeting of former President Barack Obama's financial backers convened in Washington early this month: Organized by David Jacobson and John Phillips, Mr. Obama's former ambassadors to Canada and Italy, the group interviewed an array of 2020 presidential candidates and debated whether to throw their wealth behind one or two of them.

Mr. Obama had no role in the event, but it unfolded in his political shadow: As presidential hopefuls like Senators Kamala Harris, Cory Booker, Amy Klobuchar and Sherrod Brown auditioned before them, the donors wondered aloud whether Mr. Obama might signal a preference in the race, according to three people briefed on the meeting, who spoke on condition of anonymity.

David Axelrod, Mr. Obama's former chief strategist, told the group they should expect no such directive. Mr. Axelrod confirmed in an interview that he briefed the gathering, recalling: "They asked me about Obama endorsing. I said, 'I don't imagine he will.'"

Mr. Axelrod said he had been sharing his own perspective, not speaking as an official Obama emissary. But his forecast matches what Mr. Obama has told friends and likely presidential candidates in private: that he does not see it as his role to settle the 2020 nomination, and prefers to let the primary unfold as a contest of ideas. Michelle Obama, the former first lady, also has no plans to endorse a candidate, a person familiar with her thinking said.

Even former Vice President Joseph R. Biden Jr. does not expect to secure Mr. Obama's backing if he runs, according to allies of Mr. Biden's.

Yet if Mr. Obama has all but officially taken a vow of neutrality, he remains the party's most convincing model for success at the national level, and continues to shape the mind-set and strategy of Democratic presidential candidates.

He has counseled more than a dozen declared or likely candidates on what he believes it will take to beat President Trump, holding private talks with leading contenders like Ms. Harris, Mr. Booker and Senator Elizabeth Warren; underdogs like Pete Buttigieg, the mayor of South Bend, Ind.; and prominent figures who remain undecided on the race, like Eric H. Holder, his former attorney general, and Michael R. Bloomberg, the former mayor of New York.

During these informal conversations, usually at his office in Washington, Mr. Obama has offered a combination of supportive advice and sober warnings, cautioning candidates that running for president is a more punishing process than they could ever imagine, according to seven people who have spoken with him directly or were briefed in detail on the meetings.

Mr. Obama continues to express frustration that he did not anticipate Mr. Trump's victory, these people said, even after years of clashing with the forces of right-wing populism as president. He has urged candidates to push back on Mr. Trump's bleak and divisive rhetoric about economic change, and to deliver a competing message that can resonate even in Republican-leaning areas, courting rural voters and other communities that tend to distrust Democrats.

Eric Schultz, a senior adviser to Mr. Obama, said the former president was encouraged by the "diverse, experienced and principled" field of candidates taking shape, and said Mr. Obama had been "happy to speak privately with candidates seeking his guidance on the best way to lead the country."

"President Obama counsels candidates to always show up and make their case even in areas or in front of audiences they may not necessarily win; express views and positions that reflect their genuine beliefs; and share a positive vision for the country true to their own personal story," he said.

(…)

Mr. Obama has indicated to candidates that he worries about the possibility of a damaging primary fight, and has urged them to avoid attacking each other in bitterly personal terms that could help Mr. Trump. He has also hinted that he sees a relatively open space for a more moderate Democrat, given the abundance of hard-charging liberals in the race.

Democrats have kept the meetings almost entirely confidential, out of deference to Mr. Obama. Beto O'Rourke, the former Texas Senate candidate, briefly described his session with the former president in an interview with Oprah Winfrey this month, recalling that Mr. Obama spoke with disarming candor about the personal strain of running for president. Mr. O'Rourke said Mr. Obama had not lobbied him to run.
Although two years out of office, it's clear that former President Obama is arguably the most influential member of the Democratic Party at this point, a factor that explains why so many actual and potential candidates for President have sought to meet with him in anticipation of their own potential runs for the office which he sought and won despite the odds against him. First of all, getting advice from someone who's been there before is certainly valuable, and this is likely especially true for those candidates who are in roughly the same age range that Obama was in when he entered the race in 2007. Second, if and when Obama decides that the time has come for him to get more involved in the race these candidates no doubt hope that making an early impression on the former President could prove helpful in convincing the President to get behind them as opposed to another candidate. Finally, if Obama does decide to endorse a candidate it would no would no doubt have a near-decisive impact on the outcome of the race. In that regard, it is in the interest of most of these candidates to at least get some face time with the former President.
There is one caveat here, of course, and it involves the extent to which Obama himself may be somewhat out of step with where his party is, or where it will end up as we get deeper into the race for the nomination. Specifically, it's clear that the Democratic Party has moved to the left on several matters of policy since he left office and many people in the "progressive" wing of the party have been openly dismissive of the centrist, consensus building approach that Obama took over the course of his eight years in office. Additionally, many of them have accused Obama of many of the same things that Clinton was accused of during the 2016 campaign, including maintaining too close a relationship with Wall Street, the financial sector, and the general business community, supposedly at the expense of agenda items like universal health care coverage and other things that have come to be important to people in that wing of the party and, to some extent, the party as a whole. That being said, Obama is still the most prominent voice in the party with the possible exception of Speaker of the House Nancy Pelosi and Senate Minority Leader Chuck Schumer. The difference is that Obama has the advantage of not having to worry about making deals on Capitol Hill. Finally, whatever the progressive wing of the party may think, there can be no doubt that the former President remains incredibly popular with African-American and other minority voters. If and when he does decide to back a candidate that endorsement will no doubt carry enormous weight with that significant portion of the Democratic electorate.
As things stand now, though, I would not expect the former President to intervene directly in the party primary. Even though the early stages of the campaign will likely involve a record number of candidates for either party, it' probable that Obama will stay on the sidelines and allow the voters to have a voice at least in the early stages of the campaign. In these sense, he would be mimicking Democratic stalwarts such as the late Senator Ted Kennedy, who withheld his support from either Obama or Hillary Clinton during the early stages of the 2008 campaign, only to ultimately back Obama in a move that many saw as the beginning of the Democratic establishment accepting the idea of Obama as their eventual nominee. An endorsement from the former President would likely have the same impact, and he knows it, which is likely why he'll stay on the sidelines for now.