For Some Bizarre Reason, Michele Bachamann Thinks She's Qualified To Be Vice-President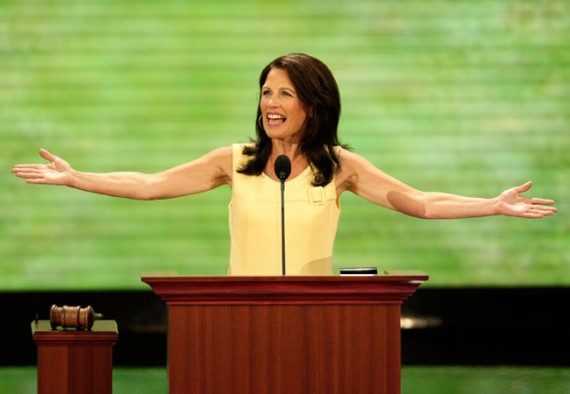 If there's one name that clearly hasn't been on the short list of anyone talking about potential running mates for Mitt Romney, it's Minnesota Congressman Michele Bachmann. Given her bizarre performances during the GOP nomination fight on issues like Gardisil and her even more bizarre statements as a Congresswoman, there's really no rational reason why anyone should think that Romney is considering her. If anything, it would be a repeat of the 2008 Palin fiasco, and I think it's fairly clear that Romney is not going to go for a "game changing" pick like McCain did. So, the odds of Michele Bachmann being the VP nominee are about as high as the odds of George Clooney deciding to support the Romney campaign after all.
Apparently, someone hasn't told Michele Bachmann this:
(CNN) - Former presidential candidate Michele Bachmann did not deny Monday whether she was being vetted for the job of Mitt Romney's running mate.

"Whoever it is that he chooses to bring in as his V.P., it will be a highly competent person who could step in at a moment's notice and assume the responsibilities of the White House," the Minnesota congresswoman said on CNN's "Piers Morgan Tonight."

Pressed further if she was being considered for the gig, Bachmann, whose name has not been frequently mentioned as a potential contender, left it up to the presumptive GOP nominee and his team to make a comment.

"Well, that's something for the campaign to answer on," she said. "That's not for me to make that decision, and that announcement."
Here's some advice Michele, don't sit there waiting for the phone to ring.