For Some Reason, Rick Perry Thinks He Might Run For President Again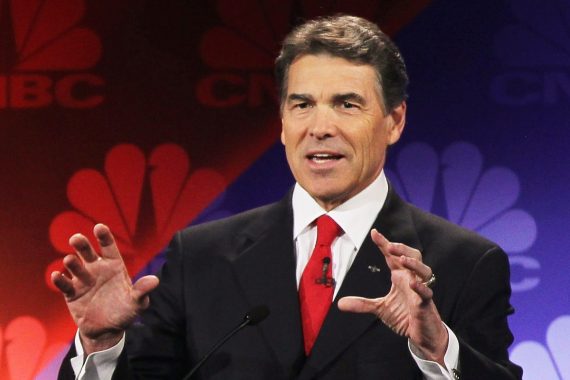 To say that Rick Perry's Presidential campaign turned into a flaming disaster, thanks mostly to his debate performances of course, would be an understatement. Perry entered the race as the heralded savior of the conservative base, announcing his candidacy at a Red State Gathering on the day of the Ames Straw Poll no less, and raised a tremendous amount of money in a very short period of time. Before long, though, he revealed himself to be, at most, a mediocre campaigner and a pathetically inept debater and his campaign had mostly fizzled out by the time November rolled around, being eclipsed by a man whose claim to fame was running a pizza company in the 1990s.
After that experience, you'd think Perry would want to stay away from Presidential politics, but apparently not:
Texas Gov. Rick Perry said "absolutely" he would consider another presidential run. Speaking from the Republican convention in Tampa, Fla., the Republican governor did not hesitate when Chuck Todd, host of Daily Rundown, asked him if he would ever consider doing so again.

"Oh absolutely. There's a long time until 2016 and a lot of good things can happen," he said.

Perry has hinted at a 2016 run before. In April, he told a Texas CBS affiliate station he would consider another go at the presidency.
Some advice, Governor. Find something else to amuse you.