Ford Doubling Down on EVs, But Not in USA
The company will debut an all-electric "Explorer" in Europe.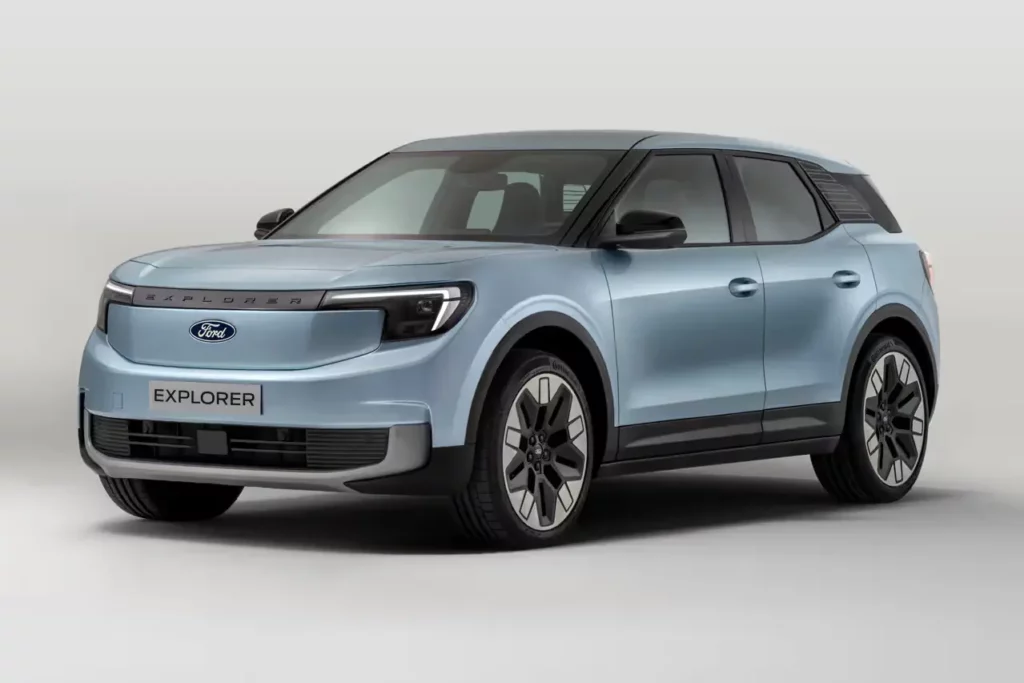 Barron's ("Ford Is Electrifying Its Most Iconic SUV"):
First came the Mustang. Then the F-150 pickup truck. Now the Ford Explorer is going electric.

Ford Motor F –1.06% (ticker: F) on Tuesday unveiled its all-new, all-electric 2023 Ford Explorer for the European market.

The iconic SUV made its debut in 1990 and is the company's best-selling model after the F-150 pickup truck.
You know you're getting old when products introduced within your adult lifetime have become "iconic."
Ford sold 207,673 Explorers in the U.S. in 2022, down from 219,871 sold in 2021. (Ford sold 653,957 F-series trucks in the U.S. in 2022).

U.S. buyers will have to wait though since the electric version of the Explorer is only for Europe right now. The five-seat, crossover-sized vehicle will be built in Germany. Range and power details weren't included in Ford's news release, but Ford said the battery can be charged from 10% to 80% in about 25 minutes using high speed, direct current EV chargers.
That's fast enough to be reasonable for those who want an EV but can't afford or are otherwise unable to get a home charger for overnight charging.
By next year, Ford estimates there will be 500,000 charging points across Europe. There are roughly 148,000 public charging ports in the U.S., according to the Energy Department. America has been adding roughly 20,000 ports a year for the past few years.
Granting that Europe collectively is larger, richer, and more densely populated than the United States, the gap is telling. And we're adding ports at a rate where we'll never catch up. (There was some investment in new charging infrastructure in the so-called Inflation Reduction Act but it's certainly not going to get us to European standards.) That's a problem considering that consumers and manufacturers alike are pushing full steam ahead on moving to EVs; indeed, California is mandating it.
The electric Explorer adds to Ford's EV lineup, which includes the Mustang Mach E, F-150 Lightning and electric Transit van. In 2022, Ford sold more than 61,000 all-electric vehicles in the U.S., up about 125% year over year.

Key to that growth was an expanding lineup. Ford began selling the F-150 Lightning and electric Transit van in 2022.

Ford has plans to sell many more EVs in coming years. "We're on track for a run rate of over 600,000 EVs by the end of this year and 2 million by late 2026," said Bob Holycross, Ford's vice president of sustainability, environment and safety Engineering, at a Deutsche Bank investment conference in March. "The customer response to these vehicles has just been incredible."
Overall, I welcome the move. It makes sense that Ford is finally making its most popular vehicles available with electric options rather than making weird models few want to buy. Sort of.
Autoblog ("European-spec 2023 Ford Explorer is an EV with Volkswagen bones") explains:
Ford enlisted the help of Volkswagen and repurposed a familiar nameplate to plant its stake in Europe's electric crossover segment. Built on the MEB platform, the European-market Explorer is an electric, city-friendly model that shares nothing but a name with the SUV sold here.

Let's address the elephant in the room: the model pictured in our gallery is not a replacement for the American-market Explorer, and Ford confirmed to Autoblog that it will not be sold in the United States. "The new electric Explorer is the European interpretation of an electric Explorer — made in Europe for Europe," a spokesperson told us. That's not a "maybe," a "we'll see," or a "who knows?" It's a "no."

Visually, the Explorer's front end is characterized by a grille-less design and an "EXPLORER"-branded piece of trim flanked by thin lights. It rides on a relatively long wheelbase, while its rear bumper features a piece of trim shaped like the one embedded into the front bumper. Full technical specifications haven't been released but Ford notes the crossover stretches roughly 177 inches from bumper to bumper. In comparison, the American-market Explorer (which is available in some European nations) measures approximately 199 inches long.

Step inside and you'll find space for five passengers on two rows of seats. The driver faces a digital instrument cluster, while the dashboard is dominated by a height-adjustable, 15-inch touchscreen that displays the infotainment system and hides a storage compartment. Ford also included some cool features, such as a massive center console capable of holding a 15-inch laptop and a futuristic-looking sound bar positioned on top of the dashboard. Numerous electronic driving aids, including Assisted Lane Change, will be offered as well.

[…]

Wrapping your head around the idea of two decades-old rivals joining forces to design a car might require Olympic-level mental gymnastics, but this isn't the first time Ford and Volkswagen have teamed up. The second-generation Amarok truck introduced in 2022 is closely related to the newest version of the Ranger under the sheet metal. There's plenty more: set your time machine to 1991, board a 747 to Brazil, walk into a Ford showroom, and you'll spot a sedan called Versailles that was a badge-engineered Santana that emerged from a Volkswagen-Ford joint-venture called AutoLatina. Its wagon sibling was marketed as the Royale. The collaboration went both ways: Volkswagen's Pointer and Logus models were badge-engineered variants of the Escort and Orion, respectively. The joint-venture was dissolved in 1995.
HypeBeast ("Ford Expands Its European Market With the All-New Explorer EV Cross-Over") lives up to the name:
Speaking on the new model, Martin Sander, General Manager, Ford Model e, Europe, said: "Explorer is a trailblazer for a new breed of exciting Ford electric vehicles. Steeped in our American roots but built in Cologne for our customers in Europe, it is road trip-ready for the big adventures and fully loaded with everything our customers will need for their daily drives."

As a result, no stone has been left unturned when it comes to creating a car fit for daily use. Range anxiety is no more, as Ford provides access to 21,000 charge points in the UK courtesy of Ford's Blue Oval Charging Network, which will make charging the EV from 10% to 80% more convenient, achieving this in just 25 minutes. By 2024, Explorer owners will have access to more than 500,000 charging points in 25 countries across Europe.

Inside, you have 450 liters of storage, including a center console that can hold necessities like a laptop with plenty of ease. Truly designed with families in mind, the car comes with five seats and an enhanced digital experience centering around the 14.6" touchscreen infotainment system, coming equipped with wireless app integration.

Up front, massage seats come as standard for the driver, as do a host of driving aids like lane assist and cruise control, making long journeys that bit easier. And as for design, Ford opts for clean and modern styling inside and out, with the exterior looking more like a contemporary cross-over rather than your average SUV. It achieves this by adding a small spoiler at the rear and vertical slats on the 3/4 pillar, giving the Explorer a sporty edge.
Aside from cool features, the vehicle is at a relatively affordable price point: "pricing should start at about €45,000 (approximately $48,600 at the current conversion rate)," according to the AutoBlog report.