Foreign Journalists Harassing Russian Gays More Than Putin?
Some perspective from Sochi.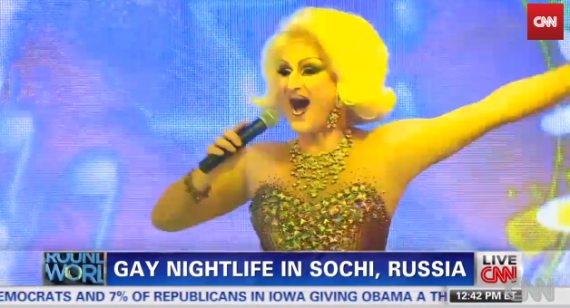 Julia Joffe reports that, "The Only People Harassing the Gays of Sochi are the Foreign Journalists."
As Olympic preparations have ramped up and now that the Games are in full swing, Mayak [Sochi's only gay nightclub] has been mobbed by foreign journalists eager to capture how the local gays live now that Russia has passed a law banning gay propaganda among minors and is now internationally known for hating gays. The foreign journalists buzz about the place. "Have you been to Mayak yet?" we ask one another.

"Too many," Zhanna the butch cashier says rolling her eyes when I ask her how many foreign journalists have come through here. "Questions, cameras. And always with the same questions." Are gays being persecuted? Beaten? "I always tell them that we observe all the laws. No one bothers us and we don't bother anyone."

The only people who bother them, it seemed, were the foreign journalists. Pointing cameras in their faces, asking questions. "People are annoyed because they don't want to be on screen," Zhanna explained. Though some people don't realize they're being taped—like one gentleman who did a drunken birthday dance recently only to find himself in an American news segment.

[…]

"We've given over 200 interviews in the last month," says Mayak owner Andrey Tanichev. Every country has sent its correspondents, he says, "except the Spanish, God bless them." The Americans have sent the most reporters, but the BBC has set a record: they came by four times.

Tanichev says the law hasn't affected the club in any way. "The law applies to propaganda among minors, but we've never let in people under 21" because of a local law that curfews minors. And business was a lot harder when Mayak opened almost a decade ago, Tanichev says. "There just weren't many gays, people were embarrassed to come."

"The Soviet Union was a closed country, it had its own customs," he went on. "Norms change slowly, tolerance grows slowly. It's much more tolerant now than it was ten years ago."

Meanwhile, the 1:30 drag cabaret was getting started with the room rowdily singing the Russian national anthem as a rainbow flag waved in a digital wind on a jumbo screen. Cameramen scurried. A dark-haired woman near me whipped out a note pad. A man in front of me hurriedly set up a tripod.

After she came on stage and lip sang "I Will Survive," Zaza Napoli decided to address the new and very busy guests.

"Don't be scared of the cameramen, my friends! Relax!" she said to Mayak's regular guests. "These are our international partners!"
Of course, Joffe hardly has a comprehensive view of the situation. But I am bemused at the breathlessness of the coverage of the plight of Russia's gays given how recently our own attitudes have changed. Even aside from gays in the military and same-sex marriage, which are relatively niche issues, American states were arresting people for having homosexual sex until the Supreme Court ruled it unconstitutional. In 2003. Incidentally, overturning their own precedent from 1986.  That's right: a mere 28 years ago our highest court validated the arrest of people for having consensual sex with other adults. And that was still permissible—and done—a mere 11 years ago. During Putin's first presidency.
That doesn't mean that we can't now look in horror at things that we used to do and even urge others to join us in modernity. But it should temper our vitriol.
And, even aside from that, the seemingly universal tendency of journalists to use the suffering of others as props for their own sensationalist reporting is galling. Even more so when they're invading the privacy of people they claim to be trying to help.