Foreign Policy At The GOP Debate: Lots Of Sound Bites, Little Substance
If you're interested in knowing how the candidates would handle a foreign policy crisis, last night's debate was mostly unhelpful.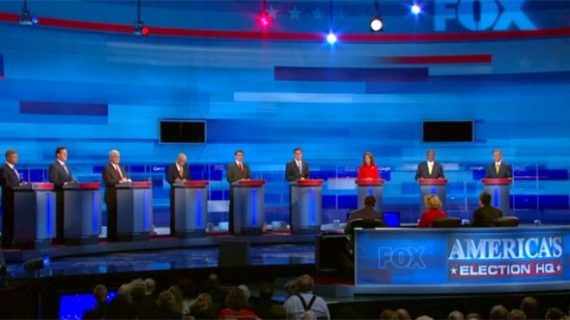 Jonathan Bernstein complains that there wasn't much in the way of foreign policy substance at the GOP debate last night:
Are Republicans really going to let their candidates avoid making any choices on foreign policy?

It's hard to remember sometimes during the debates, with their prepared attacks and punch lines and all, that choosing a presidential candidate is actually very serious business for a political party. If it's working properly, the process normally forces candidates to make policy commitments on a wide range of issues. On those areas where there is a policy consensus, candidates are forced to hew to that consensus — think of the Democrats in 2008 on health care, when each of the leading candidates converged on nearly the same plan. And on those issues where there are serious disagreements within the party, the nomination process allows the party to contest those disagreements, or to try to find compromises. It's important work.

And it's work that just doesn't seem to be happening very much this time around for the Republicans, especially on foreign policy.

I've watched Mitt Romney debate six times now, and Rick Perry has been there three times, and I have absolutely no idea whatsoever about what either of the frontrunners thinks about foreign policy and national security. Romney, it seems, is dead set against the entirely mythical Obama policy of apologizing for America, but doesn't really have anything more to say. And Perry doesn't even have that much.

The people who have a lot at stake here are Republicans, especially those who really care about these issues. So the question is: what are they going to do about it
It's a fair point. After all, while it's true that the major concern in the mind of voters now, and likely on Election Day 2012, is job and the economy, the one area where a President actually has the most authority to act without much worry of Congressional opposition or intervention is foreign policy and the application and use of military force. It would be helpful to know what these candidates actually think about these subject, and what they know about the world, before one of them is possibly given an immense amount of power to influence not just the United States, but the entire world. Instead, we get questions about Gardisil and evolution which, while important on some level, are far less important than the fact that these people are running for a job that allows puts them in charge of the most powerful military in the world.
On some level, this is the fault of debate moderators that don't ask the right kind of questions and a format that demands candidates keep their answers limited to one or two minutes. To put it mildly, there are very few issues in the world that can be reduced to a short question and a quick answer. As a result, all we get are sound bites designed to garner applause and repetition of the same tired slogans over and over again. America will "always stand up to terror" or "stand by our ally Israel." You get the idea. They're poll-tested and adviser-approved, and they are decidedly unhelpful in learning anything about what the candidate thinks about these issues or how they'd handle a complex foreign policy problem they might encounter if elected. Anyone who tunes into a Presidential debate looking for something like that will be inevitably disappointed.
Last night's foreign policy exchanges were predictable and mostly full of meaningless sound bytes. The one clip that is standing out today is Rick Perry's disastrous response to a question about Pakistan, but there was another part of the debate where we actually saw someone talk about these issues in the way they ought to be talked about. That person's name is Jon Huntsman:
While Santorum's sound bites proved more popular with the crowd, Huntsman response displayed the kind of well thought out answer that someone who has actually thought about these issues would give. It's not entirely surprising, of course, given that Huntsman has served as U.S. Ambassador to Singapore under the first President Bush, Deputy Trade Representative under the second President Bush, and, of course, Ambassador to China under President Obama.  Experience aside, though, it was refreshing to actually see someone approach these issues intelligently in a debate rather than just trying to score a sound byte that would end up on cable news the next morning.
If I had my way, these pre-primary debates would be like the Presidential debates. Instead of just asking one or two questions, we should have an entire debate focused on foreign policy issues (and the same for the economy and other domestic issues). That, along with a format that requires the candidates to do more than just give answers that can be condensed into one or two sentences would go a long way toward helping voters figure out if any of these candidates can be trusted with the ultimate power.