Former Dallas Cop Amber Guyger Sentenced To Ten Years In Prison
After an emotional sentencing hearing that included an extraordinary display of mercy and forgiveness from her victim's family, former Dallas Police Officer Amber Guyger was sentenced to ten years in prison.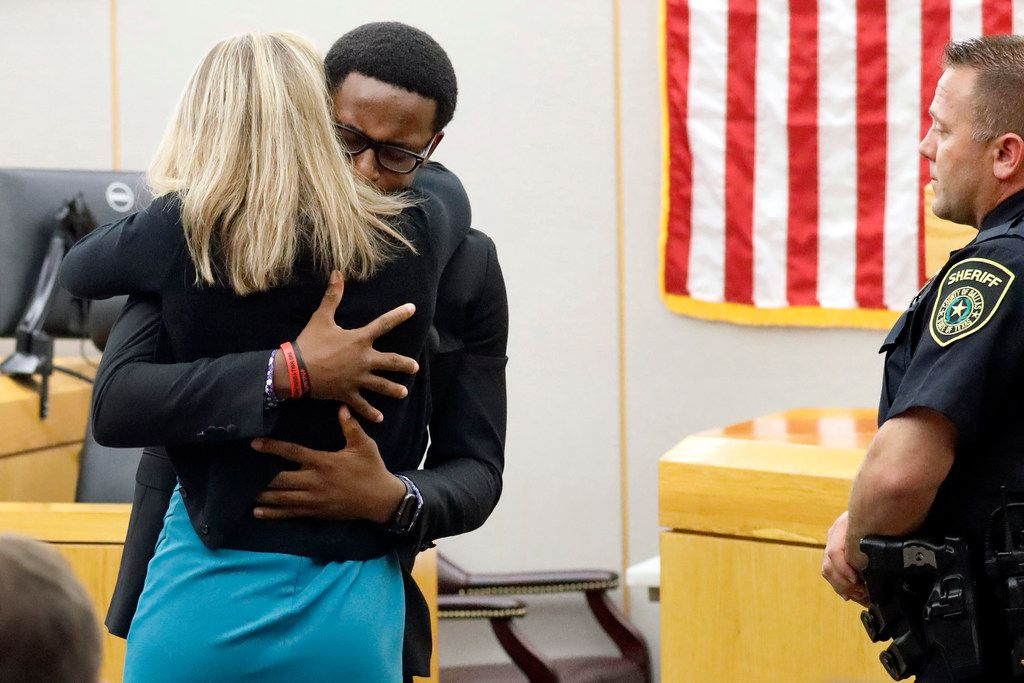 Just days after being convicted of murder in the death of Haitian immigrant Botham Jean, former Dallas Police Officer Amber Guyger was sentenced by a jury yesterday to ten years in prison, a sentence very much on the low end of the 5 to 99 years, or alternatively life without parole, that she could have received:
The white former police officer who shot and killed her unarmed black neighbor in his own apartment was sentenced Wednesday to 10 years in prison — the conclusion of a dramatic trial that spotlighted issues of racial injustice, police accountability and the extraordinary capacity of a victim's family to forgive a perpetrator.

Amber Guyger, 31, could have faced up to 99 years in the 2018 slaying of Botham Jean, a 26-year-old St. Lucia native, church singer and accountant whose death drew protesters to Dallas streets. On Tuesday, Guyger's murder conviction was heralded as a rare victory in the national push for policing reform.

But on Wednesday, her sentence was almost immediately met with protest.

In the hallway outside the courtroom, Jean family supporters called the punishment "a slap in the face," as prosecutors had asked for a sentence no less than 28 years — the age Jean would be if he were still alive. '

Inside the courtroom, a stunning scene was unfolding. Jean's younger brother — described by his family as suffering the most after the shooting — spoke directly to Guyger. He urged her to pray, he forgave her and he asked permission to give her a hug.

"I love you as a person and I don't wish anything bad on you," Brandt Jean told Guyger from the stand.

Then, as their families watched, the ex-officer and the brother of the man she killed met in the front of the room and held each other in a long embrace. They were both in tears, and sobs could be heard in the courtroom.

Judge Tammy Kemp, who presided over the case, held a tissue to her eyes and hugged each member of Jean's family after the trial ended. She then approached Guyger and, in another emotional moment, handed her a Bible and embraced her, too.

It was an unusual, striking conclusion to the high-profile case that reconstructed the night of Sept. 6, 2018.

Guyger claimed she thought she was entering her own third-floor apartment that night. She said she mistook Jean for a burglar and shot him, fearing for her life. Prosecutors argued that Jean posed no threat — he was sitting on a couch in his fourth-floor unit eating ice cream before

Guyger walked in, they said. Jurors agreed and rejected Guyger's self-defense argument.

Under Texas law, the 12-member jury that convicted Guyger was tasked with determining her punishment. Jurors rejected the "sudden passion" defense, which would have lowered the sentencing range to two to 20 years. But they chose a punishment on the lower end of the five to 99 years allowed for murder.

Legal experts said Guyger's lack of a criminal record and her career in public service may have played a role in the punishment.

"I would imagine with her being a police officer, even though they found her guilty, there would probably be some individuals on the jury who might be sympathetic to her," said Kenneth Williams, a professor at South Texas College of Law in Houston.

For a crime of this magnitude, Guyger's lawyers are likely pleased with the length of the sentence, said Brook Busbee, a law professor at Southern Methodist University in Dallas.

In a post on Twitter, where "Only 10" was among the most talked about phrases Wednesday night, Jean family lawyer Lee Merritt said the sentence was indicative of a broken system, one in which institutional racism is the rule and people of color are treated unjustly.

"Of course that's inadequate," Merritt wrote. "The entire justice system is inadequate and the work must continue."

Before breaking for deliberations, jurors heard from friends and family of both Guyger and Jean, who testified about the far-reaching consequences of their fatal encounter.

Prosecutors asked jurors to consider how the loss of Jean — a loving, encouraging man who spent his short life wanting to help others — reverberated through his family and his community.

"We all were robbed of Botham and the greatness that he brought to Dallas County," one prosecutor said. "But honestly, who knows what his impact could truly have been had his life not been taken from him."
More from The Dallas Morning News:
Chants of "no justice, no peace" drifted from the hallway into the the 204th District Court, and then Botham Jean's 18-year-old brother stepped up to the witness stand Wednesday.

This was Brandt Jean's chance to tell Guyger exactly what he thought of the former Dallas officer after she was sentenced to 10 years in prison for murdering his brother last year when she mistook his apartment for hers.

There were only two rules for his "victim impact statement": no threats and no profanity.

What came next was a stunning moment that played out after many had left the courtroom and the world watched online. Even courthouse veterans wept at something they'd never seen before.

Jean took a breath into the microphone and began to speak. He hadn't told his family what he planned to say, he told Guyger. He spoke for himself, not them.

"If you truly are sorry," Jean said. "I know I can speak for myself, I forgive you."

The prosecution had asked for 28 years — the age Botham would have been on Sunday had Guyger not shot him last September when she was off-duty but still in her police uniform.

Instead, Jean told Guyger that he wanted what Botham would have wanted.

"I think giving your life to Christ would be the best thing that Botham would want for you," he told her. "I love you as a person, and I don't wish anything bad on you."

He told Guyger that he didn't even want her to go to prison.

"Can I give her a hug, please?" Brandt asked. "Please."

State District Judge Tammy Kemp gave him the OK.

Guyger hesitated for just a moment, and then she rushed toward Jean and wrapped her arms around his neck. He wrapped his arms around her, his hands spread across her back.

They whispered as they embraced, their words heard only by them.

Twice Jean and Guyger started to pull apart but then hugged again. Both were in tears when they finally broke away.

The jury was gone. So was Guyger's family. Only bailiffs, the attorneys, the Jean family, the judge and a handful of journalists remained.

Kemp wiped away tears, and sobs could be heard in the courtroom.
Jean walked out of the courtroom when he was done. His father, Bertrum, smiled and nodded, giving his son a thumbs-up. Brandt and Botham's mother, Allison Jean, was in tears.

Kemp then left, too, through a door behind her bench. She soon re-emerged through another door, the one the jury always used to enter and exit. She walked over to the Jean family and hugged them.

"I'm so sorry," she said to each of them. "I'm so sorry for your loss."

"Thank you for the way you modeled Christ," Kemp told Allison Jean.

But Kemp wasn't done.

Kemp crouched in front of Guyger, still wearing her black robe and gave her a Bible. Those watching on the internet could see the judge and Guyger. But they couldn't hear what happened.

They spoke quietly, with Guyger in tears and Kemp punctuated the conversation by gesturing at the Bible and saying, "Read this."

Guyger leaped up to hug Kemp. The judge paused for a second, unsure of what to do.

Then, Tammy Kemp embraced Guyger, who whispered in her ear.

Only the judge's responses were heard: "Ma'am, it's not because I am good. It's because I believe in Christ. None of us are worthy."

"Forgive yourself."

Attorneys, bailiffs and journalists wiped away tears as they watched Jean and Guyger hug and as then leaned in to hear Kemp's words. A box of tissues was passed around.

They noted — with puffy faces and red noses — that they had never before cried in court. That they had never seen anything quite like what had just happened.
Here's the video of the encounter between Guyger and Botham Jean's brother:
When I first saw news of the sentence fly across social media late yesterday afternoon, I was disappointed. While I didn't think that what effectively would have been a life sentence for the 31-year-old Guyger was necessarily appropriate for a case like this, I suppose I had been hoping for a harsher sentence. Something closer to the 28 years that the prosecution was asking for, perhaps. Ten years, even though the nature of the Texas penal system means she will spend the majority of that time in prison and will not be released until roughly around the time she turns 40, seems light to say the least. That being said, I did not watch most of the trial and cannot place myself in the jury's place here. This is what they found was appropriate,
As for the encounter between Jean's brother and Guyger, there really isn't anything that can be said about it. It was an extraordinary display of forgiveness that I'm not sure I would be capable of. It brings to mind the reaction of the family members of the people who died at the Mother Emanuel Church Shooting when they spoke at the arraignment of the shooter in that case. It was a display of admirable mercy and forgiveness that I will simply let speak for itself.
Regardless of the sentence, the fact that Guyger was, properly, convicted of murder in this case rather than a lesser charge is in some ways solace enough. While this was not an ordinary police shooting case, it does stand out as one of the few cases where a police officer was held responsible for their actions. Hopefully, it's the beginning of a trend.