Former New York Governor Mario Cuomo Dies At 82
A man best known, perhaps, for what he didn't do, has passed away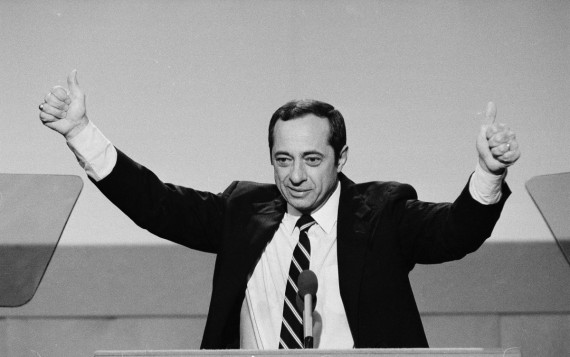 Mario Cuomo, a fixture in New York politics who twice passed on the idea of running for President as well as an appointment to the Supreme Court, has died at the age of 82:
Mario M. Cuomo, the three-term governor of New York who commanded the attention of the country with a compelling public presence, a forceful defense of liberalism and his exhaustive ruminations about whether to run for president, died on Thursday at his home in Manhattan. He was 82.

His family confirmed the death, which occurred only hours after Mr. Cuomo's son Andrew M. Cuomo was inaugurated in Manhattan for a second term as governor.

Mario Cuomo led New York during a turbulent time, 1983 through 1994. His ambitions for an activist government were thwarted by recession. He found himself struggling with the State Legislature not over what the government should do but over what programs should be cut, and what taxes should be raised, simply to balance the budget.

Still, no matter the problems he found in Albany, Mr. Cuomo burst beyond the state's boundaries to personify the liberal wing of his national party and become a source of unending fascination and, ultimately, frustration for Democrats, whose leaders twice pressed him to run for president, in 1988 and 1992, to no avail.

In an era when liberal thought was increasingly discredited, Mr. Cuomo, a man of large intellect and often unrestrained personality, celebrated it, challenging Ronald Reagan at the height of his presidency with an expansive and affirmative view of government and a message of compassion, tinged by the Roman Catholicism that was central to Mr. Cuomo's identity.

A man of contradictions who enjoyed Socratic arguments with himself, Mr. Cuomo seemed to disdain politics even as he embraced it. "What an ugly business this is," he liked to say. Yet he reveled in it, proving himself an uncommonly skilled politician and sometimes a ruthless one.

He was a tenacious debater and a spellbinding speaker at a time when political oratory seemed to be shrinking to the size of the television set. Delivering the keynote address at the 1984 Democratic National Convention in San Francisco, he eclipsed his party's nominee, former Vice President Walter F. Mondale, seizing on Reagan's description of America as "a shining city on a hill" to portray the president as unaware of impoverished Americans. "Mr. President," he said, "you ought to know that this nation is more a 'tale of two cities' than it is just a 'shining city on a hill.' "

The speech was the high-water mark of his national political career, making him in many ways a more admired figure outside his state than in it.

He enjoyed victories in New York. He closed the Shoreham nuclear plant on Long Island, ending a long and divisive fight over its potential dangers. He signed ethics legislation under a cloud of scandals involving state lawmakers and their employees.

But he may be remembered more for the things he never did than for what he accomplished. His designs on the presidency became just flirtations. He encouraged President Bill Clinton to consider him for a seat on the Supreme Court but pulled back just as the offer was about to be made in 1993. For all his advocacy of an activist government, he did not always practice it, or could not, because of the fiscal obstacles he encountered in Albany.

Always given to self-doubt and second-guessing, Mr. Cuomo said that if he had any regrets about his governorship, it was that he had never identified himself with a large initiative that might have been his legacy, as the expansion of the State University of New York was for Gov. Nelson A. Rockefeller.

Mr. Cuomo noted that he had built more prison cells than any chief executive in the state's history. But he added, "What I didn't do was pick one thing and keep saying it over and over again, so I could have gotten credit for it."

He had a pointed sense of humor. When an engine failed in a puff of smoke on a state-owned Gulfstream G-1 jet one morning with the governor aboard, he barely noticed, and kept talking about national politics until he noticed that a reporter across the way had stopped taking notes and had turned ashen. "What's the matter?" he asked. "Aren't you in a state of grace?"

Mr. Cuomo, the first Italian-American to be elected governor of New York, served longer than any of his 51 predecessors except Rockefeller. He might have surpassed Rockefeller, but in seeking a fourth term in 1994, he was defeated by George E. Pataki, a little-known Republican state senator from Peekskill. Mr. Cuomo's advisers had counseled him not to run again, but he overruled them.

(…)

Mr. Cuomo's essentially liberal view of government never wavered, even after he effectively lost the argument when Democrats embraced the centrist Mr. Clinton. Years afterward, Mr. Cuomo would produce a copy of a speech he delivered to the progressive New Democratic Coalition in 1974, reading passages aloud with the same electric spirit and rolling cadences that had made him so evocative a speaker.

In the end, two images of Mr. Cuomo endure. The first is of him, as governor, commanding the lectern at the 1984 Democratic convention, stilling a sea of delegates with his oratory. The second is of two chartered airplanes on the tarmac at the Albany airport in December 1991, waiting to fly him to New Hampshire to pay the $1,000 filing fee that would put his name on the state's Democratic primary ballot for president.

Mr. Cuomo, whose tortuous deliberations over whether to seek the White House had led pundits to call him "Hamlet on the Hudson," put the decision off until 90 minutes before the 5 p.m. filing deadline. Then he emerged from the Executive Mansion to announce to a news conference at the Capitol that he would not run. The demands of negotiating a stalled state budget, he said, prevented him entering the race.

"It seems to me I cannot turn my attention to New Hampshire while this threat hangs over the head of the New Yorkers that I've sworn to put first," he said.

That explanation failed to persuade even his closest friends, and in the years to come they would recall the two planes sitting forlornly on the tarmac as symbols of the governor's unrealized promise.

Mario Matthew Cuomo was born in Queens on June 15, 1932, the fourth child of Andrea and Immaculata Cuomo. His parents, penniless and unable to speak English, had come to the United States from the province of Salerno, south of Naples, settling at first in Jersey City.

Mario grew up in the Queens neighborhood of South Jamaica, where the family had moved and opened a grocery store. Mario worked in the store and on Saturdays served as the "Shabbos goy" for an Orthodox synagogue up the street, providing services as a non-Jew that the faithful were not allowed to do for themselves on the Sabbath. South Jamaica — an "Italian-black-German-Irish-Polish neighborhood," as Mr. Cuomo described it — provided him with a career's worth of anecdotes.

It was baseball, not politics, that first engaged him, and he proved as aggressive in one as in the other. After graduating from St. John's Preparatory School in Queens in 1949, he played on the freshman baseball team at St. John's University.

A strapping six feet tall, 190 pounds at age 19, he signed a contract to play center field for the Class D Brunswick Pirates in Georgia in 1952, reportedly receiving a $2,000 signing bonus, sizable for that time. Mr. Cuomo "plays hard" and "will run over you if you get in his way," a Pirates scout wrote.

His baseball career was short-lived. Knocked in the head with a 3-and-2 fastball that summer, he was left blind for a week and forced to give up the game — leaving with a .244 batting average.

Mr. Cuomo went back to St. John's and graduated in 1953, having majored in Latin American studies, English and philosophy. By then he had settled on a law career and married Matilda N. Raffa, a fellow student. On a scholarship he enrolled in St. John's Law School; while he studied there, his wife, who survives him, supported them as a teacher.
Growing up as I did in the New York City area, Mario Cuomo had been a fixture of politics in New York City and New York State for as long as I could remember, and he would sometimes speak of his love of baseball and, usually jokingly, of the baseball career that was a cut short, but it was politics where Cuomo would make his mark, and he entered the New York political scene just as the twin impacts of recession and mismanagement were about to send both the city and the state into a spiral that it took decades to recover from:
in 1974 Mr. Cuomo, at 42, entered elective politics as the party's choice for lieutenant governor. He was challenged in a primary, however, by Mary Anne Krupsak, a state senator from upstate, who defeated him and was elected as the running mate of Hugh L. Carey, a Democratic congressman from Brooklyn.

Mr. Carey, a fellow St. John's alumnus, named Mr. Cuomo secretary of state, a relatively low-profile job in which Mr. Cuomo settled a rent strike at Co-op City in the Bronx and mediated a land dispute involving a Mohawk reservation.

It was Mr. Carey who urged Mr. Cuomo to run for mayor of New York in 1977. Accepting the challenge with some trepidation, he found himself in a primary brawl with six brash New York politicians, among them Mr. Koch and Bella S. Abzug. In the first round Mr. Cuomo came within a percentage point of the winner, Mr. Koch, and the two headed into a runoff.

It was a harsh campaign. In one instance placards appeared in middle-class neighborhoods proclaiming, "Vote for Cuomo, Not the Homo." (Mr. Koch declined to answer questions about his sexual orientation.)

Mr. Cuomo and his son Andrew, a campaign adviser, denied having anything to do with the placards, though Mr. Koch said he never fully believed it. At the same time, Mr. Koch was hammering Mr. Cuomo for his opposition to the death penalty. Mr. Cuomo replied that mayors had no vote on the issue and that in any case he supported a life sentence without parole for capital offenses. Mr. Koch won the runoff handily.

Mr. Cuomo, on the Liberal Party line as well, was pressed to step aside in the general election. He refused, and lost to Mr. Koch for the third time. But he had learned a lesson. "I swore when it was over, to myself and everyone else, that I would never do that again," he said. "I will never run a race that I don't have my whole heart in."

Despite friction between Mr. Cuomo and Governor Carey, the two needed each other in 1978, when Lieutenant Governor Krupsak withdrew from the Carey re-election ticket and announced she would challenge the governor for the Democratic nomination, portraying him as incompetent. Mr. Carey asked Mr. Cuomo to be his running mate, and they won easily, in both the primary and the general election.

Mr. Cuomo's chance for the governor's mansion came when Mr. Carey announced he would not seek a third term, in 1982. Declaring his candidacy, Mr. Cuomo once again found himself in a race with Mr. Koch. Though the mayor was the party favorite, Mr. Cuomo won enough votes at the Democratic convention in Syracuse to force a primary.

Mr. Koch's candidacy was undermined from the start by the publication of an interview in Playboy magazine in which he disparaged life upstate and in the suburbs as "sterile" and lamented the prospect of living in the "small town" of Albany.

Mr. Cuomo proceeded to overwhelm Mr. Koch with muscular campaigning and a command of New York politics resulting in part from his years in Albany building a support network of state party leaders, local officials and union organizers.

But he did not win over Mr. Carey, whose relationship with Mr. Cuomo remained strained. The governor endorsed Mr. Koch. But it did not matter in the end: Mr. Cuomo defeated Mr. Koch by almost 100,000 votes.

In the general election, amid a national recession, Mr. Cuomo tied his Republican opponent, the businessman Lewis E. Lehrman, to President Reagan's economic policies and pounded him in debates, noting that Mr. Lehrman was rich enough to finance much of his campaign. At one point Mr. Cuomo theatrically fixed his gaze on Mr. Lehrman's wristwatch and remarked, "That's a very expensive watch, Lew."

On Nov. 2, 1982, at age 50, Mr. Cuomo became the 52nd man to be elected New York's governor, defeating Mr. Lehrman by about 180,000 votes out of more than five million cast.

(…)

By 1984, a presidential election year, there was a different view of Mr. Cuomo outside New York. An eloquent spokesman for liberal politics, he stood out in a relatively barren field of Democrats with national stature. And behind the scenes, two close advisers, his son Andrew and Tim Russert, who went on to host "Meet the Press," saw an opportunity. They successfully lobbied the party to invite Mr. Cuomo to deliver the keynote speech at the Democratic National Convention in San Francisco.

On the night of July 16, as the lights at the Moscone Center were dimmed — a bit of stage management orchestrated by the two advisers — Mr. Cuomoseized his moment, depicting President Reagan as having turned his back on struggling Americans.

"A shining city is perhaps all the president sees from the portico of the White House and the veranda of his ranch, where everyone seems to be doing well," Mr. Cuomo said. "But there's another part to the shining city. In this part of the city there are more poor than ever, more families in trouble, more and more people who need help but can't find it."

He became the story of the convention, overshadowing the nominee, Mr. Mondale, and an instant prospective candidate for president in 1988 should Mr. Mondale fail, as he was widely expected to do (and did).

In the excitement of the evening, many Democrats failed to notice that the object of this attention had left for the airport, for a flight back to Albany. Mr. Cuomo liked to sleep in his own bed.

That fall, with Mr. Mondale on his way to a crushing defeat, Mr. Cuomo volunteered that if he decided to seek the presidency in 1988, he would not seek a second term as governor in 1986. The declaration reflected how much interest there was in the governor at the time. It was also perceived as undercutting Mr. Mondale in the last weeks of his campaign, which many Democrats assumed was Mr. Cuomo's intention.

By then Mr. Cuomo, who kept a full-time pollster on his staff, had realized that every time there was speculation about his presidential ambitions, his popularity at home soared. Preparing for his own re-election campaign in 1986, he kept his hand in national politics, traveling across the nation and preparing for overseas travel.

His re-election campaign should have been a triumph; instead it was by all appearances an unhappy passage. Until the final week he had declined to debate his overmatched Republican opponent, Andrew P. O'Rourke, the Westchester County executive, and had been irate at suggestions that such behavior was unsportsmanlike. He won a record 65 percent of the vote, but rather than celebrating, he retreated to his office in a quarrelsome mood. A few weeks later, he said to a reporter for The New York Times: "You set out to hurt me, and you succeeded. I hope you sleep well." The next morning, he called the reporter back at home, offering an apology from "an old man with a bad back."

The election behind him, Mr. Cuomo announced a new schedule of national travel, encouraging renewed speculation about his interest in the White House. So it came as a surprise one evening in February 1987 when Mr. Cuomo, making his regular appearance on a radio call-in show, declared that he would not run.
Notwithstanding the fact that Cuomo had said that he would not likely run in 1988 after running for re-election in 1986, there was some brief speculation about Cuomo entering the race in 1988 when the race for the Presidency was open for both parties, but Cuomo declined to run that year. Then, most famously, Cuomo seemingly wavered as the political world awaited his decision on whether or not he would seek the Democratic nomination in 1992. Had he run, Cuomo arguably would have been the front-runner for the Democratic nomination that year from the start. Most assuredly, his candidacy would have posed a serious challenge to Bill Clinton's efforts that year to break through in the face of a field that was already dominated by better known national Democrats. More importantly, with Cuomo in the field and taking up national press attention it likely would have been far more difficult for Clinton to score the second place victory in the New Hampshire Primary that earned him the label "the Comeback Kid" and set in place the momentum that eventually led to him overcoming Jerry Brown, Bob Kerrey, Tom Harkin, and Paul Tsongas. Pulling that off with someone with the gravitas, and penchant for bare knuckled politics, of someone like Cuomo in the race would have been much harder. Similarly, it's impossible to say that Cuomo clearly would have won both the Democratic nomination and the Presidency that year, but clearly it was likely his best opportunity to do so.
Instead of running, though, Cuomo dithered, earned himself the title "Hamlet On The Hudson," and saw his political power in Albany decrease. He passed on a chance to be appointed to the Supreme Court in 1993 in favor of running for re-election to a fourth term, a bid he lost to George Pataki. After that, Cuomo largely faded from political life and it was up to his children, principally his oldest son Andrew, to resurrect the family name in the political world. As for Cuomo himself, he was ultimately left with a career whose epitaph can best be summed up with "What might have been."