Former Playboy Model Settles Lawsuit, Will Be Free To Speak About Relationship With Trump
Former Playboy model Karen McDougal will be free to speak about her relationship with the President.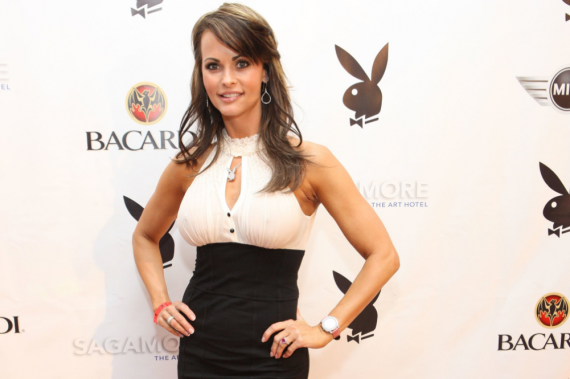 A former Playboy model who says she had a months-long affair with President Trump when his third wife Melania was pregnant with the President's fifth and youngest child has settled the lawsuit she filed against the publisher of the National Enquirer and will now be free to discuss her relationship with the President:
The tabloid news company American Media Inc. agreed to let a former Playboy model out of a contract that had kept her from talking freely about an alleged affair with Donald J. Trump.

The settlement agreement, reached on Wednesday, ends a lawsuit brought by the model, Karen McDougal, and protects the president from being drawn into a legal case involving efforts to buy the silence of women who had stories to tell about him during the 2016 campaign.

He still faces another lawsuit from Stephanie Clifford, the pornographic film actress known as Stormy Daniels. Ms. Clifford is suing to get out of a deal that Mr. Trump's personal lawyer, Michael D. Cohen, arranged in 2016 for her silence about an alleged affair. Mr. Trump's representatives have denied both women's stories.

In August 2016, A.M.I., which owns The National Enquirer, acquired the rights to Ms. McDougal's story about Mr. Trump — which it never ran — in return for $150,000 and commitments to use its magazines to promote her current career as a fitness specialist.

Under the terms of Wednesday's settlement, A.M.I. has the right to up to $75,000 of any future profits from her story about the alleged affair. According to her lawyer, Peter K. Stris, Ms. McDougal can keep the $150,000 payment, and the publisher will retain the rights to photographs of her that it already has.

In a statement, A.M.I. called the settlement an "amicable resolution" and said that under the new agreement it would devote an upcoming magazine cover and feature article to Ms. McDougal, and would run several of her fitness columns in its publications.

"It's a total win," Mr. Stris said in an interview. "We got everything we were fighting for — she got out of the contract, gets the life rights back and owes A.M.I. nothing more."

In a separate interview, Ms. McDougal expressed elation about the end of her "wild ride," and said she currently had no plans to sell the rights to her story to a new buyer. "It's one step at a time for me," she said. "Today, I'm doing my victory dance."

Her lawsuit said that A.M.I., whose chairman, David J. Pecker, is a friend of President Trump's, misled her into signing the contract. It also claimed that Mr. Cohen had inappropriately intervened in the deal. A.M.I. had denied misleading her.

The deal and the extent of Mr. Cohen's role in it are the subjects of a wide-ranging federal corruption investigation that is, in part, looking into his efforts to protect Mr. Trump's presidential prospects in 2016.

A.M.I. indicated earlier this month that it would fight Ms. McDougal, asking the Los Angeles Superior Court to dismiss her lawsuit.

But that was roughly a week before federal investigators obtained email communications, audio recordings and other documentation from Mr. Cohen during their raid of his office, home and hotel room. Those materials included information about A.M.I. and the McDougal suit, people involved in the case said.

The suit also claimed that Mr. Cohen had been secretly involved in the talks between A.M.I. and Ms. McDougal's lawyer at the time, Keith M. Davidson — who emailed Mr. Cohen at the end of the negotiations. A spokesman for Mr. Davidson has said the lawyer "fulfilled his obligations and zealously advocated for Ms. McDougal."

A.M.I. also spoke with Mr. Cohen about Ms. McDougal, though it says it did so only as part of its reporting process.

Mr. Stris said that before reaching the settlement, he was prepared to answer A.M.I.'s motion to dismiss Ms. McDougal's case with a request for a limited version of pretrial discovery. The move, compelling both sides to share emails and other records, could have provided information that would not be available through the material the F.B.I. seized from Mr. Cohen. An A.M.I. lawyer, Cameron Stracher, said that he doubted the request would have succeeded, and that avoiding discovery was not a motivating factor in the settlement.

The agreement precludes any of that from happening, at least in Ms. McDougal's civil case against A.M.I., though Mr. Stris said he expected federal investigators to eventually secure everything they needed to fully vet the process behind the deal. "I have tremendous confidence in the men and women of the Southern District of New York," he said, referring to the federal prosecutors investigating Mr. Cohen.
To some extent, of course, the underlying agreement failed to achieve its purpose since the details of McDougal's affair with the President more than ten years ago had leaked out some time ago and became public knowledge after McDougal spoke to CNN's Anderson Cooper in March in which McDougal detailed her relationship with Trump in much the same way that adult film actress Stormy Daniels did in her own interview with Cooper on 60 Minutes. In McDougal's case, though, it appears that her relationship with Trump was much more involved, and lasted far longer than his relationship with Daniels, which took place at nearly the same time as he was allegedly involved with McDougal. Unlike Daniels, McDougal ended up selling her story to the publisher of the National Enquirer for $150,000, who then proceeded to "spike" the story rather than running it at the time she spoke with them or prior to the 2016 Presidential election. In this regard, it's worth noting that the owner of the Enquirer is a long-standing friend of Trump's who, it has been rumored, has worked to suppress negative coverage of his friend in the past.
Leaving aside the salacious details of McDougal's relationship with Trump, the McDougal affair could have an impact on the legal situation facing Trump's longtime attorney Michael Cohen. It's been rumored for months now that Cohen was involved behind the scenes in the negotiations between McDougal and AMI and that he may have been the go-between (or, to borrow a term from The Godfather, Part II, the "buffer") between Trump and the National Enquirer as part of an effort to silence McDougal in much the same way that he was involved in the effort to silence Stormy Daniels prior to the 2016 election. It's also been reported that documents related to the agreement between McDougal and AMI were among those seized by the F.B.I. in its recent execution of search warrants on Cohen's office, home, and hotel room and that the AMI agreement is being investigated by the Federal Election Commission as a potentially illegal unreported "in-kind" contribution to the Trump campaign. With McDougal now free to talk, that could increase the pressure on Cohen, and that could mean more headaches for the President.
Here's the Settlement Agreement:
McDougal- AMI Settlement Agreement by Doug Mataconis on Scribd