Former Right-Wing Media Star Turns Against Right-Wing Media
So, it turns out that Fox News wasn't really all that fair or balanced.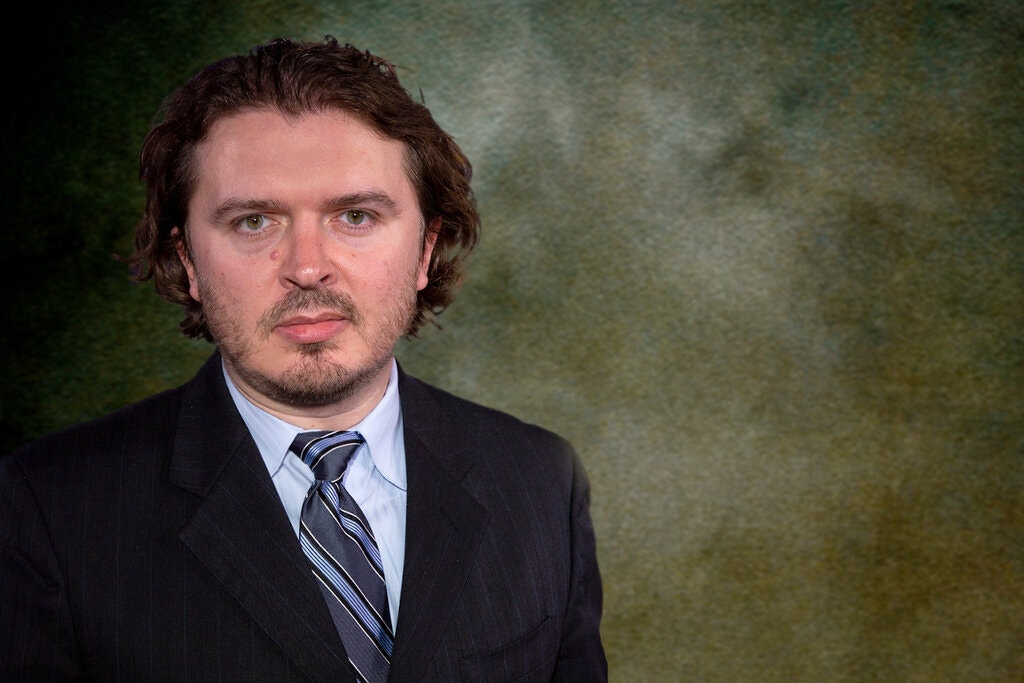 Matt Sheffield, a pioneer of conservative online media, is now fighting to burst the information bubble he helped inflate.
I knew Matt a little back in the day, running into him at various blogger events when they were a thing as well as various conservative gatherings like CPAC. Indeed, I even attended one of his NewsBusters galas as his guest.* I haven't seen him in years, probably since I stopped commuting into DC upon taking my current job seven-plus years ago.
His charge is hardly new:
"I basically built the infrastructure for a lot of conservative online people and personally taught a lot of them what they know," he said.

But Mr. Sheffield, who is 42 and lives in the Los Angeles area, grew disillusioned in recent years. He said facts were treated as an acceptable casualty in the broader political war. "The end justifies the means," said Mr. Sheffield, who hosts a politics and technology podcast called Theory of Change and is writing a memoir about growing up in a strict Mormon family. He now blames right-wing media for undermining faith in American democracy by spreading unsubstantiated claims by President Trump and others that the election was rigged. Through websites and platforms like Facebook and YouTube, Mr. Sheffield said, right-wing media has created an environment in which a large portion of the population believes in a "different reality."
Much of this has been obvious for a long time. Even in the early days of the site—more than seventeen years ago now—I was frustrated by the increasingly inane and dangerous rhetoric coming from the likes of Ann Coulter. And it didn't take long for me to tire of the scene at CPAC, which was, at best, simply serving warmed-over platitudes from the Reagan campaign decades after they were overtaken by events.
Then again, I'm more than a decade older and wasn't drawing a paycheck from the conservative entertainment complex.
What are some of the most important things about right-wing media that people don't understand?

Almost all right-wing support in the United States comes from a view that Christians are under attack by secular liberals. This point is so important and so little understood. Logic doesn't matter. Fact-checking doesn't matter. What matters is if I can use this information to show that liberals are evil. Many of them are not interested in reporting the world as it is, but rather to shape the world like they want it to be.
Having come up politically in the Deep South, I've long since undertood that this sense of persecution exists. And, frankly, they're not completely wrong. While Christmas is decidedly winning the so-called "war" against it, the "traditional values" espoused by fundamentalists have been beaten into submission. Still, I'm not sure to what extent this explains the disregard for facts or even the "own the libs" mindsight.
A recent poll suggests about 70 percent of Republicans now believe the election was rigged. Can that be blamed on right-leaning media when President Trump is spreading misinformation about the results?

They go along with whatever he says. Before Trump won in 2016, conservative media was actually, finally, starting to develop a marginal sense of independence. But once he became the president all of that just fell apart. Now you can't have a conservative outlet unless you worship Donald Trump. Your business will be destroyed. You can't have a career in conservative media if you are against Donald Trump, with only a few exceptions.
This is rather circular but there's some truth to it. The news side of Fox News is doing a solid job of presenting the facts of the case, matter-of-factly declaring Biden the winner of key states and, ultimately, the winner of the 2020 election in step with the other media outlets. But that's led to a backlash against it by "conservatives."
Would this be possible without Facebook and social media platforms?

Facebook is the primary protector and enabler of the far right in the United States, without question. The company has sheltered and promoted this content for years. Mark Zuckerberg even now says that Steve Bannon calling for beheadings is not justification to ban him. Zuckerberg was also fine with tolerating Holocaust denial until he was called out for it.
The irony, alas, is that the victimhood mentioned earlier means that Republicans nonetheless think Facebook is an evil liberal conspiracy out to get them. Some significant number are racing to something called Parler to escape Zuckerberg's evil clutches.
Do you see a way out of this, or will the problem get worse?

The first step is to get people to improve their information diet. If you're eating nothing but candy or toxic food you are going to get sick. If you can improve your news diet to include things that you like but also other things that might be challenging to you then you are going to have a much better understanding of life. In the information age, the people who control the information control the age. That is something that the right-wing media apparatus has figured out.
People interested in truly understanding the world around them are already doing this. A little more than a decade ago, libertarian Julian Sanchez coined the term "epistemic closure" for the phenomenon:
One of the more striking features of the contemporary conservative movement is the extent to which it has been moving toward epistemic closure. Reality is defined by a multimedia array of interconnected and cross promoting conservative blogs, radio programs, magazines, and of course, Fox News. Whatever conflicts with that reality can be dismissed out of hand because it comes from the liberal media, and is therefore ipso facto not to be trusted. (How do you know they're liberal? Well, they disagree with the conservative media!)
For those truly trapped in this bubble, there is no escape. If George Will or David Frum or Bill Kristol say that Trump isn't really a conservative, why, it just shows that they're not really conservatives. If Fox News reports that Biden has won the election, it just goes to show that Fox News has become part of the elite media.
I had somehow forgotten, if I ever realized, that Sanchez' coinage was indirectly related to a post that I had written two years before, spawning a favorable response from him, defending conservative critics of Sarah Palin from the tired charge that we were courting favor on the DC cocktail circuit. I wrote,
This is such utter nonsense. Conservative intellectuals are, by definition, both conservative and intellectual. While many of us understand the practical realities of politics and campaigning, we are ideologues who are motivated by fundamental principles of governing, intellectual consistency, and the ability to coherently articulate the message. While we are "team players," having generally chosen the GOP as the best vehicle for carrying those ideas into fruition, we're not party hacks who will publicly adopt positions of convenience for our candidate at the expense of intellectual honesty.

[…]

I don't spend a lot of time discussing Proust. To the extent that I'm invited to dinners and parties with smart people, that's not going to change based on whom I support in November. There are plenty of smart folks on both sides of this one. What would, however, ruin my credibility in those circles is carrying the water for my party in direct opposition to my previous intellectual positions.
As Sanchez noted in his response piece, it's a hell of a lot easier to make a living as a hack than an honest broker:
If you're willing to toe a straight party line, on the other hand, let's face it, you can be pretty damn mediocre and still carve out a nice little niche for yourself at any one of a welter of generously funded ideological publications and think tanks. Sure, it's a smaller pond, but you get to be a relatively big fish. You'll always have a book deal waiting at Regnery, a warm guest chair on Fox, editors at NR and the Weekly Standard eager to look at your pitches, handsome honoraria on your speaking tour of College Republican groups, and in your golden years, an undemanding sinecure as the Senior Olin Fellow at the Institute for Real 'Murriken Studies. (Ask yourself whether, absent these venues, you would ever have heard the name "Michelle Malkin." And cross apply all of the above, mutatis mutandis, on the left, of course.)

For all but the very, very few with a realistic shot at a Brooks slot, the cynical careerist calculus weighs strongly in favor of reflexive fealty. And certainly it's got to be much easier, much more comfortable, to give your self-selecting audience precisely what they want to hear and bask in their accolades. I don't know if I've named it here before, but I've long observed a phenomenon in the blogosphere I call "audience capture," where a once-interesting writer becomes rather dull and predictable, each post another jab at the lever, predictably rewarded with a tasty pellet.
So, again, all of this has been obvious for quite a long time to those who were paying close attention and not motivated to ignore the evidence.
I'd be interested in when Sheffield, a genuinely bright and decent guy even as a youthful muckraker, started figuring it out.
UPDATE: My March 2019 post "Low-Information Individuals, Motivated Reasoning, and Epistemic Overconfidence" is also worth revisiting in this context. In particular, this finding from a then-recent study:
[T]he findings suggest that people who read only the previews were far too confident in their knowledge. What's more, those participants whose cognitive style is more guided by emotion, tend to be more certain of their rightness.

This "need for affect" essentially means that participants have strong gut reactions or intuitions that they don't question. In other words, the feeling of being accurate is more satisfying for many people than actually being accurate.

"Those who are more driven by emotion allow the positive feelings associated with being right to override the need for actual accuracy," the authors write, "thus coming away from limited exposure to information falsely overconfident in their knowledge of the subject matter."

Unfortunately, this false confidence may have serious repercussions. Not only does it make users more susceptible to fake news and misinformation – a burgeoning issue in the modern day and age – it could also make them more polarised and politically uninformed.
This phenomenon surely exists on the left as well as the right. But the sense that elite institutions are working against them almost certainly makes the latter more susceptible.
And I should note that part of the reason I was identifying these trends so long ago even while ultimately voting Republican is that I'm not and never was part of the religious wing of the party or the conservative movement.
I closed that post with this observation:
It would seem that using rational discourse with high-NFA, low-information individuals is all but useless. They're seeking validation for an emotional belief, not understanding. Presumably, the way to change their minds is through emotional means. (Which is why personal experience is so effective. Having a transgender child, for example, is much more likely to change one's perspective on the issue than a dozen scientific articles.)
Personal experience is thus more likely to have an impact than any appeal to broaden one's media diet.
____________
*It's noteworthy given Sheffield's current leanings that the main award of the evening was given to none other than Rush Limbaugh. (And the first comment on the post, from longtime-but-now-absent commenter Tano was "Keep your distance from those creeps, that would be my unsolicited advice.")