Former Virginia Governor Bob McDonnell and Wife Charged in Federal Corruption Case
Less than a month out of office, the Old Dominion's former chief executive is facing 14 counts.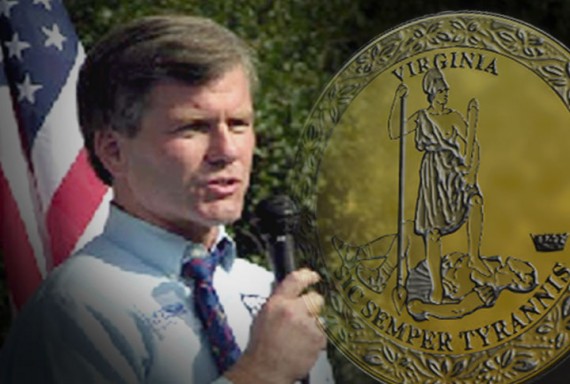 Bob McConnell, who just vacated the Virginia governor's seat after finishing out his term-limited four year tenure, has been charged, along with his wife, in several counts of corruption by federal prosecutors.
WaPo ("Former Va. Gov. McDonnell and wife charged in gifts case"):
Former Virginia governor Robert F. McDonnell and his wife, Maureen, were charged Tuesday with illegally accepting gifts, luxury vacations and large loans from a wealthy Richmond-area businessman who sought special treatment from state government.

Authorities alleged that for nearly two years, the McDonnells hit up executive Jonnie R. Williams Sr. again and again, lodging near constant requests for large loans, clothes, trips, golf accessories and private plane rides.

In exchange, authorities allege, the McDonnells worked in concert to lend the prestige of the governorship to Williams' struggling company, a small former cigarette manufacturer that now sells dietary supplements.

They said the first couple arranged access for the CEO to top state officials, allowed the historic governor's mansion to be used for a launch party for his company's new non-FDA approved pill and attended events designed to boost the company's prestige with university scientists who might research the company's product.

The two were charged with 14 felony counts, including wire fraud, conspiracy to commit wire fraud, obtaining property under color of their official office and conspiring to the do the same.

They were also charged with making false statements to a federal credit union.

McDonnell was also charged with making a false statement to another financial institution, and Maureen McDonnell was charged with obstructing the investigation.

Charges mean the couple could face a maximum of decades in prison, though would likely serve far less if convicted.

"We will continue to work tirelessly with our law enforcement partners to investigate and prosecute public corruption," said U.S. Attorney Dana Boente in a statement.

A lawyer for McDonnell released a statement from the former governor denying his actions were illegal and promising to fight the charges in court.
Despite living in Virginia and reluctantly voting for McDonnell, I only followed the unraveling of charges half-heartedly, mostly from Doug's coverage here at OTB. From what I could gather, Bob McDonnell's actions in this matter wear unethical, if not downright sleazy, but probably not technically against Virginia law. Indeed, the dragging of his wife into this would seem to be a means of coercing a deal out of him.
Having lived in Alabama during a period when a whole string of governors were either ousted mid-term for petty crimes or chased down afterwards and prosecuted for various malfeasance, I'm dubious of the practice. In that case, the fact that attorney general was both a path to the governor's office and elected independently—and thus often of the opposite political party—from the governor added to the appearance that it was all politically motivated. Here, at least, it's the federal government, not the authorities of the new Democratic administration in Virginia, going after the man who was governor just a couple weeks ago. Still, given that the allegations were front page news in the Washington Post two years or more ago, one can't help question the timing here.