Four Women Complete Marine Infantry Training; Marines Deem Pullups Too Dangerous for Women
The juxtaposition of two stories in the Marine Times strikes me as odd.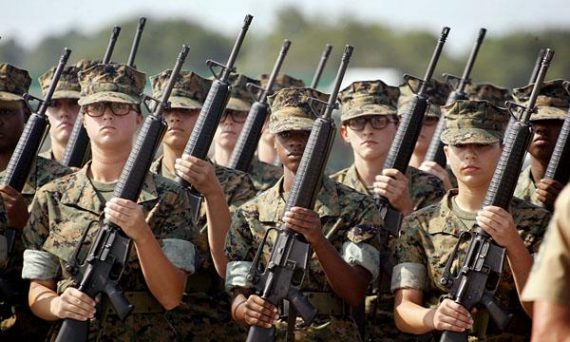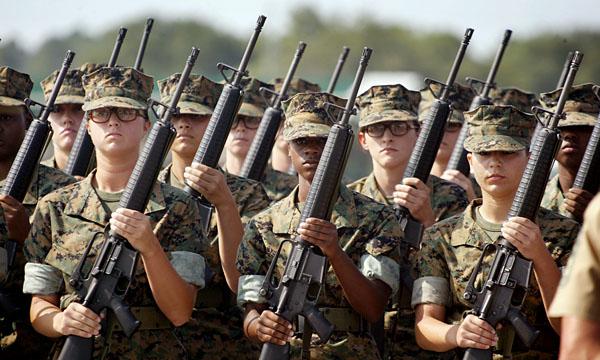 The juxtaposition of two stories in the Marine Times strikes me as odd.
"Source: 4 female Marines will graduate enlisted infantry training this week":
Four women will graduate this week from the Marine Corps' enlisted infantry training course, Marine Corps Times has learned.

Their successful completion of the program, confirmed Monday by a Marine official with knowledge of ongoing efforts to determine what additional ground combat jobs should open to women, is a historic milestone, one that would suggest at least some female Marines posses both the physical strength and acumen to keep pace with their male counterparts on the battlefield. A graduation ceremony is scheduled for Thursday at Camp Geiger, N.C.

The four women are assigned to Delta Company, Infantry Training Battalion, which is part of the Marine Corps' School of Infantry-East. Fifteen women began the 59-day course Sept. 24. By Oct. 28. the beginning of the grueling 12½-mile march — what many consider the course's most strenuous event — there were seven women remaining, along with 246 men.. It's not immediately clear how many men passed the course.

Throughout the training, female students were held to the same standards as men, Marine officials said. For example, during the 12½-mile march, all students were required to haul almost 90-pounds of combat gear. The women assigned to Delta Company also were required to perform pull-ups — not a flexed-arm hang — during their Physical Fitness Test.

The women who graduate from infantry training on Thursday will not be assigned to infantry units, nor will they earn an infantry occupational specialty. They will report to their originally slated schoolhouses to earn a non-combat MOS.

Since last year, new female lieutenants have been invited to attend the Corps' Infantry Officer Course at Marine Corps Base Quantico, Va.. To date, however, none has passed.
Whether this is an indicator that Marines hold their infantry officers to higher standards, than enlisted Marines are more capable, or simply the law of large numbers is hard to assess from the small sample.  Nor is it obvious what policy conclusion to draw from the fact that some small number of women can make it through infantry training. Regardless, completing this demanding training to standard is an impressive achievement for these four young Marines.
It's odd, then, to have this announcement come out the same day–indeed, within the same hour:
"Corps postpones pullups for women, cites potential risks":
Female Marines will now have more time to prepare for the pullup requirement to pass the Physical Fitness Test.

The Corps announced Friday that Phase 1 of the change requiring female Marines to complete pullups as part of the Physical Fitness Test, in which women were given the option of doing pullups or the flexed-arm hang, "will continue into calendar year 2014." Service officials want to further evaluate and validate the assumption that pullups are an appropriate metric for assessing upper-body strength in all Marines, said Lt. Col. Neil Murphy, a Marine spokesman at the Pentagon.

"Data collected does indicate some potential risks with executing a complete transition at this time to a [pullup]-only PFT for female Marines," he said. "… Further assessment is expected to last into [calendar year 2014]. However, a final timetable has not been established."

Phase 2, which would end the era of the flexed-arm hang, was set to begin on Jan. 1. When it does take effect, women will be required to complete three pullups to pass the PFT, the same number required of men. In order to attain a perfect score, women will need to complete eight pullups.
The number of young women who can train their bodies to execute three pull-ups is geometrically higher than the number that can make it through infantry training. And, certainly, pull-ups are an excellent metric for assessing upper body strength; that's never been the question. Rather, given that women were historically excluded from the military occupational specialities that most required upper body strength, the leadership decided that women should be judged according to a different metric. But, given that male Marines are held to the three pull-up standard regardless of MOS, it's hard to conceive of an argument for continuing to hold women to a lower standard in a Corps that allows women to serve in all fields.