Fox News Channel's Alternate Reality
In Fox News Channel's America, Donald Trump can do no wrong and Hillary Clinton is still a threat.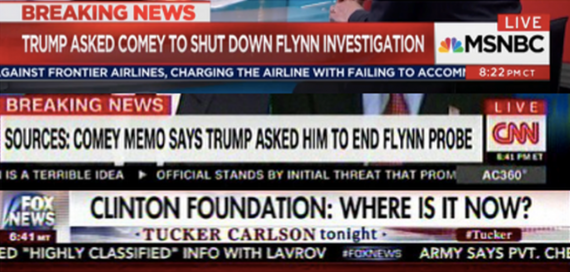 While CNN and MSNBC spent most of the night covering the reports about  the James Comey memorandum that potentially implicates the President in obstruction of justice and his disclosure of highly classified information to the Russians, Sara Fischer at Axios found that Fox News Channel was living in an alternate universe:
Fox News continued to deviate from MSNBC and CNN on Tuesday night, downplaying the new NYT report about Comey's memo and Monday's Washington Post report that Trump revealed classified information to Russia. Hosts called the reports "fake," and criticized the journalists for using anonymous sources while pivoting to cover other stories, like the Clinton Foundation, the President's first trip overseas and the conspiracy theory around the murder of DNC staffer Seth Rich, which was debunked by NBC earlier Tuesday evening.

(…)

By the hour:

In the 8 p.m. hour: Fox host Tucker Carlson discussed the Clinton Foundation, a tax provision in NY targeting Trump and a show cancellation, while Chris Hayes on MSNBC and Anderson Cooper on CNN focused almost exclusively on the Comey memo. At one point, NYC Councilman Corey Johnson told Tucker Carlson on his Trump NYC tax bill segment: "I'm just a lowly city council member. There's bigger news today than this."
In the 9 p.m. hour: Fox's Jesse Waters on "The Five" called the Comey revelations a "fake scandal," and Fox's Kim Guilfoyle suggested Comey may have made up the memo, while Rachel Maddow focused almost exclusively on the Comey scandal and CNN aired its exclusive with Sally Yates and focused on the Comey memo.
In the 10 p.m. hour: Sean Hannity opened with a graphic reading "Washington Post WRONG AGAIN," and called a CNN coverage of the Washington Post Russia report "fake news." MSNBC continued to nearly exclusively cover the Comey scandal while CNN featured a town hall with Sen. Bernie Sanders and Sen. John Kasich where the Comey memo was discussed.
This is hardly a surprise, of course. Fox News Channel has spent its history acting as little more than a propaganda network for the Republican Party in general and conservatives in particular. In the same way that they saturated the network with negative coverage of Presidents Clinton and Obama during their time in office and in Hillary Clinton during her two campaigns for President, they were full of largely positive spin during the Presidency George W. Bush and rarely if ever spent any time on relevant news items that portrayed Republican candidates in a negative light, with the possible exception of candidates such as Jeb Bush and John Kasich who were deemed not to be "conservative" enough. They have also spent a considerable amount of airtime attacking what in conservative circles is now known as the "lamestream media," to borrow a phrase invented by Sarah Palin, for alleged bias. To the extent there has been opposing points of view on the network it has been relegated to lightweight pundits who served as little more than punching bags for the overwhelmingly conservative hosts the network featured. This has been especially true in primetime, once headlined by Bill O'Reilly and now dominated by the likes of Tucker Carlson, Sean Hannity, who is little more than a lapdog for Donald Trump at this point, and a panel show dominated by conservatives called The Five. Their morning news program, Fox & Friends, is more like a parody of the news hosted by three people who couldn't find their way out of a cardboard box without relying on a teleprompter. To the extent that there are serious journalists at the network they are relegated to the late afternoon or, as in the case of Megyn Kelly, who committed the cardinal sin of asking candidate Donald Trump serious, hard questions about his record and his past statements, have left the network entirely. Given all of that, it's no surprise that what's left has turned into an alternate reality where the past 118 days of the Trump Administration haven't happened, where Donald Trump is really just a victim of an "unfair media," and where any report that even slightly critical of the President is labeled as "Fake News." It' also not a surprise that they continue to cover alleged scandals regarding Hillary Clinton even though she doesn't currently hold any office, isn't running for anything, and isn't likely to run for any political office ever again.
Someone who limits their television news consumption to Fox News Channel and similar outlets lives in an alternate universe where Republicans can do no wrong and Democrats and the "lamestream media" are spreading lies about the President of the United States. Last night, while other networks were talking about a revelation that, if true, raises serious questions about the current President, a Fox News viewer was being told that these new reports were nothing but "Fake News" and that the American public was being deceived into ignoring real stories like questions about the Clinton Foundation that were raised two years ago and which haven't really gone anywhere since then. If they listen to conservative talk radio and/or read the conservative blogosphere, that message is largely being reinforced by pundits who slavishly repeat the White House line no matter how incredulous it might be. As a result, it's no surprise that Republicans are largely alone in continuing to overwhelmingly support the President notwithstanding all the news we've seen over the past 118 days, a fact that largely explains why Republicans on Capitol Hill are reluctant to speak out against him even after the past two weeks. As long as that's the case, the odds that we'll see all but a handful of Republicans stand up to this President remain quite low.
All of this isn't to say that there aren't examples of similar types of obsequious coverage from the left in the media, of course. MSNBC has been equally guilty of this type of thing, especially in its weekday primetime lineup that includes hosts with obvious political biases such as Chris Hayes, Rachel Maddow, and Lawrence O'Donnell. At times, CNN has also been guilty of overemphasizing negative coverage of people on the right as well, although that has changed in recent years with the addition of "hard news" hosts like Jake Tapper to the lineup and the fact that CNN's programs generally try to do their best to give equal coverage to points of view from both side of the aisle, at least in my experience. MSNBC has begun to change as well, which in recent years has dropped far-left hosts like Ed Schultz and Al Sharpton and seemingly made conscious moves toward concentrating more on "hard news" in the manner that CNN does. In the era before cable news, when the news was dominated national newspapers like The Washington Post and The New York Times and broadcast networks based in New York City there was a definite bias in the news, but that was largely due to the geographic isolation of the news media from the rest of the country. In any case, none of that bias quite compares to what we see on Fox News Channel on a daily basis and, while it has been an admitted economic and business success for its parent company, there's something not quite healthy about it and it goes a long way toward explaining the political polarization that we see infecting our politics today.
Chyron montage via Axios