Fox News Host To Dick Cheney: 'History Has Proven You Got Iraq Wrong'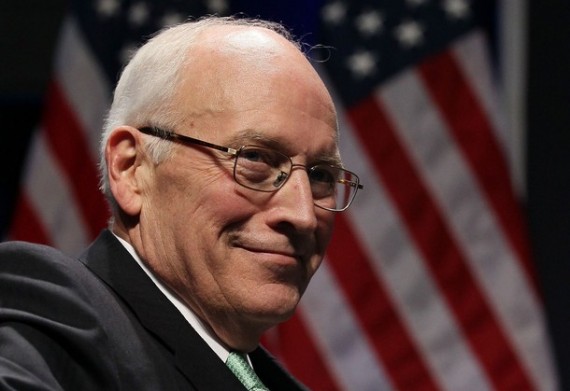 Former Vice-President Dick Cheney didn't get the warm reception he was probably expecting on Megyn Kelly's Fox News show last night:
FOX News' Megyn Kelly had some tough questions for former Vice President Dick Cheney on Wednesday night, after he and his daughter, Liz, offered a scathing review of the Obama administration's foreign policy.

"In your op-ed [in the Wall Street Journal], you write as follows: 'Rarely has a U.S. president been so wrong about so much at the expense of so many," Kelly said on her show "The Kelly File." "But time and time again, history has proven that you got it wrong as well sir."

Kelly then began listing shortcomings of the Bush administration, pointing out Cheney's statements that Saddam Hussein had weapons of mass destruction, that the U.S. forces would be considered liberators and that Iraqi insurgency was "in the throes" in 2005.

Cheney responded that invading Iraq was "the right thing" and that it would have been "irresponsible for us not to act."

"You've got to go back and look at the track record," Cheney said. "We inherited a situation where there was no doubt in anybody's mind about the extent of Saddam's involvement in weapons of mass destruction. … Saddam Hussein had a track record that nearly everybody agreed to."

In the op-ed published Tuesday, the Cheneys wrote that President Barack Obama "seems determined to leave office ensuring he has taken America down a notch" with his foreign policy. The article has drawn scathing criticism, as people have labeled Cheney, which Kelly referred to, as "the man who helped lead us into Iraq in the first place."

Referencing one of these harsh responses, Kelly quoted The Washington Post, which wrote "There is not a single person in America … who has been more wrong and shamelessly dishonest on the topic of Iraq than Dick Cheney."

"The suggestion is that you caused this mess," Kelly said. "What say you?"
Here's the video:
It wasn't the kind of interview Cheney would likely get on MSNBC, but it certainly wasn't a laudatory celebration either.