Fox News Twitter Feed Hacked, Claims Obama Dead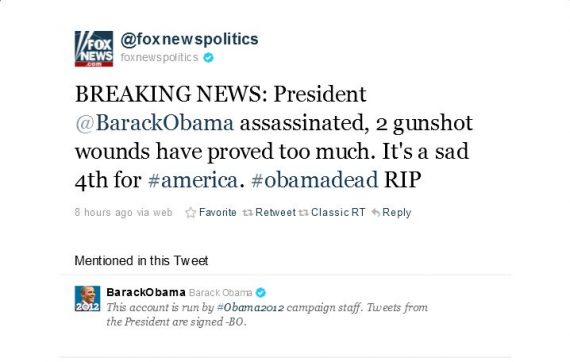 Someone got control of one of Fox News Channel's Twitter feeds over night, and used it to send messages claiming the President had been shot:
Hackers have taken over a Twitter account belonging to US broadcaster Fox News and declared President Obama dead.

The @foxnewspolitics feed stated: "BREAKING NEWS: @BarackObama assassinated, 2 gunshot wounds have proved too much."

More than two hours after the malicious postings appeared, they had still not been removed.

A group or individual, calling themselves The Script Kiddies appeared to claim responsibility.

Fox News said it was investigating the posts.

The bizarre messages began appearing around 07.00 BST on July 4.

The first read: "Just regained full access to our Twitter and email. Happy 4th."

The next posting stated: "@BarackObama has just passed. The President is dead."
A group of hackers who call themselves Scriptkiddies is claiming responsibility:
Fox has found it has been made the target of a hacking campaign once again after attackers managed to compromise the Fox News Politics Twitter account and used it to spread misinformation that the president had been shot and killed.

Hacking group the "Scriptkiddies" claimed the hack, immediately tweeting the following message:

Fox news politics hacked by the scriptkiddies! http://t.co/6yZDcTS more embarrassment for FoxNews is imitate.

Whilst the group doesn't affiliate itself with the loose online collective Anonymous, or the now disbanded LulzSec, Scriptkiddies reached out to the former to extend its support, offering help with the now infamous "AntiSec" campaign.
Oddly, as of the mornings, all of the offending messages are still part of the news feed: (click to enlarge)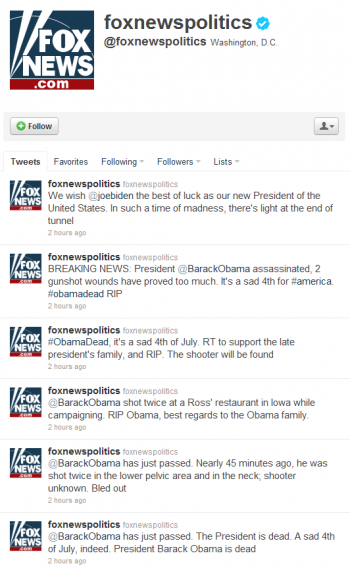 Of course, if it's this easy to take over control of an account, one would think Twitter would be doing something about security.