Frank Buckles, Last American WWI Vet, Dies at 110
The last American veteran of a conflict which ended nearly a century ago has died.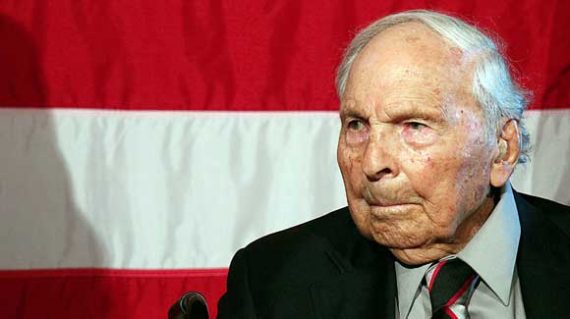 The last American veteran of a conflict which ended nearly a century ago has died.
LAT ("Frank Buckles, last American veteran of World War I, dies at 110"):
Frank Woodruff Buckles, a onetime Missouri farm boy who was the last known living American veteran of World War I, has died. He was 110.

Buckles, who later spent more than three years in a Japanese POW camp as a civilian in the Philippines during World War II, died Sunday of natural causes at his home in Charles Town, W.Va., family spokesman David DeJonge said.

A total of 4,734,991 Americans served in the military during World War I. When 108-year-old Harry Landis died in Sun City Center, Fla. on Feb. 4, 2008, Buckles became the war's last standing U.S. veteran.

"I always knew I'd be one of the last because I was one of the youngest when I joined," Buckles, then 107, told the New York Daily News. "But I never thought I'd be the last one."

Earning that distinction resulted in numerous honors for Buckles in 2008. In March 2008, he met with President George W. Bush at the White House, then attended the unveiling of an exhibit at the Pentagon of recent photographic portraits of nine World War I veterans, including himself, who had lived to age 100 or older. In April, then-West Virginia Gov. Joe Manchin formally dedicated a section of the new four-lane state Route 9 in honor of Buckles, who lived with his daughter, Susannah Flanagan, and her husband on a cattle farm near Charles Town, a small community in West Virginia's eastern panhandle. And on Nov. 11 — the 90th anniversary of the signing of the armistice — Buckles was recognized by the secretary of the Department of Veterans Affairs as "our last living link" to World War I.

He was born Feb. 1, 1901, on a farm near Bethany, Mo., and moved with his family to a farm in Oklahoma's Dewey County as a teenager.

When the United States entered the war in April 1917, Buckles was eager to enlist — even though he was only 16. After being rejected by Marine and Navy recruiters, Buckles tried the Army. When the recruiter asked to see his birth certificate, Buckles said Missouri didn't keep birth records when he was born and the only record was what was written in the family Bible. His word was good enough for the Army. Buckles enlisted on Aug. 14, 1917, and went through basic training at Ft. Riley, Kan.

"I was a snappy soldier," he told USA Today in 2007 while looking at a sepia-toned photo of himself in his uniform. "All gung-ho."

In his Daily News interview, Buckles recalled that an old sergeant told him, "If you want to get to France in a hurry, then join the ambulance service." He shipped off to England in December 1917 on the RMS Carpathia, the ocean liner that had rescued survivors of the Titanic in 1912. Initially stationed in England, where he drove dignitaries around, he successfully hounded his officers for an assignment in France. He never got close to the action. But, as he told columnist George F. Will in 2008, "I saw the results."
The passage of a 110-year-old man is more inevitable than sad. We now begin the countdown to the next milestone: The last veteran of WWII. Barring radical improvements in medical care, that will happen in the next 25 years or so.
Buckles' family has a tribute site to him at frankbuckles.org.  The masthead has photos of the the boy who went to war and the old man he lived to be:

A film about Buckles called "Pershing's Last Patriot" is in the works.
Last Veterans Day (or, as it was originally, Armistice Day) Buckles called for a World War I memorial to be built in DC.