Freedom of Speech and Religion Collide
My latest for The National Interest, "Freedom of Speech and Religion in Egypt and Libya," has posted.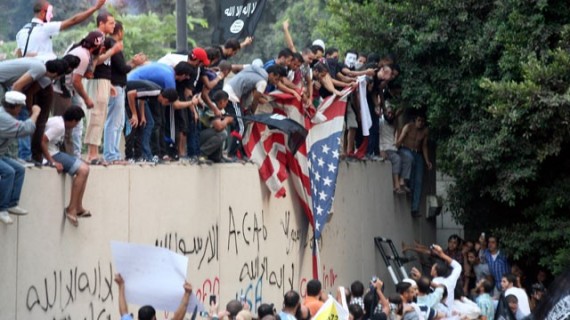 My latest for The National Interest, "Freedom of Speech and Religion in Egypt and Libya," has posted.
The initial draft was submitted yesterday evening, in reaction to the bizarre condemnation by our Cairo embassy of "those who abuse the universal right of free speech to hurt the religious beliefs of others," and before the outrageous and fatal attack on our embassy in Benghazi. But, while the framing has changed, the takeaway remains the same:
Terry Jones's bigotry is the hardest type of speech to defend. It has no obvious redeeming value and is specifically intended to be offensive. But we're a country that recognizes the right of citizens to burn our flag in protest, understanding that the very fact that doing so outrages so many Americans demonstrates how powerful a form of speech it is.

The fact that the words of some backwoods Florida preacher with a tiny congregation can spark murder and mayhem in Afghanistan, Egypt and Libya is a powerful indictment of the immaturity of those civil societies. Islam has endured for more than a millennium, and its followers constitute more than a fifth of humanity; surely, it can withstand the insults of a half-wit.

Jones seems to delight in the fact that Islamists halfway around the world erupt in violent outrage at his provocations. That's despicable. But we're not responsible for the evil, illegal actions others might take in response to our freely expressing our thoughts. Even if they're ill informed, half-baked, bigoted thoughts. If we allow the possible reaction of the most dogmatic, evil people who might hear the message to govern our expression, we don't have freedom at all. It's worse than a heckler's veto; it's a murderer's veto.

That's a far greater danger than hurting people's feelings.
Another piece, commenting on Mitt Romney's bizarre attempt to capitalize on the tragedy and what it says about his foreign policy in general, should be coming out later today.