Freedom, Security, and Insurrection
The aftermath of the January 6 Capitol riots runs into the First Amendment,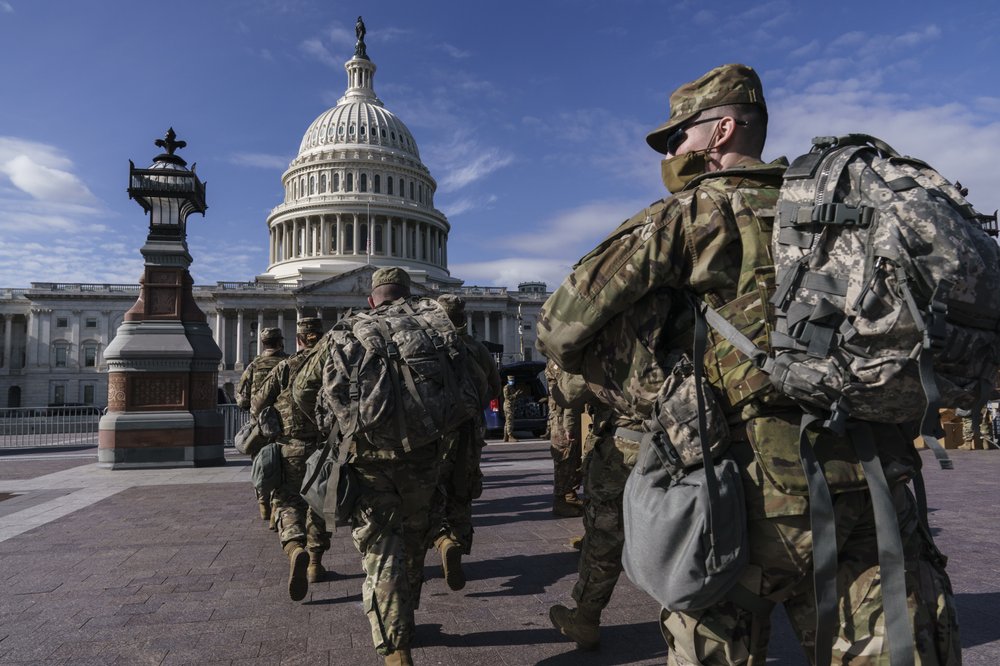 A series of interrelated articles about security measures in the wake of the 6 January riots and ahead of Wednesday's inauguration leave me with mixed thoughts.
First, a WaPo report by Robert O'Harrow Jr. ("Rallies ahead of Capitol riot were planned by established Washington insiders"):
The fiery rallies that preceded the deadly riot at the U.S. Capitol on Jan. 6 were organized and promoted by an array of established conservative insiders and activists, documents and videos show.

The Republican Attorneys General Association was involved, as were the activist groups Turning Point Action and Tea Party Patriots. At least six current or former members of the Council for National Policy (CNP), an influential group that for decades has served as a hub for conservative and Christian activists, also played roles in promoting the rallies.

The two days of rallies were staged not by white nationalists and other extremists, but by well-funded nonprofit groups and individuals that figure prominently in the machinery of conservative activism in Washington.
There's quite a bit more to the reporting and some caveats are issued. Still, it's problematic and simply unhelpful to conflate the rallies and the rioting.
I have no truck for the "stolen election" rhetoric that inflamed passions and gave cover to our worst elements and think those who did so should be punished politically, even while realizing that most of them won't be. Further, as noted many times previously, I think Trump was rightly impeached and ought be convicted in the Senate (although I strongly suspect he won't be) for his role in inciting the riots.
But it's a mistake to downplay the role of "white nationalists and other extremists," who were almost certainly the main instigators of the violence that occurred that day. Indeed, I'm rather confident that most of the folks who showed up in neo-Nazi regalia were using the protests as cover. That is, the "6 Million Wasn't Enough" crowd may well have been Trump supporters but they were almost certainly not motivated chiefly by a sense of electoral injustice.
Indeed, O'Barrow's colleagues Devlin Barrett and Spencer S. Hsu ("FBI moves on alleged members of extremist groups Oath Keepers, Three Percenters") point to this:
A heavy-metal guitarist, the alleged leader of a Colorado paramilitary training group and two self-styled militia members from Ohio have been charged with taking part in the riot at the Capitol last week, as the FBI ratchets up its investigation into the role extremist groups played in storming the building.

Jon Schaffer, an Indiana musician, turned himself in to the FBI on Sunday afternoon, officials said. On Jan. 6, Schaffer was photographed inside the Capitol, wearing a hat that said "Oath Keepers Lifetime Member." Schaffer founded Iced Earth, a heavy-metal band, and music fans quickly recognized him as the FBI circulated wanted posters with his face on them.

Schaffer was charged with six counts, including engaging in an act of physical violence. Authorities said Schaffer was among the rioters who targeted U.S. Capitol Police with bear spray.

Also charged in a court filing made public Sunday was Robert Gieswein, 24, of Cripple Creek, Colo. Court papers say that Gieswein is affiliated with an Oath Keepers-related extremist group called the Three Percenters, and that he assaulted federal officers outside the Capitol with bear spray and a baseball bat; "encouraged other rioters as they broke a window of the Capitol building; entered … and then charged through the Capitol building."

Gieswein runs a private paramilitary training group called the Woodland Wild Dogs, and a patch for that group was visible on a tactical vest he wore during the attack on Congress, an FBI affidavit said.

Gieswein gave a media interview in which he echoed anti-Semitic conspiracy theories, the affidavit said, and said his message to Congress was "that they need to get the corrupt politicians out of office. Pelosi, the Clintons … every single one of them, Biden, Kamala."

Also arrested Sunday were Donovan Crowl, 50, a former U.S. Marine, and Army veteran Jessica Watkins, 38. A bartender, Watkins recently told the Ohio Capital Journal that she formed the "Ohio State Regular Militia" in 2019 — a unit of the Oath Keepers, the FBI said — and that the group has appeared at a dozen protests to "protect people."

The FBI said Watkins posted to Parler a photograph of herself in uniform on Jan. 6, writing, "Me before forcing entry into the Capitol Building. #stopthesteal #stormthecapitol #oathkeepers #ohiomilitia."

Watkins and Crowl were among about 10 individuals recorded at the U.S. Capitol wearing combat helmets, ballistic goggles, tactical vests and Oath Keepers patches who "move[d] in an organized and practiced fashion and force[d] their way to the front of the crowd" to lead the siege and break-in, FBI affidavits said.

Lawyers for the four defendants could not immediately be identified.

The Oath Keepers, the Three Percenters, and the Proud Boys, a male-chauvinist group with ties to white nationalism, have drawn particular attention from FBI agents investigating the attack on Congress, as they work to determine whether those groups organized or directed the violence to block certification of President-elect Joe Biden's election victory. Officials have said the Proud Boys in particular are an important focus of the FBI investigation.
Still, a report by AP's Lolita Baldor ("FBI vetting Guard troops in DC amid fears of insider attack") points to the complexity of identifying the players.
U.S. defense officials say they are worried about an insider attack or other threat from service members involved in securing President-elect Joe Biden's inauguration, prompting the FBI to vet all of the 25,000 National Guard troops coming into Washington for the event.

The massive undertaking reflects the extraordinary security concerns that have gripped Washington following the deadly Jan. 6 insurrection at the U.S. Capitol by pro-Trump rioters. And it underscores fears that some of the very people assigned to protect the city over the next several days could present a threat to the incoming president and other VIPs in attendance.

Army Secretary Ryan McCarthy told The Associated Press on Sunday that officials are conscious of the potential threat, and he warned commanders to be on the lookout for any problems within their ranks as the inauguration approaches. So far, however, he and other leaders say they have seen no evidence of any threats, and officials said the vetting hadn't flagged any issues that they were aware of.

"We're continually going through the process, and taking second, third looks at every one of the individuals assigned to this operation," McCarthy said in an interview after he and other military leaders went through an exhaustive, three-hour security drill in preparation for Wednesday's inauguration. He said Guard members are also getting training on how to identify potential insider threats.

About 25,000 members of the National Guard are streaming into Washington from across the country — at least two and a half times the number for previous inaugurals. And while the military routinely reviews service members for extremist connections, the FBI screening is in addition to any previous monitoring.

Multiple officials said the process began as the first Guard troops began deploying to D.C. more than a week ago. And they said it is slated to be complete by Wednesday. Several officials discussed military planning on condition of anonymity.

"The question is, is that all of them? Are there others?" said McCarthy. "We need to be conscious of it and we need to put all of the mechanisms in place to thoroughly vet these men and women who would support any operations like this."
This is both extremely troubling and completely unsurprising to those who follow military affairs closely. The active force is much more tightly scrutinized than National Guard and Reserve forces, simply by the nature of full-time supervision. But even active forces have a problem with white nationalism. While there is considerable effort made to screen out bad actors and very little tolerance for open racism, the all-volunteer force draws disproportionately from the South and rural America. The Guard is drawn from local communities and disproportionately from police officers, prison guards, and the like.
It's not much of a problem if we're calling these folks up for service for overseas wars or for natural disasters. But, obviously, it's a whole different ball of wax when they're supporting domestic police forces in an incredibly politically fraught environment.
Finally, twin reports from our two leading papers on the same subject have me a bit queasy.
Thomas Fuller for NYT ("After Capitols Become Fortresses, Far-Right Protesters Are Mostly a No-Show"):
And this is how the last weekend of the Trump presidency wound down, with state capitols across the nation ringed by barricades, military vehicles guarding closed-off streets and Washington, D.C., all but shut down. In the end, it was for a handful of protesters, most from the right, a few from the left, many looking more like ragtag stragglers than the furious mob of Trump supporters that ransacked the U.S. Capitol more than a week ago.

In Concord, N.H., five masked men dressed in tactical gear and carrying assault rifles gathered on the sidewalk in front of the statehouse lawn to express concerns about "government overreach." In Lansing, Mich., National Guard soldiers watched as a dozen members of the far-right Boogaloo Bois group showed up with military-style weapons.

Across the country, legislative chambers — the people's houses — became citadels. At least 17 states called up their National Guard.

In Washington, 15,000 troops, more than the nation has stationed in Iraq and Afghanistan, established a Green Zone, adding to the impression of an occupied city. The National Guard said the troops came from all 50 states and three territories, a force that could grow to 25,000 by Wednesday.

The large presence of troops and police officers across the country came after warnings from the F.B.I. that armed protests were planned in all 50 capitals and following online chatter promising demonstrations or worse in the days leading up to Wednesday's inauguration of Joseph R. Biden Jr. as president.

The nation's militarized streets on Sunday were a remarkable spectacle as police and National Guard officers faced off with promised right-wing protests that, at least on Sunday, were reduced to a whimper. Protesters in some states could be counted on one hand.

At the Massachusetts State House, where hundreds of police officers deployed around the perimeter, a pedestrian shouted, "What's going on?"

"Maybe a demonstration, maybe not," an officer responded.

But officials say they will remain on alert through Wednesday's inauguration.

In Denver, where public offices were boarded up and police officers perched on rooftops, the smattering of Trump supporters who showed up to the State Capitol wondered whether they had come on the wrong day. "I was expecting more than me," said Larry Woodall, 59, who wore a Trump 2020 face mask. "I feel like I'm the lone wolf."

A reporter in Lincoln, Neb., counted two protesters marching around the State Capitol, one armed and the other carrying a homemade sign.

Outside the Pennsylvania State Capitol there were so few protesters that reporters lined up on the sidewalk to interview a man who gave his name only as Alex and wore a sweatshirt that said "Fraud 2020." Reporters then turned to a man named Eddie who was selling "Biden is not my president" T-shirts but who left soon after for lack of customers.

There were those who made light of the moment. In Lansing, a man arrived with a large Nerf gun and wore a T-shirt declaring himself part of the Michigan Nerf Militia.

But there was no denying the anxiety of a nation wounded from a divisive transition of power and suffering from a pandemic and anxious exhaustion, particularly after the deadly Jan. 6 assault on the Capitol in Washington.
Tim Craig, Griff Witte, Abigail Hauslohner, Peter Whoriskey, and Holly Bailey for WaPo ("State capitol protests mostly small, but under heavy guard from troops and law enforcement"):
Authorities in cities from coast to coast mobilized a military-style defense of state capitol complexes on Sunday, rolling out Humvees, concertina wire and thousands of National Guard troops clad in battlefield helmets to defend against a possible onslaught of rioters whipped up by the baseless claims of the American president.

The assault never came. Despite warnings from the FBI and boasts from armed, far-right extremist groups, security forces in every instance outnumbered scattered groups of demonstrators, and there were no reports of violence.

Yet the show of force — and the reasons behind it — marked an unsettling start to a week that will include the most contentious transfer of presidential power in modern U.S. history. And although Sunday passed peacefully, there was no reason to think that the threat had disappeared, raising questions of whether the escalated response reflected a new American normal.
On the one hand, this was almost certainly necessary. Not only was there a serious assault on our democracy less than two weeks ago—one that could have been far worse if some planners had their way—there were credible threats of more violence in the days leading up to the inauguration. On the other, this can't be permanent or even continue much beyond this week if we're to be a free society.
People who oppose Joe Biden's policies have every right to protest and should not be intimidated by throngs of military-garbed security forces. But citizens have a right to enjoy the nation's capitol without being intimidated by white supremacists and others who are outfitted for war.
I'm not sure how one goes about balancing these conflicting rights. Political protest is among our most fundamental freedoms and trumps just about all others. But the understanding has always been that the right to is to "peaceable" assembly. Showing up with AR-15s and Glocks on display is, almost by definition, not peaceable.
More uncomfortably, though, groups like the Proud Boys, Oath Keepers, and 3 Percenters have a right to exist; they just don't have a right to commit or conspire to commit criminal acts. It's a fine line between the FBI monitoring and even infiltrating them in response to credible threats of violence and suppression of First Amendment freedoms. As loathsome as we find these groups, we've seen the FBI deployed against Muslims in the wake of the 9/11 attacks and against civil rights groups during the J. Edgar Hoover era. We need to be incredibly careful in the use of state power against unpopular beliefs.